Greta Thunberg Says Planting Trees Is Not Enough to Tackle Climate Change as Trump Announces U.S. Will Join Trillion Trees Initiative
Greta Thunberg has said that "paying someone else to plant trees" is far short of what is required to combat the threat of climate change and prevent global average temperatures from rising 1.5 degrees Celsius above the pre-industrial average.
The Swedish teen climate activist delivered a speech on Tuesday at the World Economic Forum in Davos, Switzerland, in which she warned that "our house is still on fire" having made a similar comment during her debut appearance last year.
Thunberg criticized world leaders for not keeping promises made in the Paris Agreement to mitigate greenhouse gas emissions and avoid the catastrophic impact of global warming.
Speaking at a panel titled "Averting a Climate Apocalypse," Thunberg said: "I've been warned that telling people to panic about the climate crisis is a very dangerous thing to do. But don't worry, it's fine. Trust me, I've done this before. And I can assure you, it doesn't lead to anything.
"When children tell you to panic. We're not telling you to go on like before. We're not telling you to rely on technologies that don't even exist today at scale and that science says perhaps never will.
"We're not telling you to keep talking about reaching net zero emissions or carbon neutrality by cheating and fiddling around with numbers.
"We're not telling you to offset your emissions by just paying someone else to plant trees in places like Africa, while at the same time forests like the Amazon are being slaughtered at an infinitely higher rate," Thunberg said.
"Planting trees is good, of course, but it's nowhere near enough of what is needed. And it cannot replace real mitigation, and rewilding nature."
Thunberg said that is not enough to lower carbon emissions if we aim to stay below the 1.5 degrees Celsius global warming limit, and that emissions must be stopped altogether. She said we "must forget about net zero" and achieve "real zero" until the technology exists to put emission levels into the minus.
"We need real zero because distant net zero emission targets will mean absolutely nothing if we just continue to ignore the carbon dioxide budget that applies for today," said Thunberg.
She added that tackling climate change must not be considered a political issue, as from a current sustainability perspective, the right, the left, and the center have all failed.
"The fact that the USA is leaving the Paris Accord seems to outrage and worry everyone, and it should. But the fact that we are all about to fail the commitments you signed up for in the Paris Agreement doesn't seem to bother the people in power," Thunberg said.
"No political ideology or economic structure has been able to tackle the climate and environmental emergency and create the cohesive and sustainable world. Because that world, in case you haven't noticed, is currently on fire.
"You say children shouldn't worry. You say, just leave this to us, we will fix this. We promise we won't let you down, don't be so pessimistic. And then nothing. Silence, or something worse than silence, empty words and promises, which give the impression that sufficient action is being taken."
Thunberg demanded that the world's most powerful people in attendance at Davos, representing banks, companies, institutions and governments, take action against climate change. She called for the immediate end of fossil fuel exploration and extraction, the end of fossil fuel subsidies, as well as completely divesting away from fossil fuels.
"Our house is still on fire. Your inaction is fueling the flames by the hour. And we are telling you to act as if you love your children above all else," Thunberg said.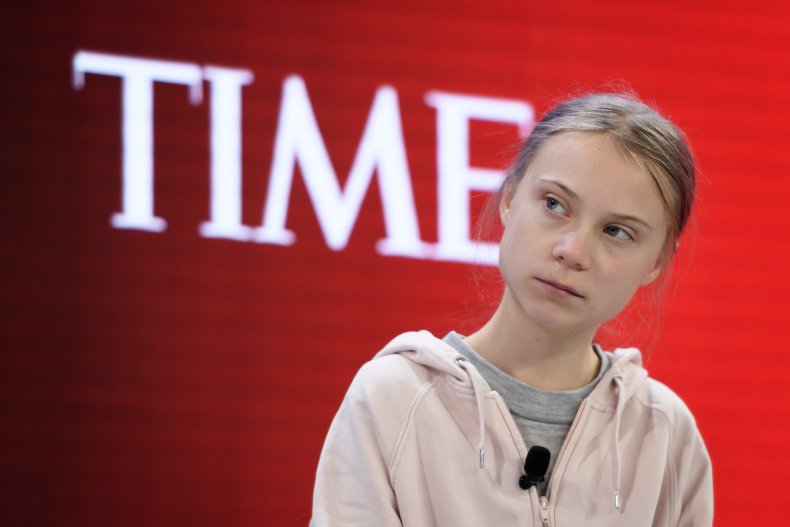 Thunberg's speech took place moments after President Donald Trump made his appearance at Davos. During his talk, Trump announced that the U.S.—the only country to pull out of the 2015 Paris Agreement—will be joining the WWF's Trillion Trees Initiative, which was launched at the World Economic Forum.
During his talk, Trump also appeared to take a thinly-veiled dig at Thunberg and other climate protesters while announcing the joining of the tree-planting scheme.
"This is not a time for pessimism. This is a time for optimism," Trump said without mentioning climate change or activist by name. "Fear and doubt is not a good thought process because this is a time for tremendous hope and joy and optimism and action.
"But embrace the possibilities of tomorrow, we must reject the perennial prophets of doom and their predictions of the apocalypse. They are the heirs of yesterday's foolish fortune tellers.
"They want to see us do badly, but we don't let that happen. They predicted an overpopulation crisis in the 1960s, mass starvation in the 70s, and an end of oil in the 80s," Trump added.
"They always want to dominate, transform and control every aspect of our lives. We will never let radical socialism destroy our economy and wreck our country or eradicate our liberty."