Greta Thunberg Mocks Ted Cruz, Welcomes U.S. Return to 'Pittsburgh Agreement'
Swedish climate activist Greta Thunberg has mocked Senator Ted Cruz (R-TX) after he criticized President Joe Biden's decision to rejoin the Paris climate agreement.
"So happy that USA has finally rejoined the Pittsburgh Agreement. Welcome back!" Thunberg tweeted on Thursday in response to Cruz' comment, without mentioning him by name.
Cruz was one of many Republicans to take aim at Biden's executive order rejoining the international agreement aimed at tackling climate change, but his particular statement drew attention on social media.
"By rejoining the Paris Climate Agreement, President Biden indicates he's more interested in the views of the citizens of Paris than in the jobs of the citizens of Pittsburgh," Cruz tweeted on Wednesday.
"This agreement will do little to affect the climate and will harm the livelihoods of Americans."
Many other Twitter users found Cruz's phrasing odd, and suggested he believed the Paris agreement was written by the residents of the French capital or its local government, rather than being an international agreement signed by 189 countries.
Others pointed out that the city of Pittsburgh, Pennsylvania had publicly backed the agreement in 2017 in response to former President Donald Trump's decision to pull out of the accord.
"As the Mayor of Pittsburgh, I can assure you that we will follow the guidelines of the Paris Agreement for our people, our economy & future," Mayor Bill Peduto tweeted at the time.
Peduto, a Democrat, won election to a second term as mayor in 2017 and is due to remain in office until 2022. He highlighted the city's commitment to the Paris agreement again on Wednesday.
"Pittsburgh has exceeded our Paris commitments," Peduto said. "Recognized by @usmayors as National Environmental Initiative of 2020, we've met our 2030 goal of 100% renewable energy for city operations, ten years early. If we can do it in a city that is/was fueled by coal/nuclear, you can, too."
The graphic below, provided by Statista, illustrates the countries which participate in the Paris Agreement.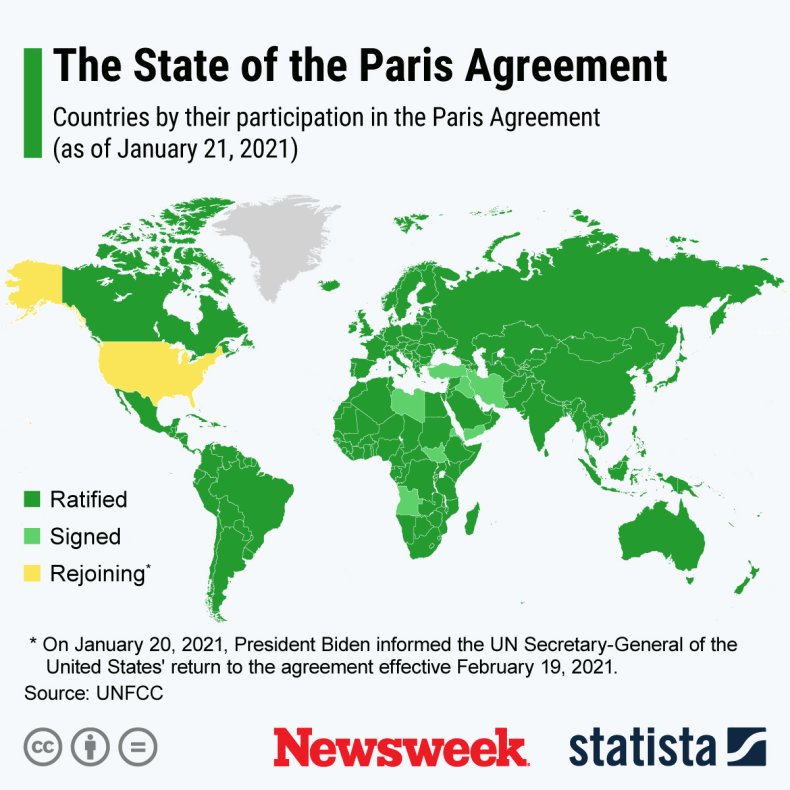 Thunberg, who has been a frequent target for criticism from some conservatives, also mocked Trump as he left the White House for the last time on Wednesday in a tweet that was a callback to a comment the former president made about her.
"He seems like a very happy old man looking forward to a bright and wonderful future. So nice to see!" Thunberg tweeted, including a photo of Trump raising a first while boarding Marine One on the White House lawn.
Biden issued 15 executive orders on Wednesday and more are expected today. In addition to rejoining the Paris climate agreement, the U.S. has rejoined the World Health Organization (WHO).