As Gretchen Whitmer Asks for More COVID Shots, CDC's Walensky Urges Michigan to 'Shut Things Down'
As Michigan grapples with a surge in coronavirus cases, Governor Gretchen Whitmer is pushing for the federal government to provide more doses of the vaccine.
But Centers for Disease Control and Prevention (CDC) Director Rochelle Walensky said Monday that vaccinations alone won't be enough to combat the state's spike in COVID-19 cases and hospitalizations.
"I think if we try to vaccinate our way out of what is happening in Michigan, we would be disappointed that it took so long for the vaccine to work, to actually have the impact," Walensky said during a White House briefing.
The CDC director added, "Really what we need to do in those situations is shut things down."
Michigan reported 9,674 new cases and 12 deaths linked to the virus Monday. The state's hospitalization rate continues to climb with 3,780 COVID-19 patients as of April 9. Much of the state's current surge stems from a highly infectious variant of the virus, B.1.1.7.
Whitmer has called on President Joe Biden to increase the supply of vaccinations to help the state and other "hot spots."
"We are seeing a surge in Michigan despite the fact that we have some of the strongest policies in place, mask mandates, capacity limits, working from home. We've asked our state for a two-week pause," Whitmer told CBS' Face the Nation on Sunday. "So despite all of that, we are seeing a surge because of these variants. And that's precisely why we're really encouraging them to think about surging vaccines into the state of Michigan."
Michigan's COVID-19 vaccine tracker shows that more than 3.2 million people, or 39.7 percent of the state's residents, were vaccinated as of April 8. Last week, the state opened vaccine eligibility to those 16 and older.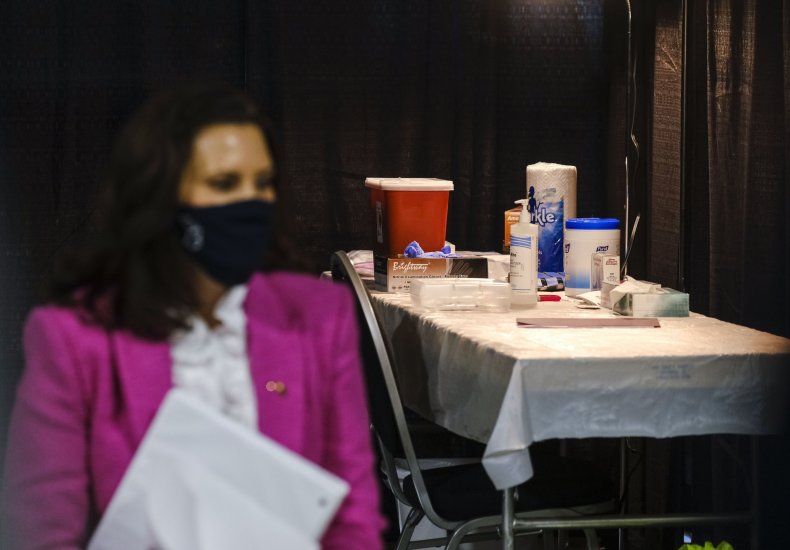 The governor has asked residents to voluntarily limit activities and urged schools to temporarily stop in-person learning. But Whitmer, who was under fire last year for her stay-at-home orders, stressed that her requests weren't mandatory.
Walensky said Monday that the answer to Michigan's surge is to "really close things down, to go back to our basics, to go back to where we were last spring, last summer, and to shut things down to flatten the curve, to decrease contact with one another, to test to the extent that we have available, to contact trace."
She added, "Sometimes we can't even do it at the capacity that you need, but really what we need to do in those situations is shut things down."
White House coronavirus adviser Andy Slavitt said Monday that it's important to remember that the COVID-19 variants being reported in Michigan are present in other states.
"So our ability to vaccinate people quickly in each of those states, rather than taking vaccines and shifting it to playing whack-a-mole, isn't the strategy that public health leaders and scientists have laid out," Slavitt said. "There are other things that we can do."
Newsweek reached out to Whitmer's office for a response to Walensky's comments but did not receive a response prior to publication.
Newsweek, in partnership with NewsGuard, is dedicated to providing accurate and verifiable vaccine and health information. With NewsGuard's HealthGuard browser extension, users can verify if a website is a trustworthy source of health information. Visit the Newsweek VaxFacts website to learn more and to download the HealthGuard browser extension.