'Gross' Videos Show Microfibers, Debris in McDonald's, Burger King Drinks
Ice water may seem like the most benign order from a fast food chain, but videos of water from McDonald's, Burger King, and Starbucks examined under a microscope have been turning stomachs online.
TikTok personality Micro Man, identified only by his first name Jake, shares the lens of his microscope with viewers who are curious about what a range of foods, animals and materials look like up close. His videos of plain water from fast food restaurants have amassed millions of views.
In an examination of McDonald's water on July 1, Jake revealed a microfiber and another unidentified black object.
"Not sure what this is," he said in the clip with 2.9 million views. "Could be another fiber, but it didn't glow in polarizing light."
On July 8, he posted a follow-up video of Burger King water with 1 million views.
"I saw a couple microfibers," he claimed. "I also saw this really strange material that looked like it was deteriorating. There was really tiny debris I saw falling off the material and when zooming in it looked like they were kind of moving. It could have just been Brownian Motion though."
A third video on July 11, which has garnered over 170,000 views, showed water from Starbucks.
"I saw a few of these white floaters around on the slide, but I'm not too sure what they are," he said. "I also saw this orange speck but there was only one. There were microfibers present but it could have already been on the slide. "
Jake's viewers were equally fascinated and revolted, calling the close-up views "gross" and "nasty" while demanding more footage of water from other restaurant chains.
Microplastics have permeated the global water supply. In a 2017 Orb Media study looking at 159 tap water samples from 14 countries, 83 percent were found to contain plastic particles. The United States topped the list in plastic contamination, with 94 percent of water samples containing microplastics.
Another Orb Media report found tiny pieces of plastic in 93 percent of the world's most popular bottled water brands, with Nestlé Pure Life, Bisleri, Gerolsteiner and Aqua presenting the worst contamination. One Nestlé Pure Life bottle contained more than 10,000 pieces of microplastic.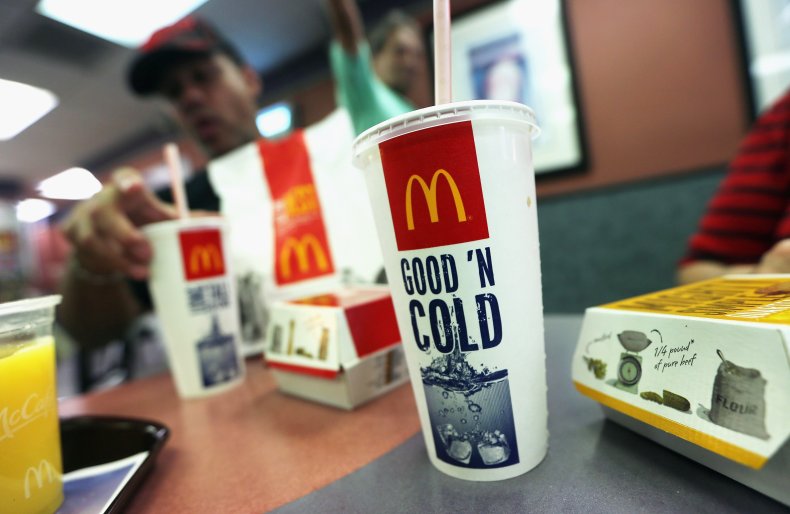 Fast food workers regularly go viral for exposing the repugnant behind-the-scenes of their jobs.
Last month, a former Dunkin' Donuts employee revealed the "disgusting" state of the store where she worked, showing dirty dairy machines and food shuttles as well as an undrained sink on TikTok.
In another viral TikTok video, a former Panera Bread employee claimed her store did not take note of expiration dates until "they found out inspections were coming" and urged viewers, "don't trust the chicken."
And last year, a fast food worker's video showing the layers of dirt and grime in a deep fat fryer had viewers swearing they were "never eating out again."
Newsweek reached out to Jake as well as McDonald's, Burger King and Starbucks for comment.