'Grounded: Shroom and Doom': Release Time and How to Start the New Update
Grounded's new update, entitled Shroom and Doom, will launch this Wednesday for the Xbox Series X, Xbox Series S, Xbox One and PC.
For those who are unfamiliar with Obsidian's multiplayer title, Grounded is basically the video game equivalent of Honey, I Shrunk the Kids. Players are reduced to insectoid size and must work together to survive the hostile territory of their own backyard. Among other things, they will need to gather resources, build shelters, hunt for food, and battle various creepy crawlies that infest the garden.
For the past year, Grounded has been available in an early-access build, which means that it is still a work in progress and that certain features have yet to be included. For example, Obsidian has promised that it will eventually be adding story missions to the game but, in its current state, it is more like a sandbox in which players must generate their own narratives.
Given that it is still in early access (and will be until the end of July), new content and balancing tweaks are being regularly drip-fed through.
What Is the Shroom and Doom Update?

To mark the one-year anniversary of Grounded's release, Shroom and Doom will be the survival game's first major expansion.
The update, which was revealed at this year's E3 conference, adds a number of highly requested features and quality-of-life improvements. For example, players will now be able to sprint up ladders and sit down for a quick rest in designated areas, and there is also a new achievement list coming as well.
There are some more significant changes too, as mushrooms are no longer just background scenery and now have a tangible impact on gameplay. Players will be able to chop down toadstools and other assorted fungi, bake them in an oven, harvest their resources, and use them to construct fortified walls.
Meanwhile, pets are also being introduced with the Shroom and Doom update, allowing you to tame wild aphids and escort them around the backyard during your adventures.
On a considerably less wholesome note, a terrifying spider is being added to the game's enemy roster as well. Known as the "Broodmother," this menacing orb weaver will serve as Grounded's first-ever boss and promises to be a truly daunting adversary.
Residing in her own creepy lair, she will have unique attack patterns, a nest full of minions by her side, and a formidable health pool for you to whittle down. According to the developers themselves, the Broodmother is intended to be one of Grounded's hardest challenges to date, so you might want to bring some friends along for the fight.
Incidentally, if you have a crippling fear of spiders then that needn't prevent you from enjoying the boss encounter. All you need to do is delve into the accessibility settings and toggle on the "Arachnophobia Safe Mode," which will then render the Broodmother as an abstract blob, as opposed to a realistic-looking creature.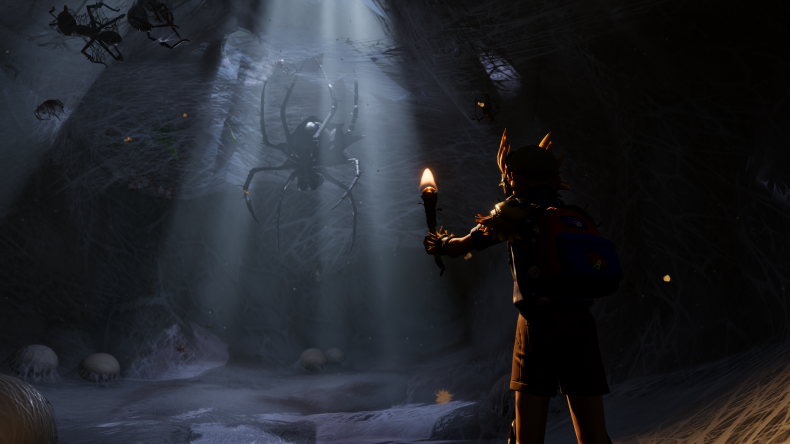 When Is the Shroom and Doom Release Time?
Shroom and Doom will launch on June 30. Server maintenance windows for updates like this are usually scheduled for the early hours of the morning, in order to avoid disrupting play sessions. For instance, last week's Sea of Thieves expansion went live at 5 a.m. ET.
Update: Although there is no firm release time yet, Obsidian has told Newsweek that the update is scheduled to roll out on Xbox and Steam at around 1 p.m. ET.
With Grounded still in early access, it is important to note this is not an add-on for an already finished product. Rather, it is intended to be part of the final version that is to be released in July 2021.
As such, it is totally free for anyone who owns the base game and you will not need to do anything special to redeem it. Upon booting up your console or PC, the game will just automatically update.
Grounded itself is available for $29.99 through Steam or the Xbox Store. Alternatively, it is included as part of the Xbox Game Pass service.