'Sea of Thieves: A Pirate's Life': Release Time and How to Play the New Update
Sea of Thieves' new Pirates of the Caribbean-themed expansion will launch later Tuesday morning, despite having only just been announced at E3. Titled A Pirate's Life, the update will mark the official commencement of the multiplayer game's third season.
Dividing its content into seasons is a relatively new concept for Rare's online swashbuckling sandbox. Until recently, Sea of Thieves was only periodically revised with new quests and cosmetic items, as opposed to receiving any seismic updates that fundamentally altered the nature of the game.
This all changed with the launch of the second season of Sea of Thieves in April 2021, which completely overhauled the progression system and introduced brand new "Trials" to help players level-up faster.
Presumably, Rare noticed how well the seasonal model was working out for the likes of Fortnite, Apex Legends and Call of Duty: Warzone and decided to follow suit. It must have been successful in rejuvenating the Sea of Thieves player base, as the third season is now almost upon us.
What is Sea of Thieves: A Pirate's Life?
Announced a little over a week ago during Microsoft's E3 presentation, A Pirates Life is an ambitious crossover event with Disney that sees Captain Jack Sparrow and Davy Jones enter the world of Sea of Thieves. It promises to deliver plenty of Pirates of the Caribbean fan service, enabling players to sneak aboard the Flying Dutchman, commandeer the legendary Black Pearl, visit the port of Tortuga, and even recreate scenes from the iconic Disneyland ride.
In addition to this, it will introduce a suite of cosmetic items and emotes, so that you can cosplay as your favorite characters from the movies. There is even an opportunity to enlist the infamous prison dog into your crew as a pet.
When Is Sea of Thieves: A Pirate's Life Going to Launch?
Sea of Thieves: A Pirate's Life was one of the few unexpected reveals at this year's E3 conference, given that the update's existence was never even hinted at before. If an announcement comes out of left field like this, it usually means that the game in question is still in its very early stages of development. Yet, in this case, the expansion is already scheduled for release on Tuesday.
The Sea of Thieves servers will be taken down for essential maintenance at 5 a.m. ET, after which the free update will be available to all players. It is currently unknown how long this server downtime will last, but these things usually take anywhere between 30 minutes and a couple of hours.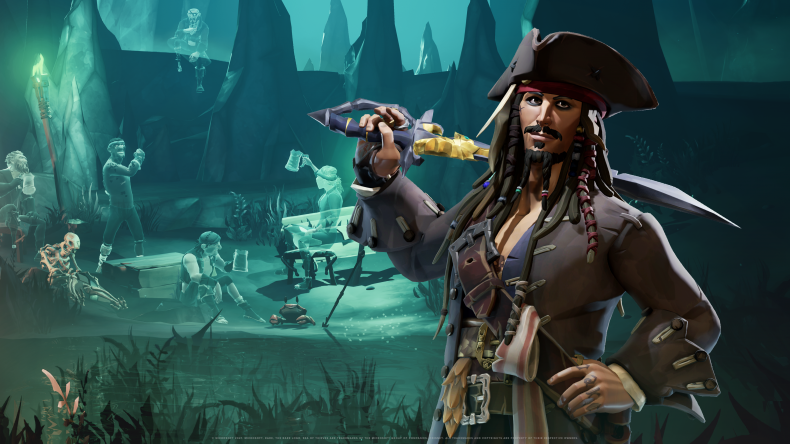 How to Access Sea of Thieves: A Pirate's Life
The third season of Sea of Thieves is completely free, so you will not have to go through any menus or online storefronts to redeem it. Instead, you will simply have to launch the game (either on your own or as part of a larger crew) and embark on the new voyage.
The crossover story campaign is divided into five "Tall Tales." For those who are new to Sea of Thieves, these are basically the closest thing that the game has to main missions, and they can only be picked up by visiting specific NPCs (Non-player characters) in predetermined locations.
In the case of A Pirate's Life, you will need to find "The Castaway," a new quest giver who has been added to every single outpost in Sea of Thieves. This means that it should not be too hard to track her down, as she will be appearing on numerous islands throughout the game world.
Once you have spoken to the NPC, a quest book will be added to your inventory that provides directions on how to complete the first tall tale and begin the Pirate's Life adventure.
Sea of Thieves is available for free through the Xbox Game Pass service.