Gun Owners Flood Twitter With Pleas For New Laws After Uvalde Shooting
Some gun owners have posted on Twitter calling for harsher gun laws in the wake of the deadly mass shooting at Robb Elementary School in Uvalde, Texas, that left 21 people dead on Tuesday.
The hashtag #GunOwnersForSafety circulated on Twitter in an effort to ask for gun legislation that would prevent future shootings and incompetent individuals from holding guns.
The hashtag comes after 18-year-old Salvador Ramos fatally shot 19 children and two teachers at Robb Elementary School on Tuesday.
Founder and board member at March for Our Lives, David Hogg, on Friday urged gun owners to use the hashtag and state that the National Rifle Association (NRA) doesn't represent them.
"Gun owners are contacting me asking what they can do. Right now here's what I need you to do. Tweet #GunOwnersForSafety to show that the NRA doesn't represent you because you believe in working together as Americans to save our kids even if a small step and get others to tweet," Hogg tweeted.
Multiple Twitter users began using the hashtag in response, including a gun owner named Chris who said that "as a long time gun owner, former soldier, and former Deputy Sheriff, I strongly support sweeping legislation that bans military style weapons and imposes universal background checks, insurance and training requirements for gun owners."
"#Gunownersforsafety I own guns and I believe in common sense gun laws. I believe the NRA is the enemy of common sense and has no place in American governance," another gun owner tweeted.
Meanwhile, other gun owners pointed out the ease of purchasing firearms and noted that there is a lack of proper background checks and verification of personal information.
"When my father took me to buy a pistol a handful of years ago, my address on my license wasn't my current address. My license and my background paper didn't match. I walked out with a pistol in about 30mins. That shouldn't have been possible," said one Twitter user.
One gun owner from Texas said that he was born and raised on farms and was given a 20 gauge shotgun as his Christmas present when he was 10 years old. He added that "the @NRA does NOT represent my interests. They have made it more difficult to raise my Family. I am ashamed of my home state's leadership."
Other gun owners on Twitter continued to reject the NRA, call for better legislation, and suggest that gun reform begins with removing Republican lawmakers from office.
"I'm glad to see support from gun owners on common sense gun reforms. But if you're really committed to common sense, you're gonna have to vote Republicans out of office. It's pretty clear they're beyond any hope," one person tweeted.
Ramos used two AR-15-style rifles during the shooting which he purchased on his birthday a few days before shooting inside Robb Elementary School. Some social media users are now calling for a ban on those rifles.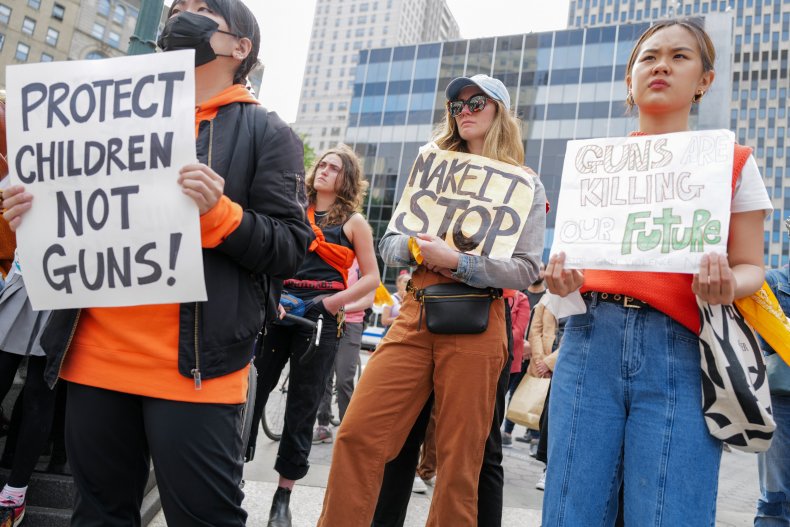 "I'm a democrat and have had guns in my family home since childhood. There's no reason for civilians to have access to AR's. There are plenty of gun owning Americans like myself who are sick of being held hostage by a small fraction of wackos," said Sade Sellers on Twitter.
GOP Senator Marco Rubio was asked by CNN on Wednesday why AR-15 assault rifles are not banned. The senator responded, "The truth of the matter is these people are going to commit these horrifying crimes, whether they have to use another weapon to do it, they're going to figure out a way to do it."
"We are a family of responsible gun owners. All firearms kept locked in a safe. Require Background checks now and ban assault weapons now please! #GunOwnersForSafety," Twitter user Gina wrote on Friday.
On Friday, the NRA began its annual convention which is running for three days in Houston, Texas, despite calls for postponing the event amid the Uvalde shooting aftermath.
Newsweek reached out to board member at March for Our Lives David Hogg for comments.