Outspoken NRA Member Breaks With Gun Group Over Convention: 'Read the Room'
A member of the National Rifle Association (NRA) criticized the gun group for holding its annual three-day convention beginning Friday in Houston, Texas in the aftermath of Tuesday's mass school shooting that left 21 people killed earlier this week in the state.
"I'm an NRA member. I'm an NRA supporter. But read the room. Postpone the convention a few weeks. Having a party in the state where 19 babies were just murdered, even if it was a convention for bakers, is not a good look," Carmine Sabia tweeted Friday morning.
His remarks come after Salvador Ramos, 18, shot and killed 19 children and two teachers on Tuesday inside Robb Elementary School in Uvalde using two AR-15-style rifles that he purchased on his birthday a few days before the incident.
Some Republicans supporting gun rights are expected to give speeches during the firearms event, including former President Donald Trump and Senator Ted Cruz.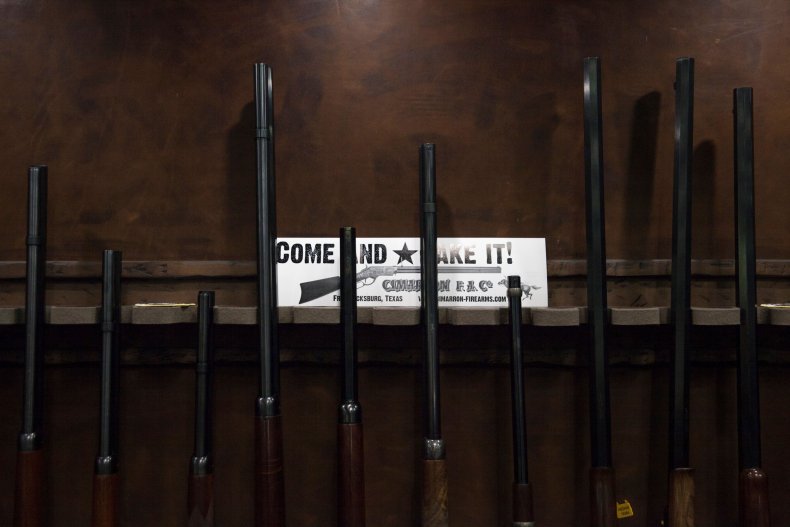 Texas Governor Greg Abbott is also listed as a speaker, but spokesperson Mike Miner said that the Republican will deliver his remarks through a prerecorded video instead.
Senator John Cornyn and Representative Dan Crenshaw were also expected to speak, but they are no longer attending due to changes in their schedules, according to their offices, the Associated Press reported. However, Trump and Republican South Dakota Governor Kristi Noem still plan to attend.
Some performers are no longer participating in the convention this year, including singer Don McLean, who said "it would be disrespectful" to perform amid the shooting's aftermath, according to AP.
Other performers opting out include singers Lee Greenwood and Larry Stewart, according to Variety. Larry Gatlin also withdrew and said that he hopes "the NRA will rethink some of its outdated and ill-thought-out positions," according to AP.
The NRA said on its website this week that attendees of the event will "reflect on" the Robb Elementary School shooting, "pray for the victims, recognize our patriotic members, and pledge to redouble our commitment to making our schools secure."
Though some think it's not the right time to hold the convention in a state where the deadly mass shooting occurred, while others think there is no reason to cancel it. Former NRA board member Rocky Marshall said that the Uvalde shooting "does put the meeting in a bad light" but it still should be held, according to AP.
"Throwing rocks at the NRA, that doesn't solve the next mass shooting," he said. "Throwing rocks at the people that hate guns, that doesn't solve the next mass shooting."
Meanwhile, White House press secretary Karine Jean-Pierre said on Thursday that NRA leaders "are contributing to the problem of gun violence and not trying to solve it."
"They represent the interests of the gun industry, the gun manufacturers who are marketing weapons of war to young adults. They don't represent gun owners who know that we need to take action," she added during a press briefing.
"And it's shameful that the NRA and their allies have stood in the way of every attempt to advance measures...that we all know will save lives from gun violence, measures that we know would keep weapons off—of war out of the hands of people who are terrorizing our community."
Newsweek reached out to the NRA and Sabia for comment.