'Gun Porn' on Campaign Trail Glamorizes Lethal Power of Firearms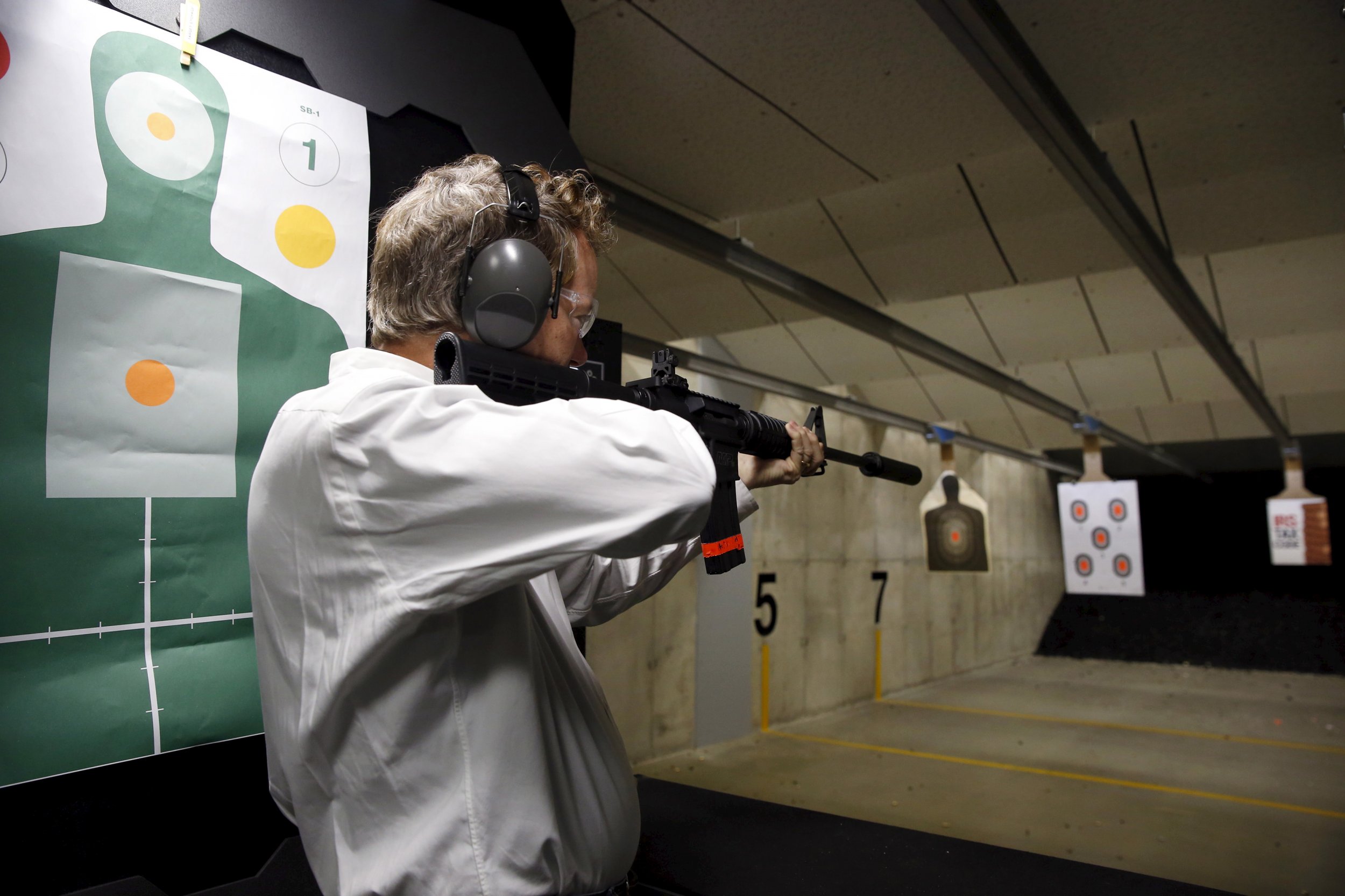 When describing pornography for his 1964 First Amendment decision, U.S. Supreme Court Justice Potter Stewart famously wrote, "I know it when I see it."
Related: Gun-safety group vows to defeat national reciprocity
After 18 years of advocacy work on behalf of gun violence prevention, I'd modify Justice Stewart's proposition to describing "gun porn." I know it when I see it. Disturbingly, I'm seeing more and more of it in political candidate campaign commercials. Gun porn is the display of fetishized images of guns: loading them; aiming and firing live ammunition into objects that don't bleed or die. Political candidates generally demonstrate their post-firing personal emotional satisfaction for the cameras as well. The only thing missing is the cliché post-coital cigarette.
So far in 2017, special congressional elections to fill seats opened by Trump administration appointments have seen South Carolina and Montana candidates wielding and firing guns to dramatize fealty to the National Rifle Association's reading of the Second Amendment; guns everywhere for everyone.
Perhaps before the devastating and horrific mass shootings in Newtown, San Bernardino, Roseburg, Orlando and Aurora—to name just a few—live-firing guns might have been an acceptable way to make that political point. Today, however, it's wildly out of step, offensive and perhaps even traumatizing to victims, their family members and affected communities all over the country.
This live-firing of a loaded rifle is an edgy new tactic among some Democratic candidates running in red states. Back in 2010, Senator Joe Manchin (D-W.Va.) ran a spot featuring a bullet fired through the cap and trade bill, a proposed legislative solution to reduce emissions from coal-burning power plants. Last year, a Missouri candidate for governor ran a spot showing himself firing the most powerful military-style machine gun available. And a Missouri candidate for U.S. Senate, Democrat Jason Kander, ran an ad showing him assembling an AR-15 while blindfolded—seriously.
Besides glamorizing the lethal power of high-powered guns, gun porn focuses on the images of holding, aiming and firing, not on the damage caused when a bullet is fired into a fellow human. A new photography book by Kathy Shorr unflinchingly pictures real scars of real victims who lived to bear witness while recovering from devastating gun violence injuries. These folks won't be showing up in candidate/gun pornography ads.
This Friday in Atlanta, the NRA's favorite politician, President Donald Trump, will become the first sitting president in nearly 34 years to address their annual meeting. Trump loves the NRA: "They endorsed me early!" In his first 100 days, Trump has already signed legislation and executive orders loosening restrictions on gun sales and is poised to go much further to implement the NRA's agenda.
So Trump will be at the NRA convention on Day 99 of his chaos presidency, but will Democratic candidate Rob Quist, nominee for Montana's open congressional seat, be there? If that seems like an odd question, then you haven't seen Quist's latest "gunning for my opponent" ad. Quist, a banjo-playing Montana folk singer, touts his determination to "protect your right to bear arms, because it's my right too," as he loads, cocks, aims and fires a bullet into a television displaying his opponent's attack ad. Pure gun porn.
Quist's a singing songwriter whose credits include .45 Caliber Man, with lyrics such as, "People if we're going to save this country it's going to take a .45 caliber man." When asked recently by a Montana public radio interviewer for his view on background checks for gun purchasers, Quist hems, haws and hedges on the question of supporting background checks, eventually supporting some limits on gun sales to the mentally ill. Seems like Quist would find himself quite at home at this Friday's NRA event.
Besides the gun porn, what's also shocking is the financial support the national Democratic Party is putting behind this longshot candidate who touts his two terms on Montana's Arts Council as his qualification for Congress. The state of Montana has had only one seat in the U.S. House since it lost its second seat after the 1990 census. Since 1990, Democrats held the seat once, over 20 years ago. Winning this seat in a low-turnout May 25 special election is unlikely in the extreme. So why would the Democratic National Committee and the Democratic Congressional Campaign Committee, which have been the recipients of energetic support from America's gun violence prevention activist community, put resources behind Quist's quixotic bid?
The DCCC, now chaired by Ben Ray Luján (D-N.M.), just decided to put several hundred thousand dollars into supporting Quist, without even whispering a concern about these gun-shooting ads. And Senator Bernie Sanders (I-Vt.) endorsed Quist just a couple weeks back.
Seems to me the Montana race presents Democrats with an opportunity to return the loyalty and support of Everytown for Gun Safety, Moms Demand Action for Gun Sense in America, Americans for Responsible Solutions and the Center for American Progress—to name just a few national gun violence prevention organizations—by denouncing these ads, standing on principle and declaring gun porn an unacceptable campaign tactic.
Ken Toltz is a third-generation Coloradoan, businessman and longtime gun violence prevention political activist. He founded and co-chairs Safe Campus Colorado.
'Gun Porn' on Campaign Trail Glamorizes Lethal Power of Firearms | Opinion