Gun Rally in Virginia Was the Realization of MLK Jr.'s Dream, Says Gun Owners of America Spokesperson
A Fox News guest said Tuesday morning that the conduct she saw when she attended the pro–Second Amendment rally in Richmond, Virginia, on Monday was evidence that Martin Luther King Jr.'s dream of harmony among people of different races had "become reality."
The guest, who appeared on the morning show Fox & Friends, was Antonia Okafor Cover, the director of outreach for the Gun Owners of America, a nonprofit that promotes gun rights.
Okafor spoke about attending the pro-gun protest held at the Virginia State Capitol building on Monday, which was also a holiday commemorating civil rights leader Martin Luther King Jr.
The rally was held to protest pending gun control measures from Virginia's Democratic governor, Ralph Northam, and the majority-Democratic Legislature. As Newsweek reported, it drew thousands of armed protesters from across the state and elsewhere.
Because of the amount of firearms present, some were concerned that the demonstration would be similar to the white supremacist Unite the Right rally in Charlottesville, Virginia, in 2017, which erupted in violence and led to the death of a counterprotester. In anticipation of potential violence, the Virginia Supreme Court decided on Friday that no weapons would be allowed on the Capitol grounds, Newsweek reported. The rally on Monday ended with no violent incidents and only one arrest, according to the Richmond Times-Dispatch.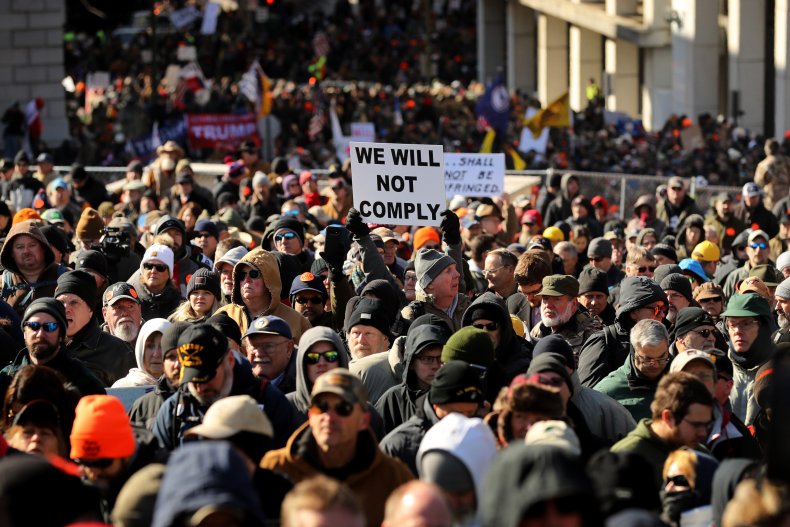 On Fox & Friends, host Steve Doocy asked Okafor what she thought of predictions that the rally would turn out to be a "Charlottesville 2.0" or "a gathering of white supremacists." Okafor, who is black, replied that she thought the rally was the furthest thing from a white supremacist gathering.
"This was, by far, hands down the worst white supremacist rally I've ever seen," she said with a chuckle. "There were people shaking my hand. I mean, they even let me speak, for goodness' sake. There were over 20,000 people there. So it's almost as if MLK's dream to see that people judge people based on the content of their character and not the color of their skin has actually become reality."
Okafor's remarks on Fox News were similar to a tweet she posted on Monday after the Richmond rally had concluded. Attached to the tweet was a video clip of Okafor speaking to a crowd.
"What would MLK do if he saw all of these people judging me by the content of my character instead of the color of my skin?" she asked in the tweet, rhetorically.
Okafor referred to a line from what is likely King's most famous speech, which he delivered on the steps of Washington's Lincoln Memorial on August 28, 1963. In the speech, King said, "I have a dream that my four little children will one day live in a nation where they will not be judged by the color of their skin but by the content of their character."
Newsweek contacted the Gun Owners of America for further comment but did not receive a reply before publication.