Gun Seller Ad at School Near NRA Convention After Uvalde Shooting Draws Ire
A gun retailer received swift backlash this week after it posted ads outside of a Houston school just days after 19 children and two teachers were killed in a school shooting in Uvalde, Texas.
Ads for Silencer Shop, a Texas-based store that specializes in firearm suppressors and accessories, were seen on utility boxes outside of Kinder High School for the Performing and Visual Arts on Friday. The promotional signs were posted less than a mile away from where the National Rifle Association (NRA) is holding its annual convention this weekend, the Houston Chronicle reported.
The NRA convention has been met with significant criticism as the country reels from at least three major mass shootings in the past month, including the deadly massacre at Robb Elementary School in Uvalde on Tuesday. Thousands of activists have gathered in Houston to protest the gathering, holding up images of victims of gun violence, and pleading with politicians and lobbyists to support gun control reform.
The ads, which boasted about being "the easiest way to get your suppressor" drew immediate condemnation from school officials. Sean Tellez, the school's assistant principal, slammed the retailer on Twitter and said that the ads were being taken down.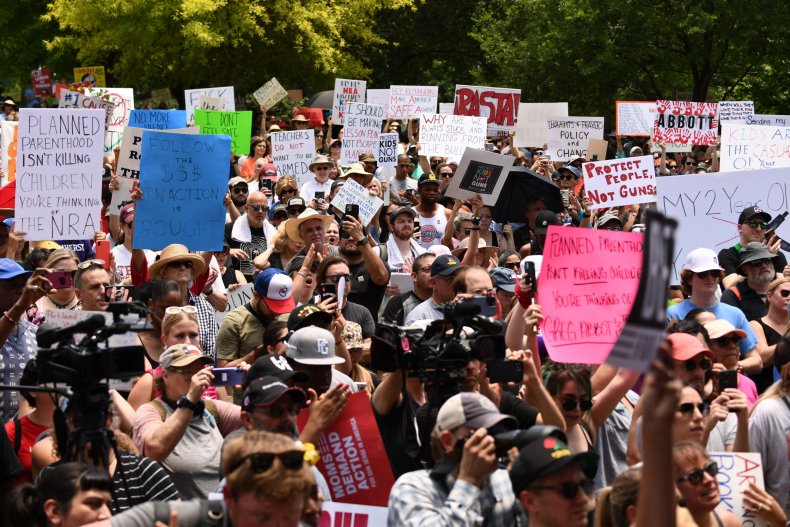 "I get that those are@HoustonTX utility boxes but get this nonsense off our block. Our kids shouldn't see stuff like this slapped around because we live and learn two blocks from where the NRA insists on still having their convention. They are being scraped off now," he wrote on Friday, while sharing a photo of the ad.
The assistant principal later tweeted that the situation was "beyond frustrating," and that while change may not be felt "overnight" he will continue to work to provide a safe space for students and families.
"I swear by everything I believe in that I will do my part to change this narrative, protect my students, and work to remove those from power that think this ok or that me and my colleagues should be trained as if we are first responders or going to war," he added. "Sadly we are at war, but the war we are fighting is for our children's world and dreams. It's beyond time that my generation wins this fight so no other has to face it."
Several community members responded to his statements, with one parent writing: "Thank you so much for taking those down. My son seems a little rattled by all of this. I want him to continue to see @HSPVA as a safe, caring, learning community."
Others tweeted that the ads were "unbelievable" or "disgusting," while another parent added: "As if I'm not nervous enough letting my kid even go to school today."
Tuesday's shooting marked the second deadliest mass shooting on record at a U.S. school. It came nearly a decade after a gunman opened fire inside Sandy Hook Elementary School in 2012 in Newtown, Connecticut, killing 20 young children, six adults, and then himself.
The massacre at Robb Elementary School also occurred less than two weeks after two other major shootings anguished communities across the nation. On May 14, a gunman motivated by white supremacy opened fire on a supermarket in Buffalo, New York, killing 10 individuals who were Black. A day later, one man was killed and five others were injured at a church shooting in Laguna Woods, California, by a man who held anti-Taiwanese views.
Silencer Shop, which sells weapons manufactured by Daniel Defense, a brand that 18-year-old gunman Salvador Ramos used in the Uvalde shooting, is listed as an exhibitor at this weekend's NRA convention.
Daniel Defense, however, has pulled out of the event following the deadly attack.
Newsweek has contacted Silencer Shop for comment.