Uvalde Gun Manufacturer With 'Perfect Rifle' Pulls Out of NRA Show
The gun manufacturer that produced the rifle used in Tuesday's Uvalde school shooting has abruptly withdrawn from this weekend's NRA convention in Houston.
Up until Wednesday afternoon, Daniel Defense was set to appear at the George R. Brown Convention Center as part of the three-day industry event over Memorial Day weekend, according to The Daily Beast.
But the manufacturer, which promoted itself as having "a perfect rifle for everybody," will no longer be occupying Booth 4839, which will be replaced by the NRA itself and its "membership programs and services" among other offerings.
On Wednesday, the Bureau of Alcohol, Tobacco, Firearms and Explosives confirmed that the rifle used by the 18-year-old identified as the gunman who opened fire at Robb Elementary School was manufactured by Daniel Defense, Houston's KHOU reported. Images of the alleged shooter's receipt, obtained by The Daily Dot, indicated that he had purchased the rifle from Daniel Defense last week.
The devastating shooting took the lives of 19 children and two adults.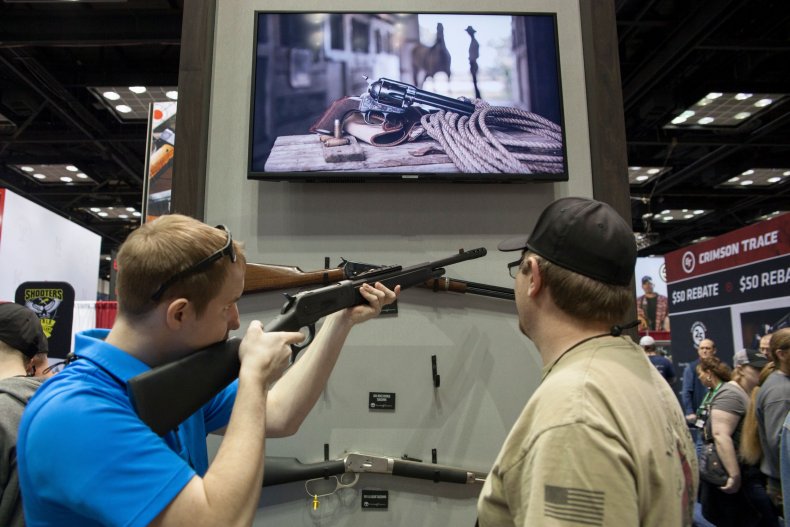 On Daniel Defense's website, the manufacturer acknowledged its role in the event.
"As reported in Governor Abbott's press conference, it is our understanding that the firearm used in the attack was manufactured by Daniel Defense," the company said. "We will cooperate with all federal, state, and local law enforcement authorities in their investigations."
Daniel Defense is one of the largest privately held gun manufacturers in the country with sales nearing $100 million, according to Forbes.
Back in 2017, CEO Marty Daniel told Forbes that the company profited in sales following the Sandy Hook shooting that killed 26 people, including 20 children. The Uvalde tragedy has surpassed the 2018 Parkland, Florida, shooting as the deadliest school shooting since Sandy Hook.
"The mass shooting at Sandy Hook Elementary in 2012 drove a lot of sales," Daniel told Forbes. "That was a horrible event and we don't use those kinds of terrible things to drive sales but when people see politicians start talking about gun control, they have this fear and they go out and buy guns."
Daniel Defense could likely face lawsuits stemming from this week's shooting much like gunmaker Remington did in the wake of Sandy Hook.
Earlier this year, the families of nine Sandy Hook victims settled a lawsuit for $73 million against Remington in what is the largest payout by a gun manufacturer in a mass shooting case.
The families argued that Remington promoted sales of the weapon used in the massacre with marketing materials targeted at troubled young men. The payout suggests that Daniel Defense's promotional materials could also be under scrutiny despite the 2005 Protection of Lawful Commerce in Arms Act that largely shields manufacturers from liability.
Newsweek reached out to the NRA for comment.