Gun Store Posts Sign Mocking George Floyd's Death: '2 Years of Sobriety'
A gun store sign mocking the two-year anniversary of the death of George Floyd is being both maligned and celebrated.
According to multiple news outlets, the sign was in front of Leesburg Guns in east Alabama and read: "Congratulations to George Floyd on 2 years of sobriety."
A jury found Minneapolis, Minnesota, police officer Derek Chauvin guilty of second-degree murder in the May 25, 2020, death of Floyd. Chauvin had his knee on Floyd's neck, which was documented in a video that went viral worldwide and sparked petitions, federal investigations, protests and violence.
Alabama.com reported that the store is owned by Dr. Roger Nichols, a veterinarian and Cherokee County commissioner.
WVTM 13 reported that the sign did not stay up long and was later changed to read, "Ya know what protects the 1st Amendment? The 2nd!"
A reporter for the local news station was reportedly told to leave by employees at Nichols' veterinary clinic.
"It's pretty sad that a public official will allow that stuff to go on," one resident told WVTM 13. "Everybody is kind of done with this place putting stuff like that in this community. This community is a good community. We never have any problems."
The gun shop has been bombarded with negative reviews on Yelp, where it has one out of five stars based on 266 reviews. When visiting the store on the website, a message pops up that the business is being monitored by Yelp officials for content due to media reports.
"Recently, someone associated with this business was accused of racist behavior, resulting in an influx of people posting their views to this page," a pop-up on Yelp read. "Racism is reprehensible and has no place on Yelp, and we unequivocally reject racism or discrimination in any form."
The message goes on to add that reviews on the website "must reflect an actual first-hand consumer experience," hence the temporary disabling of reviews to further investigate the business and claims.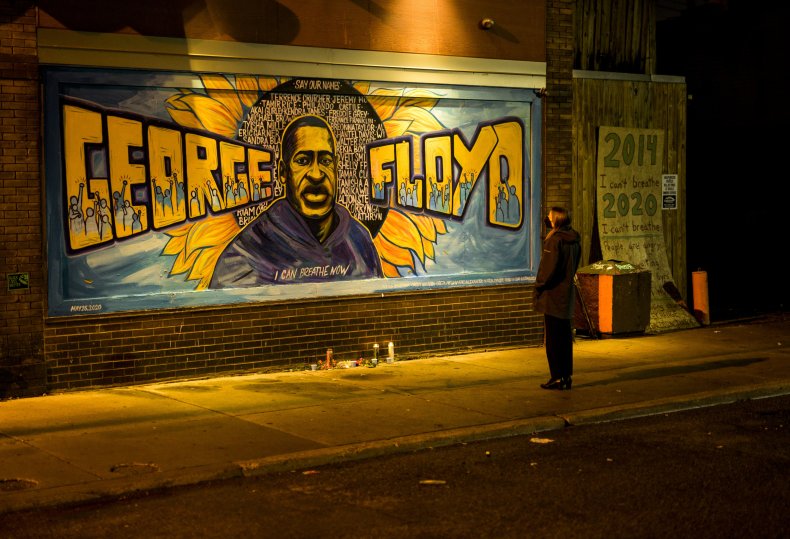 Signs at the same gun store owned by Nichols have circulated online in the past, such as one that read: "Are we still allowed to play pool...since we use a white ball to hit the colored balls?" That photo has been uploaded on Reddit and other image-hosting sites.
The George Floyd-related sign was posted this morning on an internet forum called AR15.com, of which just about all users on the message board found it comical and supported the message.
"F**k fentanyl Floyd," one user posted. "Awesome sign."
"I'm not in the market for anything firearms related, but if I lived in Alabama, I'd buy a spare Glock just for the hell of it," another post read.
A recent University of Massachusetts Amherst survey of 1,000 people between May and 9 found that support for the Black Lives Matter movement has decreased from 48 percent to 31 percent.
Newsweek reached out to Nichols for comment.