Gun-Toting California 'Mamalitia' Accused of Intimidating Public Health Officials Over Vaccines
A group of gun-toting California women calling themselves a "Mamalitia" have been accused of intimidating public health officials over vaccines, with at least one state lawmaker raising concerns that their activism could encourage vaccine hesitancy.
The "Mamalitia" has grown out of a group known as the Freedom Angels, which attempted to block student vaccinations at the California state capitol in 2019. Last year, amid COVID-19 lockdowns and restrictions, the group participated in demonstrations outside the homes of local public health officials and at the state capitol.
State Senator Richard Pan, a Democrat, raised concerns that the group's efforts will discourage people from getting the safe and effective COVID-19 vaccines. He accused the group of intimidating public health officials.
"Not only did they protest the public health measures but they then employed tactics to bully and intimidate people," Pan told CBS News' Sacramento affiliate KOVR 13.
Local news reports in California have raised alarms about the groups' ties to extremist and far-right groups—such as the Proud Boys. They have also accused the group of being opposed to vaccines and suggested that one of the group's founders, Denise Agiular, was associated with the insurrection targeting the U.S. Capitol.
In a statement emailed to Newsweek, the group disputed these characterizations.
"To be clear: we are not a militia, we are a group of women learning skills to be self-sufficient," the statement read, despite the group going by the name "Mamalitia."
The group went on to say that it's "false" to suggest that they are "anti-vaccine" or "involved in politics."
"Our members come from all walks of life including families that do vaccinate but support a woman's right to choose. Mamalitia is also apolitical. We have never participated in a protest nor have we had any involvement with political issues," the statement continued.
The group pointed out that the Constitution allows for Americans to own and use guns, saying that the women gather to focus on "food storage, map reading, homeschooling, and survival skills."
Despite the group's statement, Aguilar did praise the Proud Boys, which has been described as a far-right extremist group by the Southern Poverty Law Center, during a November demonstration at the State Capitol, according to the Sacramento Bee.
"Thank you to the Proud Boys," Aguilar reportedly told a crowd of demonstrators at the time. "I've worked with them. I know them. I love them. I trust them. And I trust them so much that they're here protecting you. And thank you to the California militia guys out here as well."
Aguilar was also reportedly in Washington, D.C. on January 6 when supporters of former President Donald Trump stormed the U.S. Capitol in an effort to overturn President Joe Biden's election win. But there is no evidence that Aguilar entered or attempted to enter the Capitol. Proud Boys' members were staunchly pro-Trump and threatened violence if he did not remain in office.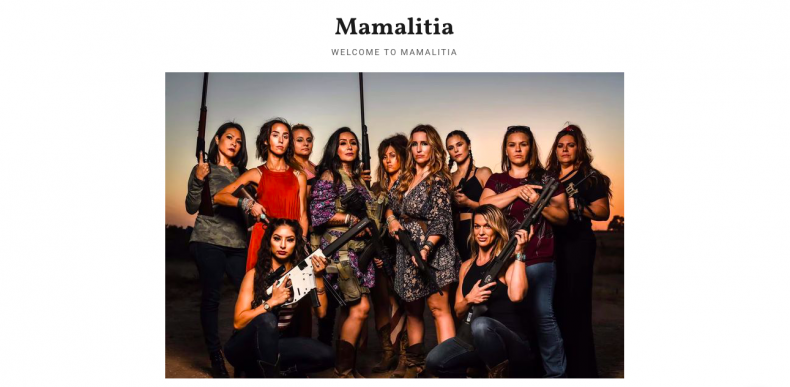 Last summer, when members of the group protested outside of public health officials' homes, Heidi Muñoz Gleisner, who co-founded the Freedom Angels with Aguilar, disputed the characterization of their actions as intimidation. She pointed out that they went with their children and drew on sidewalks with chalk.
"Mommies with children and sidewalk chalk are intimidating?" Muñoz Gleisner asked in an email last June, The Los Angeles Times reported.
But Dr. Richard Carpiano, a professor of public policy and sociology at the University of California, Riverside, raised concerns about the group in an interview with KOVR 13.
"When you're showing pictures of you with weapons, you are advertising services to train people in firearms. There's no reason whatsoever to think they're not pushing some extremist view," Carpiano said.