Gunman in Custody; 1 Dead, 3 Injured After Shooting at Northern Arizona University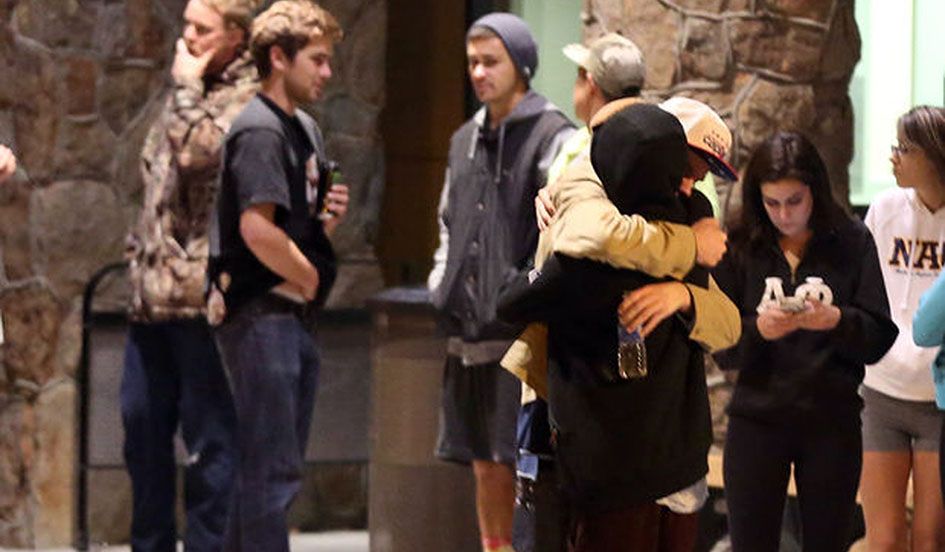 Three people are wounded and one is dead after a gunman opened fire at Northern Arizona University in Flagstaff early Friday morning.
The alleged shooter is in custody and has been identified by authorities as 18-year-old Steven Jones, believed to be a freshman at the university. Jones is cooperating with police, Northern Arizon University Police Chief Greg Fowler said at a press conference.
Jones was involved in an altercation with students at the school, the nature of which remains unknown. "We don't know the facts yet about what brought [the students] together or what caused the confrontation," the chief said.
Related: A Map of Every School Shooting in America Since 2013
Colin Brough died in the incident; Nicholas Prato, Kyle Zlentek and Nicholas Piring suffered multiple gunshot wounds and remain hospitalized at the Flagstaff Medical Center. Brough is a freshman, Fowler said. All four victims were members of the Delta Chi fraternity.
Jones will be arraigned at 1 p.m. local time. "He has been charged with the following felonies: 1 count first degree murder [and] 3 counts aggravated assault," the school said in a satement.
The shooting broke out outside Mountain View Hall around 1:20 a.m. local time. The university's police department is working with the Flagstaff Police Department to investigate the incident. Classes have not been canceled. "Nothing happened inside of our residencce halls," Fowler said.
Related: Northern Arizona University Shooting Becomes 46th at a School This Year
"We are deeply saddened by this tragedy and our thoughts and prayers are with the friends and family of the victims, as well as the entire community in Flagstaff," Delta Chi said in a statement. "Delta Chi leadership has formally requested the assistance of Northern Arizona University in providing counseling and support to our members on campus. Delta Chi will be providing support to our local chapter and will assist and fully cooperate with law enforcement and the university in their investigation."
"The gunman is not a member of the Fraternity," Delta Chi Executive Director Justin P. Sherman tells Newsweek.
"My thoughts and prayers are with families of the person who was killed and the three others who were wounded in the horrific shooting on the campus of Northern Arizona University in Flagstaff early this morning. I appreciate the efforts of all state and local law enforcement officials, first-responders and school administrators, and continue to pray for the recovery of the injured, as well as all those in the NAU community who have been impacted by this terrible tragedy," Arizona Senator John McCain said in a statement.
Congresswoman Ann Kirkpatrick also offered her condolences:
Guns are banned from campus though Arizona laws allows weapons to be stored in the glove box of a vehicle. "My prayers are with the Northern Arizona University community today. I survived the 2011 shooting in Tucson where six innocent lives were taken. I was shot three times protecting my daughter with my body. She is now a college student, and my son is a high school senior applying to NAU. I will not accept the state of gun violence in this country—especially on our college campuses," Mary Reed said in a statement.
Related: What We Know About the Victims of the Northern Arizona University Shooting
"We are sensitive to the tragedy, and we are asking the faculty to be sensitive to the needs of our students and families. This is not going to be a normal day at NAU. Our hearts are heavy," university president Rita Hartung Cheng said in a statement.
The school is offering counseling services on campus.
This incident comes just a week after a deadly school shooting in Roseburg, Oregon, left nine dead. It is the 46th school shooting this year in America.