Gunman Opens Fire at McDonald's Drive Thru Leaving 1 Dead, 3 Critical, Police Say
Detectives are hunting for a gunman who left one person dead and three seriously injured after opening fire at a McDonald's drive thru.
The incident unfolded at 6:25 p.m. on Wednesday at the fast food outlet in West Peace Street, Canton, Mississippi.
Canton Police Chief Otha Brown told local media that the car carrying the victims was at the drive thru when another vehicle "came out of nowhere" and opened fire.
He said four people were shot multiple times suffering bullet wounds to their chest, legs and arms.
Medics and police scrambled to the scene and the three injured people were rushed to the University of Mississippi Medical Centre in Jackson.
Now Brown says police have launched a murder inquiry and anyone with information is asked to contact detectives.
He said: "We have had a shooting in Canton, but what a lot of the young folks are doing is they're trying to take things into their own hands instead of letting the police take care of it.
"Let someone know what's going on.
"A lot of people are on social media saying things, but no-one is saying anything to the police department."
The shooting is the latest violent incident to have taken place at a fast food outlet during the COVID-19 pandemic.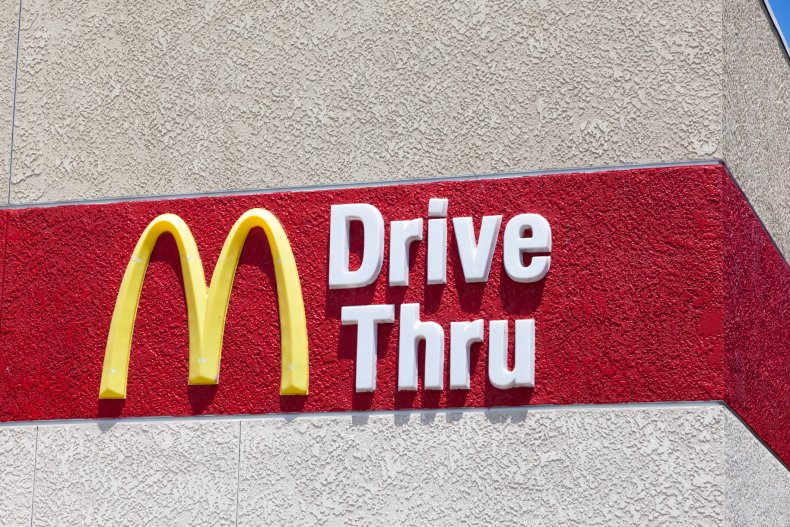 Last week Newsweek reported how police were hunting for a man who allegedly fired shots into a KFC drive thru in Tennessee after being given the wrong order.
Detectives said a man in a grey Freightliner pulled up at the fast food outlet at 6262 Winchester, in Memphis, and placed an order at the drive-thru window.
They said he initially drove off after receiving the order but later returned to the window demanding a refund, saying he had been given the wrong food.
The cashier handed over the money and the man then pulled away before firing gunshots into the building, police said.
Although no-one was injured during the incident on October 10, police said the bullets shattered glass and damaged several walls.
And two weeks ago Newsweek also reported how a mother had been caught on camera threatening staff at a McDonald's after they forgot to give her ketchup with her food order.
The mother was filmed as she launched a vicious tirade at staff working at a drive-thru in Belgium.
During the clip, posted to Twitter, the woman goes up to the order hatch and starts shouting and pointing her finger demanding ketchup, or "sauce" as it is more commonly known in Europe.
Two people sitting in a car recorded the clip on a mobile phone. The video captured her shouting that she had repeatedly asked staff whether the order was complete and been assured that it was before she left.
However, the mother said that as she started driving "all the way back to Sint-Niklaas" with her children, one of them discovered that the sauce was missing.
During the tirade, The Brussels Times reported that the woman hurled insults at staff calling one man a "dirty son of a w****" and addressing another staff member as a "dirty w****."
And in a separate incident last month, a woman was jailed after she climbed through the window of a McDonald's drive-thru and attacked three employees because she did not get a cookie.
Daja Tucker struck at the fast food outlet in Snow Road, Parma, Ohio, spitting at one employee who had been handing out free food to first responders on duty during the COVID-19 crisis.
Tucker was jailed for 90 days following the attack which was described as "shocking."
In a video played to the Parma court, Tucker can be seen attacking the young employees.
Parma Municipal Judge, Timothy Gilligan, found her guilty of attempted assault and criminal damage as part of a plea deal.
He told her: "And because you didn't get a cookie you come through the window and do this, absolutely inexcusable."