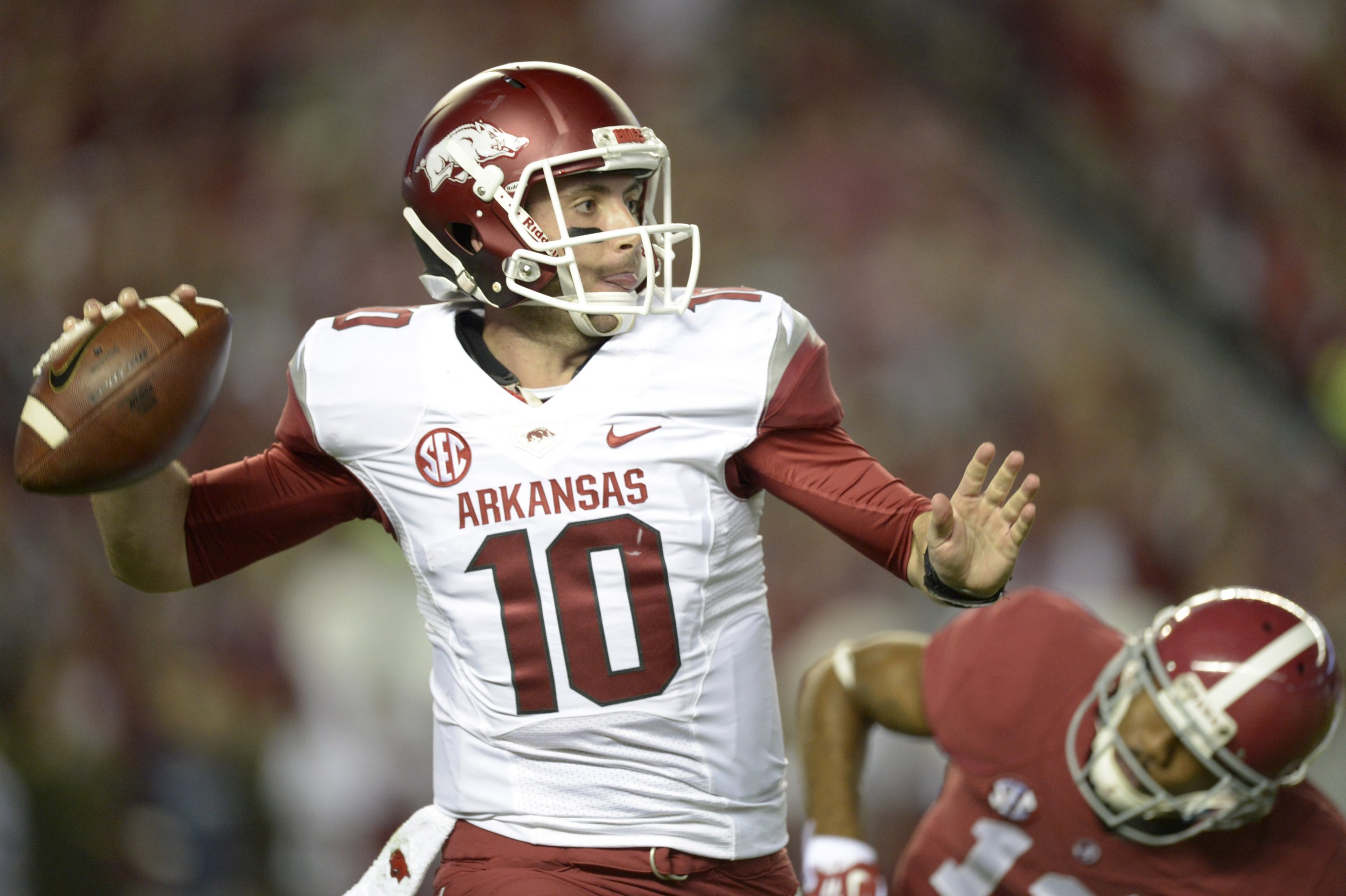 Updated | The Republican governor of Arkansas has signed a bill to allow colleges to prohibit fans from bringing guns to athletic events even if they have concealed carry licenses. The measure moved quickly through the state legislature after Governor Asa Hutchinson signed a new campus carry law allowing concealed weapons to be carried in most public places, which sparked widespread public backlash.
Related: Guns in America: North Dakota is latest state to allow permitless carry
The new law amends the sweeping gun law—backed by the National Rifle Association—that Hutchinson signed in March. That law permits anyone aged 21 or older to carry concealed firearms in the state Capitol, places of worship, some bars, on college campuses, in libraries and in other public places that have previously been off-limits, as long as the enhanced permit holders complete up to eight hours of training, including for active-shooter situations.
Both laws will take effect in September, but residents likely won't be able to carry concealed weapons at the new locations until early 2018, to allow for additional law enforcement training.
At a press conference shortly after Hutchinson's signing ceremony in March, a reporter asked the governor about football fans now being able to bring guns into Razorback Stadium, the 72,000-seat facility at the University of Arkansas. His response: "While you might have a sign right now that says, No weapons allowed in Razorback Stadium, there's not any magnetometers, so a bad guy could get a gun into Razorback Stadium now."
Once it became clear there was national opposition to the idea of allowing guns at athletic events, the Senate and House began working on the bill that the governor signed on April 3. The updated measure, which is strongly opposed by the NRA, allows exemptions to keep guns away from college sporting events, campus daycare facilities and the University of Arkansas for Medical Sciences. Schools wishing to ban firearms at athletic events must submit detailed security plans to state police.
The opposition to the enhanced concealed carry law was widespread, including from university officials, athletes and even the commissioners of the institutions overseeing the state's two biggest athletic programs, the Southeastern Conference (SEC) and the Sun Belt. They focused on the inclusion of college sports stadiums, citing concerns about public safety in "the intense atmosphere surrounding athletic events."
Before Hutchinson signed the latest bill into law, Democratic state Representative Greg Leding told Newsweek he couldn't imagine Hutchinson refusing to sign the bill, "just because of the economic catastrophe that would come if the SEC were to pull all of its games out of the state of Arkansas, plus the outrage from sports fans."
The state police declined to answer Newsweek's inquiry on the current number of concealed carry permit holders in Arkansas, citing the need to clearly understand the new law before attempting to answer questions.
How Did This Debate Start?
For years, Republican state Representative Charlie Collins has been pushing legislation that would require public universities and colleges to allow staff to carry concealed guns. He scored partial success in 2013: His legislation was signed, but it included an opt-out clause for the state's universities and colleges—and they all chose to do so. In 2015, Collins tried to again make the guns option a requirement, but the measure failed in committee.
The enhanced concealed carry law does include some restrictions on concealed guns: They continue to be prohibited in courtrooms, K-12 public schools and at private institutions that choose to opt out. It also prohibits students from storing handguns inside their residence halls.
Collins told critics he's trying to increase safety in Arkansas by deterring "some of these crazy killers from choosing to go to our campuses and potentially murder people."
What Critics Say
Leding, whose district includes the University of Arkansas in Fayetteville, says he for years has received thousands of emails, letters, calls and Facebook messages stating opposition to allowing guns on college campuses. Only a handful of people, he says, have contacted him in support of such a measure. "Unless you have a connection to the campus," he adds, "I don't really care what your opinion is because you won't be affected by it."
Razorbacks players, in particular, have been outspoken in their opposition to the enhanced legislation, saying they are uncomfortable with the idea of playing in front of fans carrying guns.
Gun-safety advocates also opposed the law, saying it will put athletes, students and fans at unnecessary risk because permit holders receive minimal training. They also argue that the new bill doesn't do enough, as it would still allow guns to be carried in places where, they say, firearms don't belong. When asked whether the new bill would put some of the opposition's minds to ease, Leding says, "Oh God, no." All it does, he says, is "mop up a little bit of the mess" created by the new law.
He adds: "The bill is still awful. People are still overwhelmingly opposed."
What Supporters Say
Before he became governor, Hutchinson acted as an NRA consultant on a task force that called for school staffers to receive training and then carry firearms at schools, a notion long pushed by the gun lobby—most notably after the 2012 massacre at Sandy Hook Elementary School in Newtown, Connecticut.
Chris Cox, executive director of the NRA's Institute for Legislative Action, thanked the governor for his longtime support of his organization. "This step goes a long way towards recognizing that law-abiding people in this state have the right to defend themselves anywhere they have a legal right to be," he said at the press conference in March. "Do some people hate the idea of guns on campus? Sure. We hate the idea of unarmed victims on campus."
State Representative Bob Ballinger, meanwhile, commended Arkansas residents for understanding "that it's a good guy with a gun that usually stops a bad guy with a gun."
This article has been updated to include Hutchinson signing the bill.