Brazil's far-right President-elect Jair Bolsonaro has reiterated his support for gun ownership in his first televised interview since his election victory on Sunday.
Bolsonaro—who has been described as far-right, populist, authoritarian and neo-fascist—consistently voiced demands for looser firearms laws during the campaign, and now appears poised to deliver on his promise to arm more citizens.
Speaking with Record, a television channel owned by one of his powerful supporters, Bolsonaro dismissed what he said was the politically correct fallacy that lower gun ownership rates would lead to a fall violence, The Guardian reported.
"It won't be any better. If there were three or four armed people here now, I'd be certain that some nutter wouldn't be able to come in through that door and do something bad," the leader of the Social Liberal Party said.
Bolsonaro, who was stabbed at a rally on the campaign trail in September, continued, "I ask myself: 'Why can't a truck driver have the right to carry a gun? Just think about it—put yourself in the shoes of a truck driver. He nods off at the petrol station… and when he wakes up the next day his spare tyre has gone."
Brazil has been battling a violence epidemic in recent years, which last year took almost 64,000 lives. Bolsonaro believes the only answer is to loosen restraints on the police and military while also allowing "every honest citizen" who wants a firearm to be allowed to buy one.
Brazilian authorities have resorted to controversial "pacification" operations in a bid to assert control over some of the country's most deprived and gang-ridden areas, including the infamous favelas of Rio de Janeiro and São Paulo. Government forces have been accused of unlawful arrest, torture and summary executions in such operations.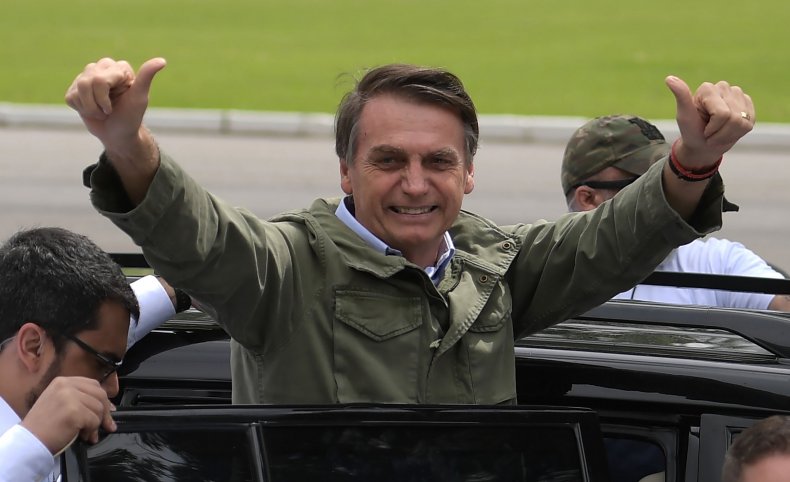 "Statistics show that when the number of autos de resistência [police killings] carried out by the military police goes up, violence goes down in the region where they took place," the president-elect added.
During the presidential campaign, Bolsonaro's supporters adopted a hand signal with their fingers in the shape of a gun, one also regularly made by the former army captain himself. Bolsonaro's fans, including his sons, are often seen wearing pro-gun and pro-National Rifle Association branded clothes.
Gun ownership goes beyond personal safety for the 63-year-old. "More than safeguarding someone's life, firearms safeguard the freedom of a people," the president-elect added.
Bolsonaro's stance on gun ownership is just one element of his divisive politics, which helped make the presidential race one of the most charged in recent history.
Bolsonaro has regularly made racist, misogynist, and homophobic comments, earning his the nickname, "The Trump of the Tropics." His election win represents a sharp shift to the right for South America's largest democracy, adding to fears that far-right populism is on the march across the globe.
Speaking with the Globo broadcaster, he refused to apologize for threats to imprison or exile his left-wing opponents from the Socialism and Liberty Party (PSOL) and Workers' Party (PT). "It was a fiery speech and I was referring to the top brass of the PT and also of the PSOL," Bolsonaro told Globo.
"It was a moment of anger. It was a heated address. In Jair Bolsonaro's Brazil, those who disrespect the law will feel the weight of that very same law," he said.