A Chinese city has killed nearly 18,000 chickens following an outbreak of bird flu—which can in rare cases jump to humans—as the country struggles to contain the spread of a mysterious new coronavirus which has killed more than 300 people.
China's Ministry of Agriculture and Rural Affairs said in a statement on Saturday that poultry in the Shuangqing District of Shaoyang City, in the Hunan province of southern China, had fallen ill. Hunan borders Hubei province, the epicenter of the outbreak of the coronavirus known as 2019-nCoV. According to the World Health Organization (WHO) website, H5N1 "causes a highly infectious, severe respiratory disease in birds."
China's Animal Epidemic Prevention and Control Center alerted the Ministry of Agriculture and Rural Affairs to an avian flu outbreak on Saturday, according to the statement. The National Avian Influenza Reference Laboratory later confirmed the bug as H5N1, which had sickened chickens bred by a farmer in Shuangqing District. The farmer kept a total of 7,850, with 4,500 having died. Local authorities subsequently culled 17,828 chickens in the city, the ministry said.
In rare cases, the WHO states, H5N1 can spread to humans, but transmission between people is unlikely. Most people who catch this type of flu have close contact with infected birds or contaminated areas. But there remain wider fears that the virus which has a high death rate could mutate in a way that would make human-to-human transmission easier. "The consequences for public health could be very serious," the WHO said. Of those who contract H5N1, roughly 60 percent succumb to the illness.
Since 2003 a total of 455 people have been killed by H5N1, according to the UN health agency. Most cases were reported in Egypt, as well as Vietnam, Indonesia, Cambodia, China, Thailand, and Turkey.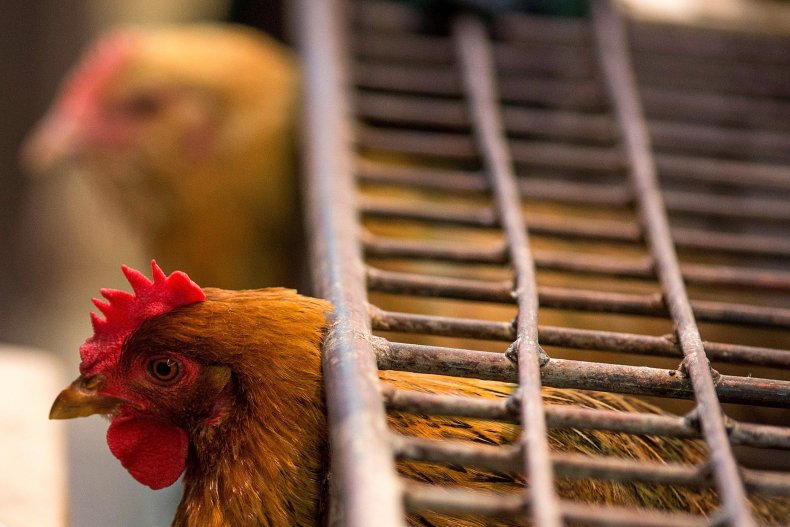 The cull comes as China deals a new type of coronavirus, which president Xi Jinping last week described as a "demon" during a meeting with WHO in Beijing. He said his country's people were "engaged in a serious struggle" against the virus.
Since workers at a wholesale seafood market in the city of Wuhan, Hubei province, started falling ill with 2019-nCoV late last year, some 305 people have died in 14,628 cases. More than 20 countries, including the U.S., have reported cases of the illness whose symptoms include fever, dry cough, shortness of breath, and breathing problems.
On Saturday, a man in the Philippines became the first person to die from the virus outside of mainland China. The Philippines Department of Health said in statement that a 44-year-old man, from Wuhan, China, had died in hospital after coming down with "severe pneumonia."
Last week, the WHO deemed the situation severe enough to declare a public health emergency of international concern.