Hakeem Jeffries Says 'Wouldn't Shock Me' if McCarthy Puts Greene, Boebert on Jan. 6 Committee
Representative Hakeem Jeffries, chair of the House Democratic Caucus, suggested that GOP House Minority Leader Kevin McCarthy could select controversial Republican Representatives Marjorie Taylor Greene and Lauren Boebert to be part of the newly announced select committee to investigate the events of January 6.
House Speaker Nancy Pelosi announced the formation of the new House select committee on Thursday, after a bipartisan effort to form a commission giving Democrats and Republicans equal representation was blocked in the Senate last month. The California Democrat said the committee will "investigate and report on the facts and the causes of the attack and it will report recommendations for the prevention of any future attack."
Although Democrats will control the new committee, Republicans will presumably be able to nominate members to it as well. Jeffries, who represents New York, suggested that McCarthy would pack the committee with loyalists to former President Donald Trump.
"You know, it wouldn't shock me if he chose Jim Jordan [Ohio], Marjorie Taylor Greene [Georgia] and Lauren Boebert [Colorado]. You know, he's got quite a collection of characters to choose from," Jeffries said during a Friday evening interview with MSNBC. Jordan, Greene and Boebert have all supported Trump's baseless claims that the 2020 election was "rigged" or "stolen," while also giving credence to conspiracy theories about the events of January 6—when the U.S. Capitol was attacked by the former president's supporters.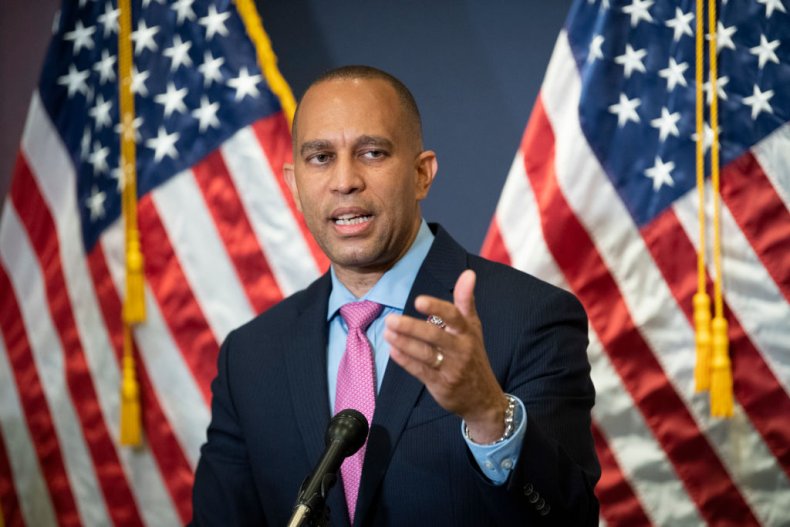 "It's not my expectation, given Kevin McCarthy's past practice, that he will do anything other than bend the knee to Donald Trump," Jeffries added. The Democratic House leader said that he would expect Trump to issue specific "recommendations" on which GOP lawmakers to put on the committee. "Kevin McCarthy will follow those recommendations hook, line and sinker," he said.
McCarthy was asked by a reporter this week whether he would commit to blocking conspiracy theorists—such as the Republicans mentioned by Jeffries—from serving on the committee. The GOP House Leader sidestepped the question, saying that he had not discussed the committee with Pelosi or seen any details about how it would operate.
Last month, 35 House Republicans voted with Democrats in support of a bipartisan commission to investigate the January 6 insurrection by Trump's supporters. But Senate Republicans filibustered the commission, with just six GOP lawmakers voting in support of allowing it to move forward in the upper chamber of Congress. GOP critics argued that the Justice Department and congressional committees are already extensively investigating the attack, suggesting that a special commission was redundant.
Some 500 people have already been arrested in connection with the January 6 attack. They were largely inspired by the former president's false claims that President Joe Biden's election victory was due to widespread voter fraud. This extraordinary allegation has been thoroughly litigated and wholly discredited.
Newsweek reached out to McCarthy's press representative for further comment.