Hakeem Jeffries Highlights Key Fact About Every Senate Impeachment Trial in History: 'All Have Included Witnesses'
Congressman Hakeem Jeffries urged senators to call witnesses to the trial of President Donald Trump, arguing it is in line with every other impeachment in American history conducted by the Senate.
The New York Democrat and House manager for Trump's trial was making the case for supporting an amendment to call Acting White House Chief of Staff Mick Mulvaney, who is also director of the Office of Management and Budget, to testify.
Democrats believe Mulvaney may have important evidence regarding the alleged Ukraine scheme, in particular relating to the temporary withholding of $391 million in military aid. The White House has sought to block testimony from senior officials by asserting executive privilege.
Other witnesses the Democrats want to testify to the trial include Trump's former national security John Bolton and Secretary of State Mike Pompeo. Some Senate Republicans say they will consider the case for witnesses later in the trial but not at the outset.
"We need to get into the arguments and then on the back-end they'll have the chance to offer these motions again—after we've heard the arguments," said Senator Thom Tillis (R-N.C.) to Politico. "I'm satisfied."
The Senate voted through Majority Leader Mitch McConnell's rules that defer any decision on calling witnesses until later on. The White House is pushing for the Senate to base its trial solely on the evidence passed up from the House impeachment inquiry.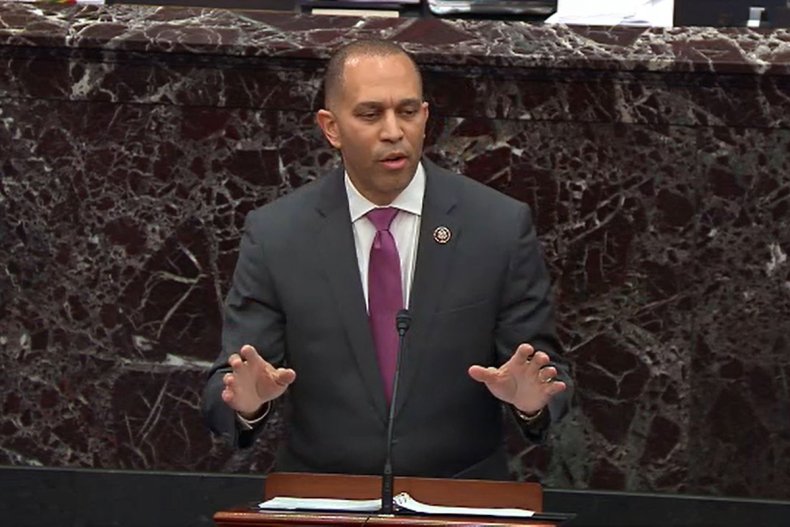 "Who has ever heard of a trial with no witnesses? But that is exactly what some are contemplating here today," Jeffries told the Senate, arguing that it "undercuts more than 200 years of Senate impeachment trial practice."
"It departs from every impeachment trial conducted to date and goes against the Senate's own long-standing impeachment rules, which contemplates the possibility of new witness testimony. In fact, it departs from any criminal or civil trial procedure in America."
Jeffries showed on screen a list of all the impeachment trials ever conducted by the Senate to make his point about calling witnesses.
"This distinguished body has conducted 15 impeachment trials. All have included witnesses. Sometimes those trials included just a handful of witnesses...at other times they included dozens," Jeffries said.
"In one case, there were over 100 different witnesses. As the slide shows, the average number of witnesses to appear at a Senate impeachment trial is 33.
"And in at least three of those instances, including the impeachment of Bill Clinton, witnesses appeared before the Senate who had not previously appeared before the House.
"That's because the Senate, this great institution, has always taken its responsibility to administer a fair trial seriously."
As the below chart from Statista indicates, a majority of Americans—as well as a majority of Republicans— support new witnesses in the impeachment trial.