Halsey Apologizes for Canceled Show After Flooded Venue Clips Go Viral
Halsey has issued an apology to fans, after a show they were scheduled to perform in Maryland was canceled due to a torrential storm.
Fans of the singer, who uses the pronouns she/they, took to Twitter in droves to share footage from the Merriweather Post Pavilion in Columbia, where severe flooding left the venue resembling the scene of an apocalyptic movie.
A series of videos were uploaded to Twitter as the events unfolded, with fans—who were held at the outdoor venue for their safety—calling the experience "unreal."
As the videos and tweets about how the events of the night's events had played out flooded social media, Halsey (real name Ashley Nicolette Frangipane) took to apologize to their fans during an Instagram Live session.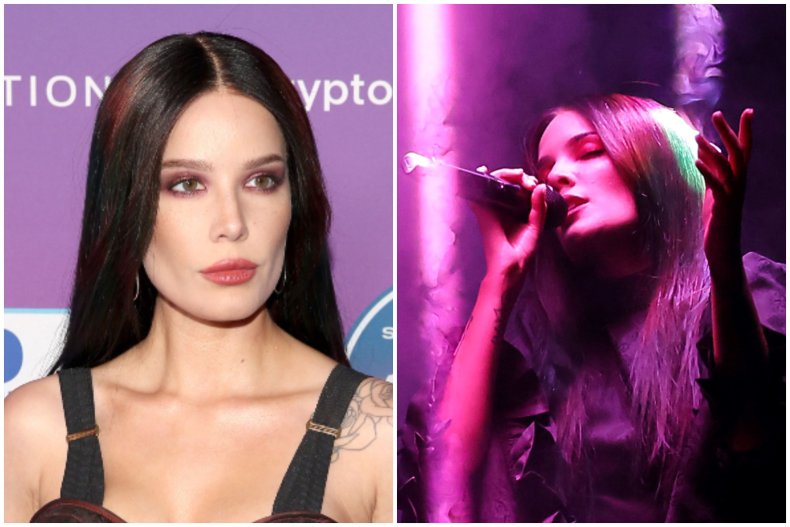 Calling the situation "literally f****** insane," the star explained the series of events that led to the show being called off, saying: "When we're on the road, we work with weather experts and they're literally just the best of the best at predicting what the weather is going to be for each concert. And we do that for a number of reasons, because of the gear, because of whatever.
"So basically tonight, the weather experts assured us that there was going to be some rain, but it wasn't going to be a big deal and it was going to be safe to do the show. So we were waiting and then the first act got pulled from the stage, and it was raining quite a bit and we weren't sure if there was going to be some lightning or some wind, but it was supposed to pass.
"Then basically what happened was there was some unexpected and unpredictable weather that the weather experts didn't even see coming. Some storm cells that appeared really, really quickly and immediately became dangerous.
"So what happened was the local authorities advised us to put a shelter in place. What that means is we had to keep you guys at the venue because it wouldn't have been safe to let everybody evacuate at once, because of stampedes, because of traffic, everything else."
In one clip shared by a fan, fast-running water was seen crashing along the concrete surfaces as they waited for Halsey's performance that ultimately never came.
"Unreal s*** at Halsey in Maryland," read an accompanying caption.
Another video showed a man kicking a squirrel off the sodden stage and into the water below as attendees screamed out in reaction.
The person who shared the video stated in a follow-up tweet that the squirrel was eventually led to safety.
Amid the various reactions, one concertgoer shared footage of the cascading water.
Captioning the footage, the concertgoer quipped: "Halsey's team went all out with the special effects for this tour."
Speaking from the venue during their Instagram Live, Halsey went on: "We had to keep you guys here for the shelter in place... Whether the show was happening or not, you guys had to stay here. That was the safest option.
"So during that time, the authorities thought that there might have been a possibility that the weather was going to improve just as quickly as it got bad, and that it was going to be safe to do the show, albeit a little uncomfortably, because the venue has systems in place to drain the water.
"It would've been a little bit of waiting, but I still would've been able to go on. Obviously, I didn't want you guys to be heartbroken, because you waited through all that bulls***, so I was trying to do the show by any means necessary."
"However," added Halsey, "not wanting to break your heart is not as important as wanting to keep you guys safe. So ultimately, through looking at the weather and also seeing all of your tweets and seeing the conditions that you guys were in, it became immediately apparent that I had to cancel the show. So I did.
"I made that decision to keep you guys safe, personally. And we had to keep everyone here, because it's what the police told us to do. They're trying to find the safest way possible to get everybody home right now. I just want everybody to be safe. I'm literally heartbroken."
Assuring their fans that the show would be rescheduled with a new date to be announced imminently, Halsey added: "I'm going to come back and I'm going to give you guys the best possible show that I f****** can because you deserve it after all of this s*** that you've been through tonight."
"I care about you guys literally more than f****** anything, and I'm going to make this up to you," they went on. "Nobody could have predicted that the weather was going to do this—and it changed so fast."
Following the live session, Halsey took to Twitter, where they wrote: "Maryland I don't even know what to say. If you missed my live, I'll post something soon explaining what happened. But right now I'm heartbroken and panicked and I just want to know when/that you all get home safely. I love you guys more than anything."
When a fan suggested that Halsey should have spoken to the audience at the venue, the musician explained that "it wouldn't have been safe for the audience for me to have just walked out on stage. If anyone ran towards the stage or rushed it or anything a lot of people could have gotten hurt given the circumstances, please understand."
Criticizing the Merriweather Post Pavilion, Halsey added in a follow-up tweet: "I really want to add that I am beyond disappointed with the way the venue handled everything tonight and my rescheduled date will be happening somewhere else. I hear you guys loud and clear I promise."
When contacted, a spokesperson for the Merriweather Post Pavilion said that it was "everyone's sincere hope that the show would go on."
"While canceling a show is never a simple or easy decision, the safety of fans, staff and artists and their crew always comes first," the representative told Newsweek. "All parties involved wanted to provide the best possible concert experience for last night's patrons.
"When the storm hit [...] everyone was provided cover and told to shelter-in-place. The storm struck more intensely and lasted longer than anticipated. It was everyone's sincere hope that the show would go on, but ultimately the decision was made to cancel the show."
The spokesperson added that attendees should "keep an eye out for an email from Ticketmaster for all updates."
Update 6/10/22, 02:05 a.m. ET: This article was updated to include a statement from the Merriweather Post Pavilion.