'Meta': Sky Ferreira Appears to Weigh In on Halsey TikTok Drama
Sky Ferreira appeared to weigh in on Halsey's drama with their record label, after the musician claimed in a TikTok post that they were being pushed into posting content on the social media platform.
In a clip shared on the platform on Sunday, Halsey, who uses the pronouns they/them, stated that their record label was prohibiting them from releasing their latest track unless they "fake a viral moment on TikTok."
"Basically, I have a song that I love that I want to release ASAP, but my record label won't let me," read a caption on the video, as the unreleased track in question appeared to play in the background.
Halsey, real name Ashley Nicolette Frangipane, continued: "I've been in this industry for eight years and I've sold over 165 million records and my record company is saying I can't release it unless they can fake a viral moment on TikTok."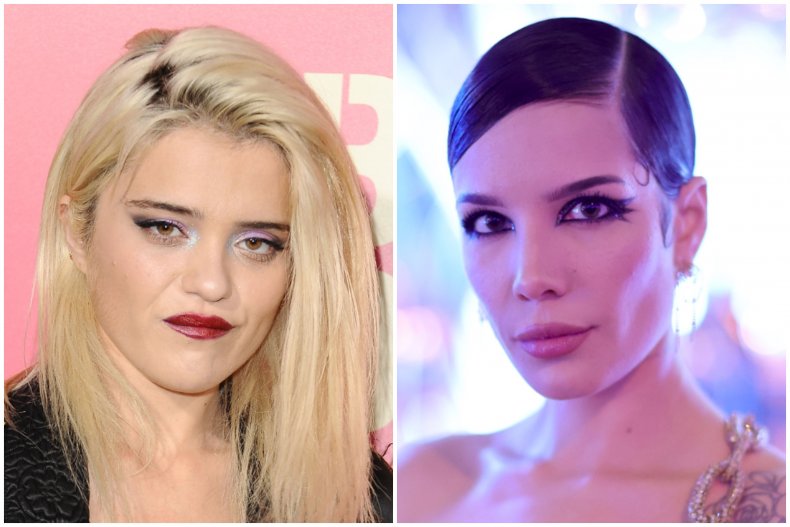 "Everything is marketing," the caption concluded, "and they do this to basically every artist these days. I just wanna release music man. And I deserve better tbh. I'm tired."
With the video sparking a conversation on social media—and, rather ironically, clocking up over 8 million views since it was uploaded, Ferreira took to her Instagram Story on Monday to share a post addressing the matter.
Ferreira posted a screenshot of a tweet that read: "Pretending your label has 'asked you to make TikToks' to go viral on TikTok for outrage clicks is pretty much meta though and works better than real promo because it's a thinly veiled disguise. Or I'm too cynical."
The upload into a link to a Saint Hoax post, which showed footage of Kim Kardashian saying: "Get your f****** ass up and work. It seems like nobody wants to work these days."
Kardashian's controversial quote, which was taken from an interview, was attributed to record labels in the post, which then cut to footage of somebody wiping away tears while performing a dance routine, representing the artists.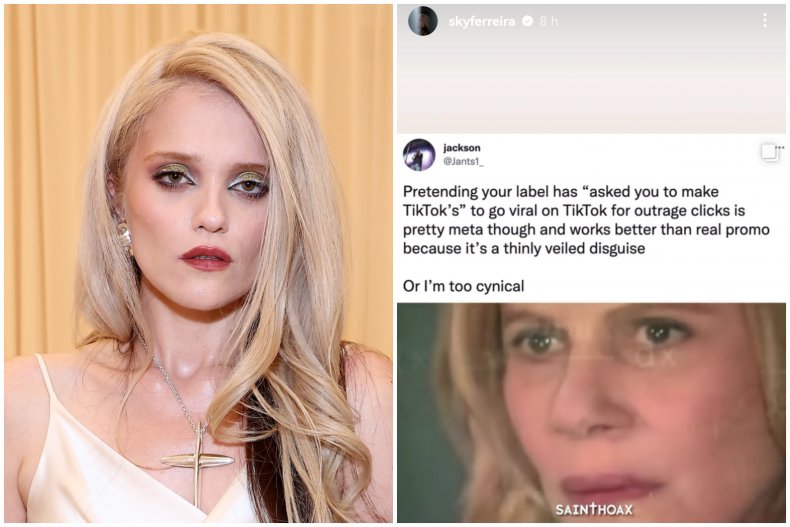 Also on Sunday, Halsey shared another video that appeared to be taken of their conversation with a music executive.
With the camera trained on Halsey's face, a person off-camera was heard strategizing on the release of the track via TikTok.
After listening to the advice that was given, Halsey said to the person they were talking to: "I just hate this."
A spokesperson for Capitol Music Group told Newsweek in response to the claims: "Our belief in Halsey as a singular and important artist is total and unwavering. We can't wait for the world to hear their brilliant new music."
The video-sharing platform has made a host of stars in recent years, and boosted the popularity of a number of other celebrities, with clips going viral on a daily basis among its estimated 1 billion active users.
Halsey's viral video sparked a wider conversation on Twitter, where one user shared screenshots of videos from Charli XCX, Florence Welch, and FKA twigs—all of whom suggested that they were being pushing into making TikTok content.
Ed Sheeran's similar complaints were also brought up during the ensuing discussion.
Jenna Drenten, Ph.D., Associate Professor of Marketing at Loyola University Chicago's Quinlan School of Business previously told Newsweek that it makes sense for record labels to want their artists participating in social media use.
"Publicity has always been the engine that drive celebrity culture," said Drenten. "Media vehicles have changed over time—newspapers, magazines, radio, television, the internet. TikTok evolved from the platform Musical.ly, which was a music lip-syncing platform. Music was actually part of the platform even before TikTok was TikTok."
"TikTok is just one more iteration in how celebrities might connect with their fans and gain attention," she went on. "It's understandable that record labels will want their signed artists to use TikTok as a platform for promoting new music and building their fanbase.
"But part of this is because record labels are reckoning with a lack of control in the age of TikTok. There was once a time when recording artists were 'discovered' primarily by record labels and agents. Now, recording artists are 'discovered' by algorithmic recommendations and everyday people scrolling through TikTok."
However, Drenten added: "Virality is no match for a sustained relationship with fans. The songs we hear trending on TikTok might get an recording artist on the charts—but it won't be enough to keep them there.
"A lot of the recording artists that excel in using TikTok are not only sharing their music—they're sharing their lives with fans. They are doing the trending dances, they are commenting on TikTok drama, they are recording late-night ramblings, they are deeply involved in the TikTok community. It's not just about getting a song to go viral, it's about authenticity and relatability."