'Hamilton' London Review: Lin-Manuel Miranda Musical Finally Arrives in U.K. and It's Worth the Wait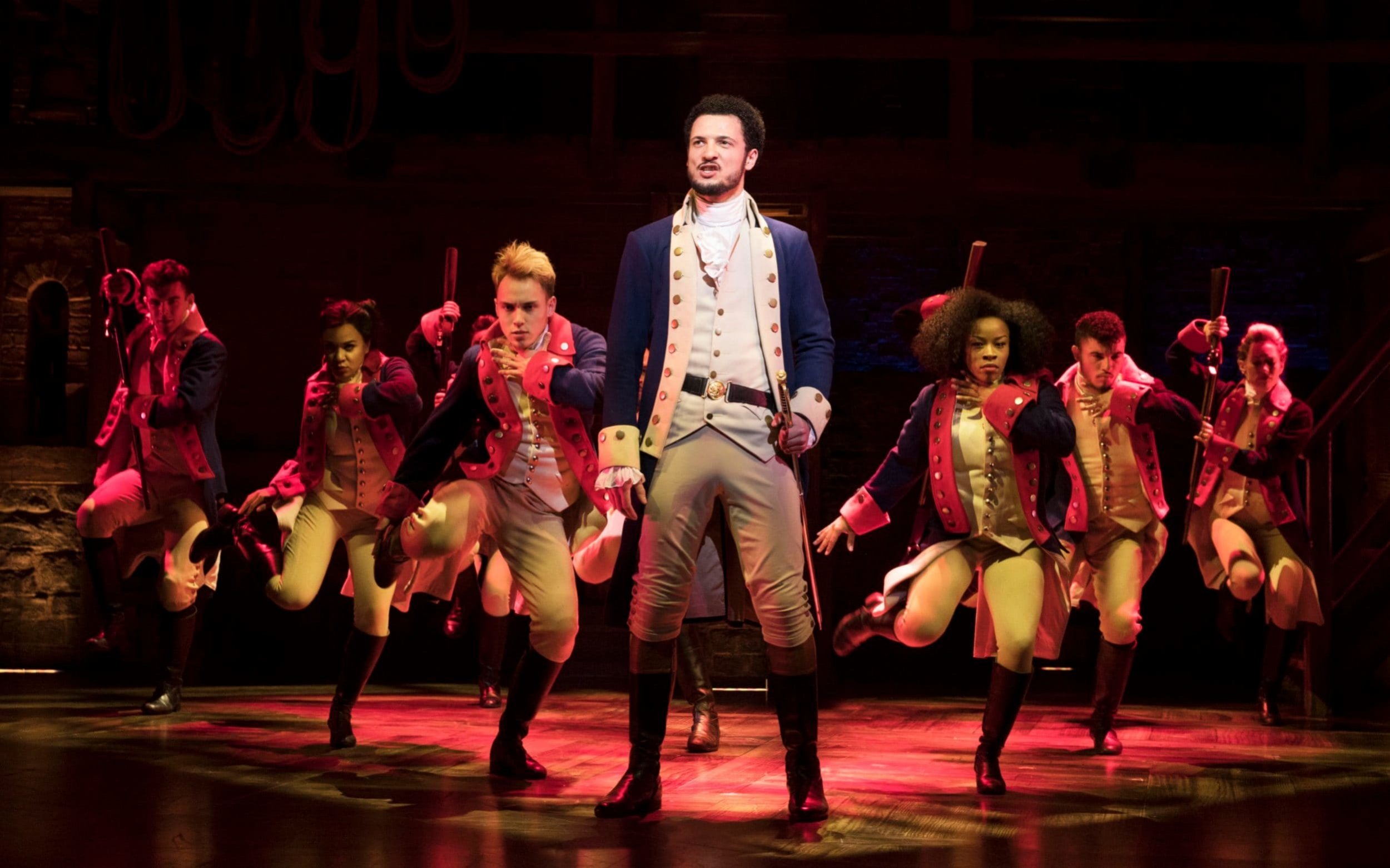 There hasn't been a West End opening more eagerly awaited than the arrival of Hamilton at the Victoria Palace Theatre. On Broadway, Lin-Manuel Miranda's acclaimed show has been the hottest ticket going since 2015, and the transfer to London ignited similar fervor when it was announced last October. Hamilton's reputation precedes it, with 11 Tony Awards and a Pulitzer in 2016. It's a reputation well earned. Believe the hype—and then some.
The story of Alexander Hamilton, one of the founding fathers of the United States and the country's first secretary of the treasury, is well-ingrained in the fabric of American history. But Hamilton is no dry history lesson. Miranda's musical plumbs the depths of Hamilton's life story, using creative license to spin an utterly beguiling tale of the forgotten forefather's political ascent, complete with an intense hero-versus-villain story arc between Hamilton and rival Aaron Burr, and a heart-rending love triangle between Hamilton, his wife Eliza Schuyler and sister-in-law Angelica Schuyler. Miranda's version of events may veer away from any recorded history, but it makes for wonderful theater.
The joy of Hamilton is in its lyrics and in the book written by Miranda, whose imaginative and playful use of linguistics sets a new bar for what is possible in entertainment, be it theater or film. There's a Shakespearean innovation to Miranda's musical, which is entirely rap-sung: The composer's emphasis on phonetics and pronunciation ("I'm past pa-tient-ly wai-tin', I'm pass-ion-at-ley sma-shin' ev-e-ry ex-pec-ta-tion," sings Hamilton on "My Shot") is poetic and demands the audience to listen intently and absorb the story. The cadence of Hamilton is complex and demanding for both the audience and the performers, like an August Wilson play, but adds to the breadth of Miranda's ingenuity. From the opening number, "Alexander Hamilton," Miranda's music is riveting. He flirts with hip-hop, rap, blues and even rock to create an immediately earworm-worthy soundtrack. The standout numbers include the beautiful "Helpless," which recounts Hamilton meeting his wife, and "The Room Where It Happens," the big number in the second act.
Unfortunately for British audiences, Miranda, who originated the role of Hamilton, will not be regaling London theatergoers in person, but his stand-in, Jamael Westman, is a solid Hamilton who conveys the many sides of this polarizing historical figure—from his dogged politicism to his stoic approach to fatherhood—with aplomb. Aaron Burr proved to be a life-changing role for Miranda's co-star, Leslie Odom Jr., on Broadway. Giles Terera, London's Burr, is a fitting substitute—as indeed are most of the London cast. Hamilton's standout actor, though, is Rachelle Ann Go, who gives a mesmerizing performance as Eliza Schuyler. Go shows powerful range, from an innocent naivety when we first meet Eliza to a woman more pained and tragic by the musical's end. If Go doesn't walk away with an Olivier award—the London equivalent of the Tony—in 2018, it would be a great injustice.
"Who lives, who dies, who tells your story?" the Hamilton cast asks in the final refrain. Hamilton's story couldn't be in more capable hands than Miranda's.