'The Handmaid's Tale' Season 4: Is Janine Dead After Episode 5 Twist?
The Handmaid's Tale Season 4 on Hulu has been a pretty brutal season for all involved, from Mrs. Keyes' abusive husband in the first episode to the victims of that train in the last episode. The latest character who seems to have met a brutal end is Janine (played by Madeline Brewer), whom June (Elisabeth Moss) cannot find after the pair were caught in an airstrike.
Is Janine dead in The Handmaid's Tale?
Currently, Hulu is keeping it deliberately ambiguous as to whether Janine is dead.
What we do know, however, is that she and June may not be reunited for some time, which does not bode well for Janine. In the trailer, we see June trying to escape alone from a post-airstrikes war-torn Chicago.
The promo from The Handmaid's Tale Season 4, Episode 6, titled "Vows," begins with June searching for Janine along with Moira (Samira Wiley), with whom she was reunited in a shock twist at the end of the current episode.
We see Moira trying to stop June searching for Janine, telling her that she's bleeding and needs help. The rest of the trailer sees Moira trying to get June out of the warzone—but just June, suggesting that Janine is nowhere to be found.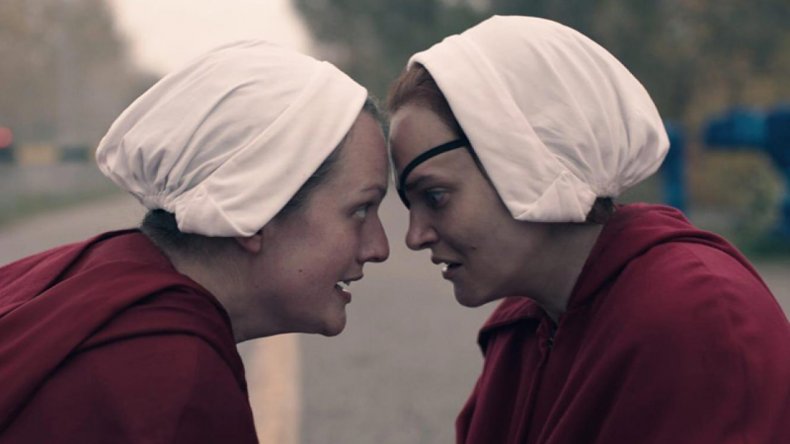 We also hear June say "I'm not leaving without Hannah," her daughter. The fact that she does not add "and Janine" suggests she has some reason to have given up on looking for her friend.
There are some clues that Janine makes it out of the airstrike alive. For one, she is currently listed as part of the cast of "Vows" on IMDB.
The showrunner's comments about the future episodes of Season 4 also seem to imply that the relationship between June and Janine will be central to the season as a whole, suggesting they will eventually be reunited.
"June is very much in the role, as the season goes along, of being a leader and a mother figure," showrunner Bruce Miller told The Hollywood Reporter. "And there is no more childlike of a Handmaid than Janine; it seemed like a very good match."
Then again, Handmaid's Tale writer Jacey Heldrich suggested June could find herself alone in Chicago for some time. She told TV Line: "We've heard about the flare-ups in Chicago. We know that there's a rebellion going on. Nick was sent to deal with that. Well, this year, now June gets to see for herself what that's about and inserts herself in the middle of it."
On May 14, Brewer is set to appear as a guest on The Ellen DeGeneres Show to promote The Handmaid's Tale. This means she is very much a part of the show's world for now—but viewers will have to tune in to see if this is the actor saying goodbye to the Hulu show.
The Handmaid's Tale Season 4 airs Wednesdays on Hulu.