The Handmaid's Tale Season 4 has released its first three episodes on Hulu, and they have introduced a brand new character. In the first episode, titled "Pigs," June (played by Elisabeth Moss) and her fellow members of the Martha network make it to a new safehouse on a farm, presided over by the elderly Commander Keyes and his very young, very mistreated wife, Mrs. Keyes.
Who plays Mrs. Keyes on The Handmaid's Tale?
Mrs. Keyes is played by the 14-year-old actor Mckenna Grace. Her casting on the Hulu show was announced in September 2020, when her character was described as "a sharply intelligent, teenaged wife of a much older Commander who rules her farm and household with confidence. She has a rebellious, subversive streak, and is calm and pious on the outside with turmoil, even insanity, on the inside."
The young actor may be familiar to TV viewers from her roles as a child star in The Haunting of Hill House, Fuller House and Designated Survivor, or from movies like Gifted, Annabelle Comes Home and Troop Zero.
The actor has also made a name for herself by playing the younger version of main characters on TV and film. She played the younger version of Brie Larson's Captain Marvel (in Captain Marvel), Margot Robbie's Tonya Harding (in I, Tonya) and young Caroline Forbes in The Vampire Diaries.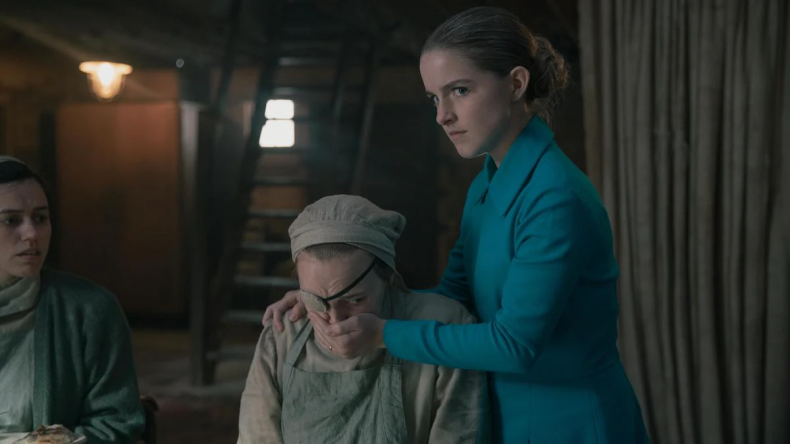 The Handmaid's Tale viewers may be forgiven for thinking that Mrs. Keyes was played not by Grace but by Kiernan Shipka, an actress to whom Grace has a very strong resemblance. This is a mistake that many viewers made—when the first three episodes of Season 4 were released, "kiernan shipka" became one of the most Googled terms by viewers of the show.
The resemblance between Grace and Shipka is so uncanny in fact, that Grace has even played the same character as the Mad Men actress. In Season 2 of the recently canceled Chilling Adventures of Sabrina on Netflix, Grace played the younger version of Shipka's Sabrina.
According to Sabrina's showrunner Roberto Aguirre-Sacasa, Shipka personally picked Grace to play the younger version of herself. He told The Wrap: "When Kiernan heard we were doing Lil' Sabrina, she texted me a picture of her with McKenna and said, 'You have to get Mckenna. She's like me as a little girl and we're dead ringers.'
"And then we reached out [to Mckenna] and said, 'Do you want to be Li'l Sabrina for the Christmas special?' And she said yeah. And it was as easy as that! It came from Kiernan though."
There is, however, a seven-year difference between the two: Grace is 14, while Shipka is 21.
Speaking to The Wrap, The Handmaid's Tale showrunner Bruce Miller said of the character of Mrs. Keyes: "I was always very interested in the religious communities that often a big age difference between the husbands and wives and all that kind of stuff. And there was a lot in the novel about very, very elderly men marrying very, very young women, and so that seemed kind of ripe in a way that I liked for the show."
He said of Grace's performance on the show: "You really do feel, it's just remarkable, how terrifying she can be. She's this tiny person, you know, physically small, but just the fact that she is unmanageable and so influential. I'm so proud of her performance."
The Handmaid's Tale Season 4 airs Wednesdays on Hulu.