'Chilling Adventures of Sabrina' Canceled: How the Cast Reacted
Chilling Adventures of Sabrina has now released Part 4 onto Netflix, but these will be the last ever instalments of the show, which was canceled back in July as part of a string of big shows canceled by the streamer. Since then, cast members like Kiernan Shipka, Gavin Leatherwood and Michelle Gomez have discussed in interviews when they first heard the show was ending, whether its characters will now show up in Riverdale, and reacted to the fan campaign to save CAOS.
Shipka said during an interview with a roundtable of journalists this month that the cast did not know that the show was ending when they filmed Part 4, suggesting the show will not have the neat finale that ties everything together that some fans are hoping for.
Asked whether she took any keepsakes from the set, the Sabrina Spellman actor said, "you know what it's funny, because they didn't know if it was ending or not, so I didn't feel like a lot of liberty to take a bunch of stuff."
Production wrapped on Sabrina Part 4 in March 2020, with Netflix not canceling the show until July.
Leatherwood, who plays Nicholas Scratch on the show, also hinted that the show does not end with a definite conclusion. In the same roundtable, he said, "The way that it does end...it could've continued on but we did approach it in such a way where it was like we knew where it was going—like it was going to be the end.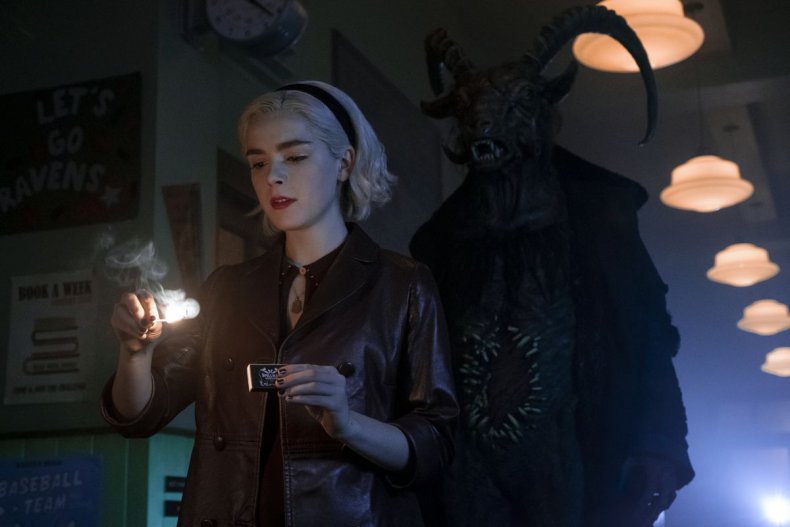 He added, "There was a lot of that in mind as we did it, and we wanted to bring that sort of—all of us wanted to bring that sense of closure."
Though this is the end for Chilling Adventures of Sabrina on Netflix, Shipka has said she is open to the character appearing on Riverdale, which is soon to air its fifth season on The CW. She said, "Honestly, I just think Riverdale could use a witch. They're going through a ton of stuff and...They need a bit of extra power, they need someone who knows reincarnation, necromancy. They need that in their world and, I don't know, I just think it would be a fun world if the two collided at some point."
Of course, saying you want a Riverdale - Sabrina crossover to please fans and actually signing up to one are two very different things. Previously, Riverdale and CAOS showrunner Roberto Aguirre-Sacasa has expressed unwillingness to include the supernatural into Riverdale as it would be too over the top – this from a show that has previously featured organ harvesting cults, multiple serial killers and characters living with the corpses of their siblings. However, he has previously hinted that one of the show's annual Halloween episodes could see a little witchy magic enter the world of Riverdale.
Though fans have been campaigning on Twitter and petition sites for Netflix to reverse its cancelation of Chilling Adventures of Sabrina, Mrs. Wardwell actor Michelle Gomez suggested she thinks it might be the right time to end the show.
Though she said that if the show is un-canceled, "I will be the first one on that flight back out there," she also told Digital Spy, "You know, when you've been knocking around for as long as I have, you should always know when to leave the party. I always think: leave them wanting more. Leave when you're still a success, and you're flying high."
Chilling Adventures of Sabrina Parts 1 to 4 are streaming now on Netflix.