Sean Hannity Under Fire: Laura Ingraham Relieved 'That the Heat's Off Me'
Under-fire Fox News host Laura Ingraham poked fun at her colleague Sean Hannity by joking that he is now the focus of fierce criticism, not her, after it emerged in a courtroom that he is a client of President Donald Trump's personal attorney, Michael Cohen.
Hannity is under attack for failing to disclose his relationship with Trump's longtime lawyer and fixer despite using his show—America's most watched cable news program in 2017—to promote the president and defend Cohen multiple times.
The conservative host was named as a client of Cohen's after an FBI raid of the lawyer's office found documents with his name on. Cohen is under investigation over hush payments made to keep women quiet about alleged affairs with Trump.
Ingraham faced an advertising boycott of her show The Ingraham Angle after her barbed tweet about David Hogg, the 17-year-old Parkland school shooting survivor and high-profile anti-gun campaigner, not getting into the four colleges he applied to.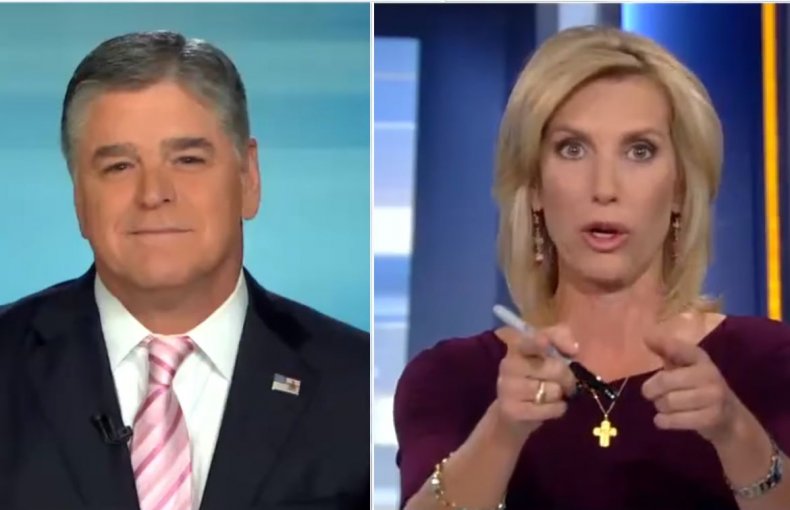 "Hannity, I'm just gonna say this. You're like my brother, but I'm glad for like a millisecond that the heat's off me and on you," Ingraham told Hannity as he handed over from his show to hers on Monday night (April 16).
On his show, Hannity hit back at his critics after the Cohen revelation in court. "Michael Cohen never represented me in any legal matter," Hannity told viewers, referring to reports of their relationship as "wild speculation."
"I never retained his services. I never received an invoice. I never paid Michael Cohen for legal fees. I did have occasional brief conversations with Michael Cohen—he's a great attorney—about legal questions I had, or I was looking for input or perspective. My discussions with Michael Cohen never rose to any level that I needed to tell anyone that I was asking him questions.
"And to be absolutely clear: They never involved any matter, any—sorry to disappoint so many—matter between me or third parties, or third groups, at all.
"My questions, exclusively almost, focused on real estate. I said many times on my radio show, I hate the stock market. I prefer real estate. Michael knows real estate."
During the handover, Ingraham pretended to be Hannity's new attorney. "Cohen should have been getting real estate advice from you, OK," she said. "Because I know the real estate you have invested in and you would beat him every day of the week, so you don't need Cohen for real estate, thank you very much."
Hannity flashed a $20 bill and told Ingraham he was mailing it to her so she would be his new attorney.