'Happy' Dog Playing Game on iPad Leaves Internet Divided in Viral Clip
A dog's reaction to playing a game on an iPad is dividing the internet over the behavior, garnering the canine a lot of attention online.
The viral TikTok capturing the moment, captioned, "Does your dog play iPad? #dogsofttiktok #miniaustralianshepherd #smartpup," has been viewed 10.2 million times and liked 1.3 million times since it was shared on March 9.
TikToker @chelsey.woken, or Chelsey Woken, shared the 12-second video accompanied by music, which started with the Miniature Australian Shepherd named Raycer jumping up and down with his front paws onto an iPad on the ground over and over again while playing a game on the screen.
According to the American Kennel Club, the Miniature Australian Shepherd weighs on average between 20 and 40 pounds, and they have a life expectancy of between 12 and 13 years. They resemble a small Australian Shepherd, and these canines are "self-motivated workers" that are loyal and also "lively companion dogs," according to the AKC. They are herding dogs in every capacity as well.
Raycer stepped down on the device several times until suddenly stopping once the game exited from the screen from all the jumping. This made the canine just stare intently at the screen after that with his mouth open.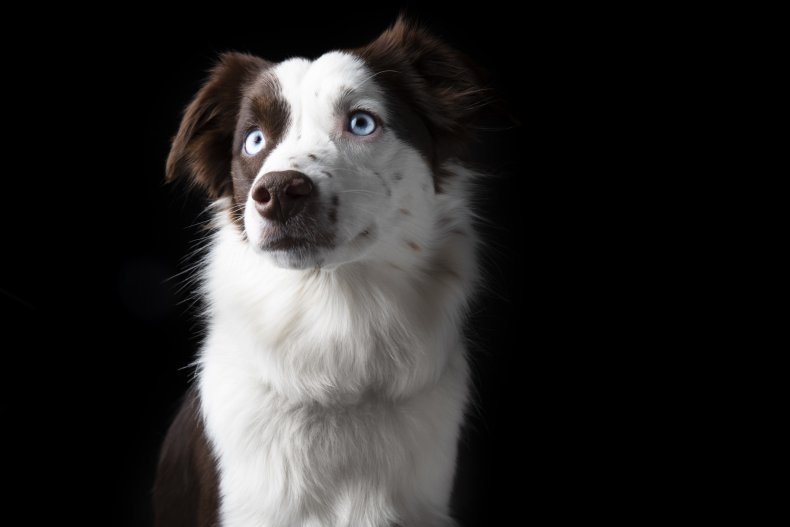 Then, the TikToker filming assisted her dog by turning the app back on, prompting Raycer to go right back to jumping onto the iPad's screen instantly like nothing happened.
In a follow-up video, the TikToker revealed that in 2015 she and her husband lost their house in a house fire. One of the items salvaged was the iPad, and after trying to plug it in a few times, it didn't work. However, on the next occasion, it did, and the TikToker downloaded an app for her dog on it. According to the creator and the dog's owner, "he has fallen in love with it ever since."
Over 9,600 comments came in over Raycer's reaction to playing a game on the iPad, and some appreciated the clip while others had concerns about the electronic device the dog was using.
Many were surprised the iPad was still working without any issues. "That's one durable iPad," a TikToker pointed out.
Another viewer didn't seem to approve of the dog's behavior. "Nah bruh," they said. "Why you let him do that?"
Some were genuinely concerned for the iPad. "Has he cracked a screen doing that?" a TikToker asked. "He's winning I can tell."
A number of people didn't think the iPad would last long. "That's gonna break within an hour," a TikToker said.
However, some people couldn't seem to get enough of Raycer playing. "That dog is so happy with his favorite game," a viewer said.
Apparently, Raycer isn't the only dog who has done something like this before. "My golden does this exact thing!" a TikToker weighed in.
Other comments of appreciation included things like, "So cute," and "Help me...I can't...stop laughing... ."
While a TikToker mentioned the dog being "out of breath" during the playful moment. "I've been laughing at this for a straight 10 minutes," they admitted. "I love it OMG."
Newsweek reached out to TikToker @chelsey.woken for comment.