Bruno Alves on Harry Kane: Football's Worst Tackles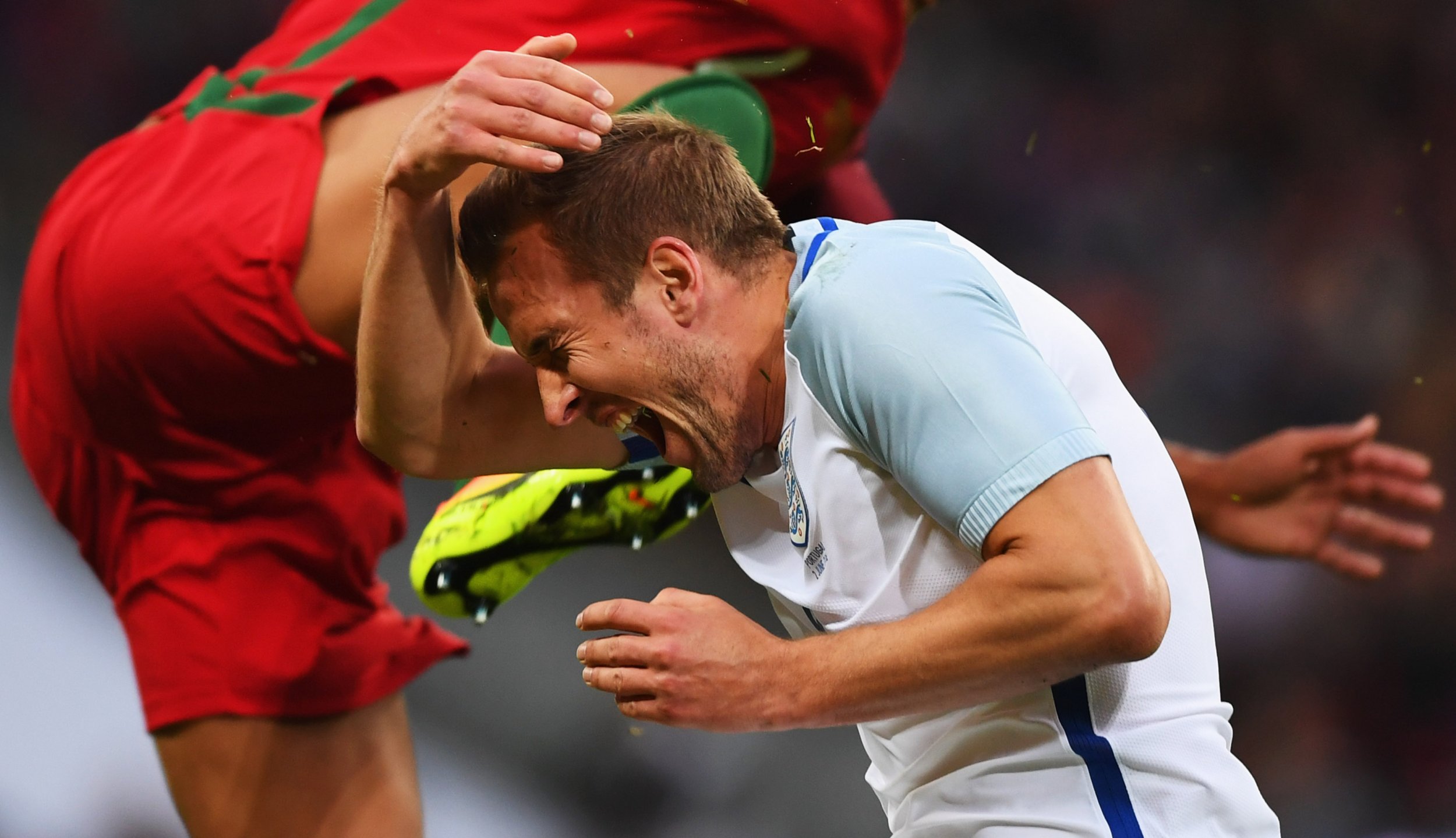 Bruno Alves, clearly too excited about the upcoming Kickboxer re-boots, went Jean-Claude Van Damme on Harry Kane's head on Thursday night at Wembley.
Kane, the England striker, rose immediately without anything like Van Damme's famous blood-stained visage. But the tackle—for which Alves was summarily dismissed—brought back brutal memories of challenges from yesteryear.
Nigel De Jong on Xabi Alonso
A 2010 FIFA World Cup remembered mostly for its blood and thunder, rather than any decent football, gained an appropriate end in the final when De Jong, the Dutchman, planted a full set of studs into the chest of Spain midfielder Alonso, who writhed, as one might expect, were metal to enter one's chest cavity. Referee Howard Webb gave De Jong a yellow card for the assault.
Harald Schumacher on Patrick Battiston
Another legalized assault, this time from Germany goalkeeper Schumacher to France player Battiston in the semi-final of the 1982 World Cup. Battiston was through on goal when Schumacher charged out, missed the ball and hammered the defender with his elbow. Battiston was knocked out cold, and suffers tooth damage and back problems to this day as a result. Helmut Schmidt, the West Germany chancellor, and French President Francois Mitterand even had to issue a joint statement to calm everybody down as the challenge, for which Schumacher received no punishment, threatened to become a diplomatic incident.
Ben Thatcher on Pedro Mendes
The 'running forearm smash' is usually confined to a World Wrestling Entertainment (WWE) ring, and even then, the move is couched under the dubious rubric of "sports entertainment." In 2006, Ben Thatcher of Manchester City brought the move out on the football pitch, running into Pedro Mendes of Portsmouth and knocking the elegant Portuguese midfielder unconscious. Greater Manchester Police conducted an investigation into the incident. Mendes described it as the worst moment of his career; Thatcher received a yellow card.
Roy Keane on Alf-Inge Haaland
The Manchester Derby, April 2001. The ever-ferocious Keane launches into a high tackle on Haaland's right knee, for which he is sent off. What makes the challenge more brutal, however, is Keane's somewhat unwise revelation in his autobiography that he had set out that day to hurt Haaland in retribution for an incident four years previously, when Haaland, then playing for Leeds United, had suggested Keane was feigning an injury.