As Meghan Markle and Prince Harry's revelatory interview with Oprah Winfrey sparks global conversation, reactions from conservative media personalities continued to surface Tuesday, alongside a formal response from Britain's Royal Family.
Commentary largely focused on Markle's remarks about her involvement in the monarchy, which, she told Winfrey, included confrontations with racism prior to her and Harry's withdrawal from designated royal duties. Markle, who is biracial, recalled members of the family sharing "concerns" about the color of her child, Archie's, skin before his birth in 2019, and expressing hesitance about giving him a royal title. The U.S.-born former actress said that she experienced suicidal thoughts one year into her marriage to Harry.
While the Royal Family said that it acknowledges the seriousness of Markle's interview in a statement issued by Buckingham Palace on Monday, some conservative public figures have primarily spewed defamatory comments and challenged the legitimacy of her memories. Even the Royal Family failed to take full accountability for her remarks about racism and the damaging emotional consequences she sustained after joining the monarchy.
"The whole family is saddened to learn the full extent of how challenging the last few years have been for Harry and Meghan," the Royal Family's statement read. "The issues raised, particularly that of race, are concerning. While some recollections may vary, they are taken very seriously and will be addressed by the family privately. Harry, Meghan and Archie will always be much loved family members."
Conservative talk show host Charlie Kirk and right-wing pastor Shane Vaughn were much less diplomatic in their responses to Markle's interview.
"I don't think anyone said it. I think she's making it up like Jussie Smollet," said Kirk during an episode of his radio series, The Charlie Kirk Show, in reference to Markle's racism allegations. "I think somebody said something completely different, in a different category, and she's using it now to go make people feel sorry for her."
Kirk also described Prince Harry as a "metrosexual beta male" and Markle as a "tradition-destroying leftist," while Vaughn called the duchess a "Jezebel" and a "narcissist," and questioned whether she contemplated suicide.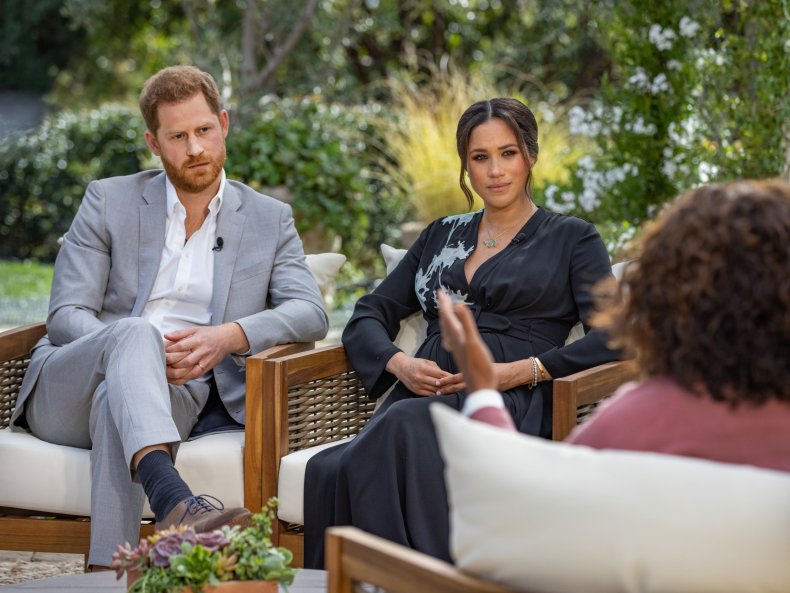 Television host Piers Morgan also doubted Markle's comments about racism, insisting that she "name" the individual or individuals involved.
"OK, well who said that? Let's have a name. Rather than allowing everyone to think that it could be anyone in the palace...it could be the Queen, Prince Phillip, it could be Charles, it could be Camilla, it could be any of them. Let's have a name," he said during a Fox News appearance.
"If somebody did say this in a racist, derogatory way then that would clearly be completely unacceptable and outrageous. But I wonder, who is that person? What was that conversation? What was the context they said it in?" he continued. "Because until we have the answers to all these questions, we have a whole family being labeled as basically racist."
Morgan resigned from his role as co-host of Good Morning Britain on Tuesday, after his commentary about Markle and Harry's interview during Monday's show sparked widespread backlash from viewers and his fellow co-host.