Harry, Meghan Face 'Lifelong Battle' With Press After Axing Queen's Mantra
Prince Harry and Meghan Markle could be dragged into "lifelong" media lawsuits after abandoning Queen Elizabeth II's "never complain, never explain" policy, a lawyer told Newsweek.
The Duke of Sussex is suing The Mail on Sunday for libel over an article which accused him of misleading the public over an offer to pay for his police protection.
The tabloid's story was about another of Harry's court cases, in which he sued the U.K. Government for removing his security detail, making the defamation trial a lawsuit about a lawsuit.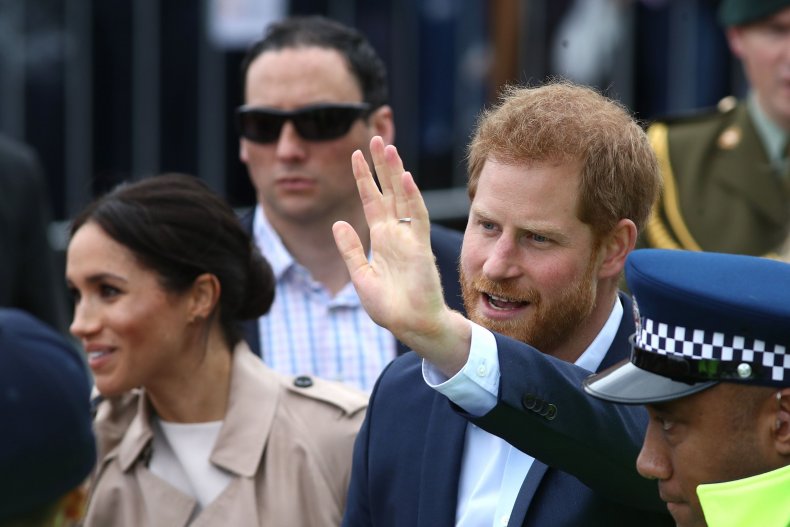 And it is Harry and Meghan's eighth litigation filed since September 2019, when they attempted to put the U.K. media on trial by simultaneously suing three of the country's biggest newspaper groups.
Amber Melville-Brown, global head of reputation at international law firm Withers, told Newsweek Harry and Meghan have abandoned the royal family's traditional approach of presenting themselves as above commenting on speculation and gossip.
She said: "Meghan and Harry are engaged in what will inevitably be a life-long battle with the British tabloids; they will not be strangers to scrutiny, criticism and at times serious accusations; and if they complain, explain and bring suit each time scrutiny and serious accusations are sent their way, they will find themselves very busy."
She added: "For the royal family, the beauty of the 'never complain, never explain' philosophy is consistency.
"It's a mantra for all seasons, a response for all eventualities, making unequivocally clear in the face of damaging accusations, gossip or rumour that no explanation or engagement will be forthcoming.
"By departing from that strategy Prince Harry has put himself in the position where he has to, or at least feels he has to complain about accusations and explain himself, where otherwise silence and a shrug of the regal shoulders would have been offered."
Harry's current legal battle is with an old rival, the same U.K. tabloid Meghan famously sued over the private letter she sent her father.
This time, The Mail on Sunday suggested he engaged his PR team to mislead the public about when he first offered to pay for the cost of continuing with his Metropolitan Police bodyguards.
A past court filing by Harry's team read: "It must have been plain to [The Mail on Sunday] that by giving these serious allegations such huge publicity in the terms and manner that it did, leading to inevitable repetition and the feeding frenzy of hostile comments it could not but cause [Prince Harry's] reputation substantial damage and cause considerable distress and hurt to [Prince Harry], as has been the case."
However, he has already suffered a setback after applying for an early ruling on a key part of his case and been rebuffed by the judge.
The first major showdown between the sides will take place in June, after the queen's Platinum Jubilee, and will consider whether the case meets several key tests needed to be successful.
Harry asked the court to consider whether the newspaper's allegations caused "serious harm" to his reputation, as is required in U.K. defamation cases.
Judge Matthew Nicklin stated in a court filing, dated April 26 and seen by Newsweek: "I have refused to direct trial of the issue of serious harm. I appreciate that [Prince Harry's] case is one based (at this stage) solely upon inference, but ultimately this is an issue of fact."
Melville-Brown said: "Sitting down at a high-stakes, high-profile game of defamation poker is not for the faint-hearted.
"It's never good psychologically to lose an early application in litigation, and here Harry gambled on his first hand and lost.
"As in poker he'll have another opportunity to prove that the relevant test has been met. But he will likely want to play his litigation strategy cards close to his chest until then."
She suggested that the application on serious harm may have been a "show of strength" by Harry's team to demonstrate they had total confidence in his case and added that it would normally be the defendant, the newspaper, who made such an application.
Mark Stephens, of U.K. law firm Howard Kennedy, previously told Newsweek he believed it may be an indication Harry's team are concerned their case could fail the serious harm test and so wanted a ruling sooner rather than later.
He said: "What I would read into that is Harry's lawyers are concerned that they may not reach the substantial harm test and therefore that's why they want to have it early. It's ill-advised to take a case that isn't clear cut."
Newsweek has approached representatives of the Duke and Duchess of Sussex for comment.
For more royal news and commentary check out Newsweek's The Royal Report podcast:
Update 05/11/22, 5:32 a.m. ET: This article was updated to indicate Newsweek had sought comment from representatives of the Duke and Duchess of Sussex.