'Harry Potter and the Cursed Child' First Review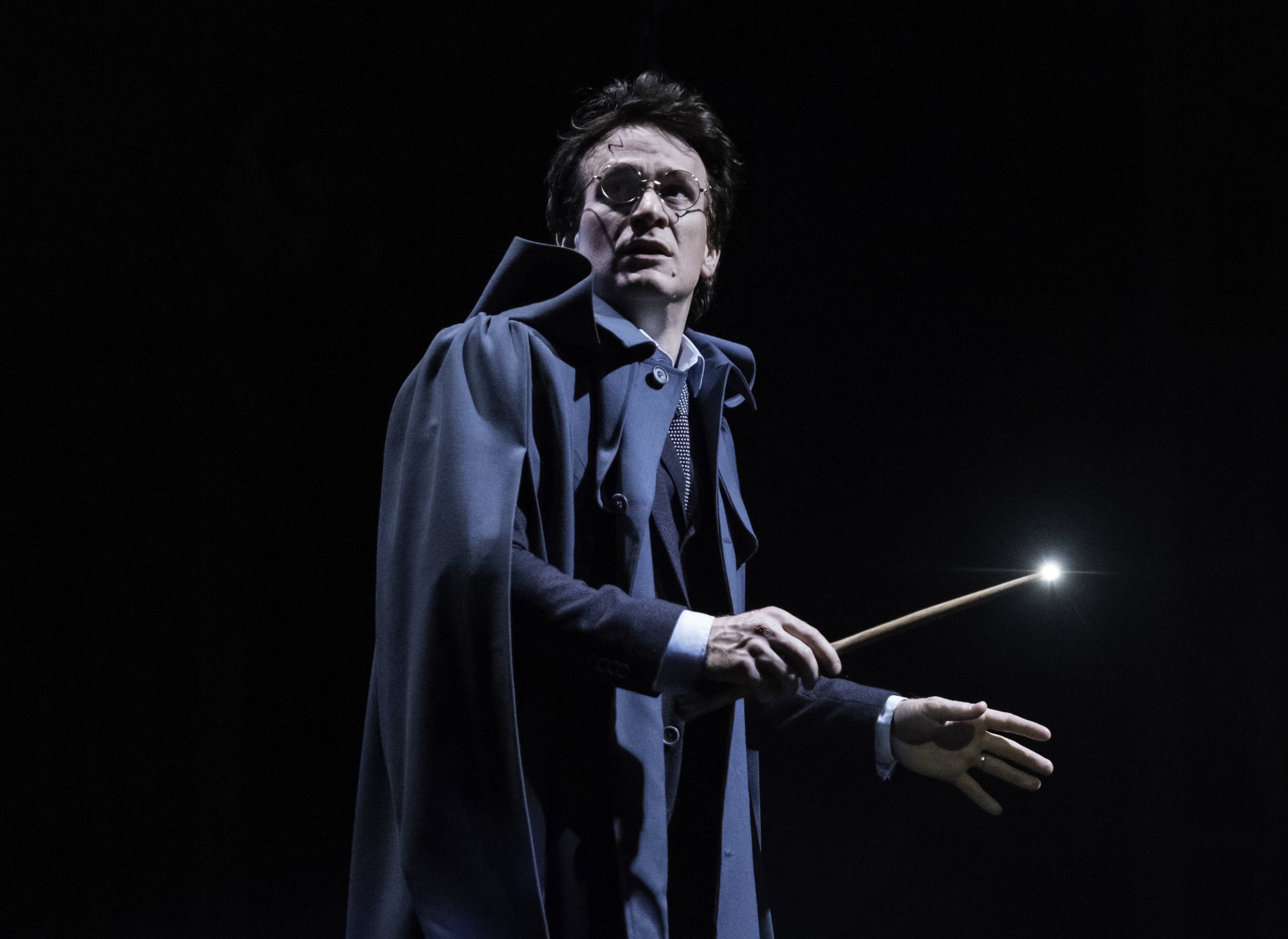 It would be easy to dismiss Harry Potter and the Cursed Child, the London play continuing where J.K. Rowling's best-selling children's novels left off in 2007, as an attempt to cash in on its audiences' affection for The Boy Who Lived. This is a franchise, after all, that has already spawned eight films (nine, including an upcoming spin-off), a studio tour, theme park attractions and merchandise ranging from owl plush toys to scarves in the colors of the four Hogwarts houses. Mercifully, Cursed Child is no cynical addendum designed to fleece fans of their hard-earned Galleons. J.K. Rowling's play is an accomplished piece of theater that stands on its own merit, yet simultaneously adds to the rich universe that Rowling has crafted for over 20 years.
Cursed Child picks up 19 years after the events of Harry Potter and the Deathly Hallows, Rowling's final novel, and sees a now-adult Harry Potter (Jamie Parker) and his wife Ginny Potter (Poppy Miller) raising their three children: eldest son James, middle child Albus and youngest daughter Lily. It is initially a jarring adjustment to see the boy wizard—as well as his trusted sidekicks Hermione Granger and Ron Weasley—nearing middle age and, frankly, living a life of suburban mundanity, complete with the magical equivalent of a desk job. But this soon subsides when focus shifts to the new generation.
Rowling and co-writer Jack Thorne's script plays to conventional tropes of adulthood as the Harry Potter we meet here struggles to relate to his son Albus (Sam Clemmett), who displays little of the bravery or expert wizardry of his father and grudgingly lives in his shadow. It is Albus's thirst for adventure and desire to live up to his father's legend that spurs the plot forward as he and unlikely friend Scorpius Malfoy (Anthony Boyle)—the son of Harry's former enemy Draco Malfoy (Alex Price)—requisition an illegal time-turning device to put right the one blight in his father's heroic past: the death of Cedric Diggory in the fourth novel, Goblet of Fire. There is little time for context here (despite its five-hour runtime split over two parts). Cursed Child requires your acute knowledge of what's gone before, even as Albus and Scorpius's misadventure threatens to undo Potter lore as we know it.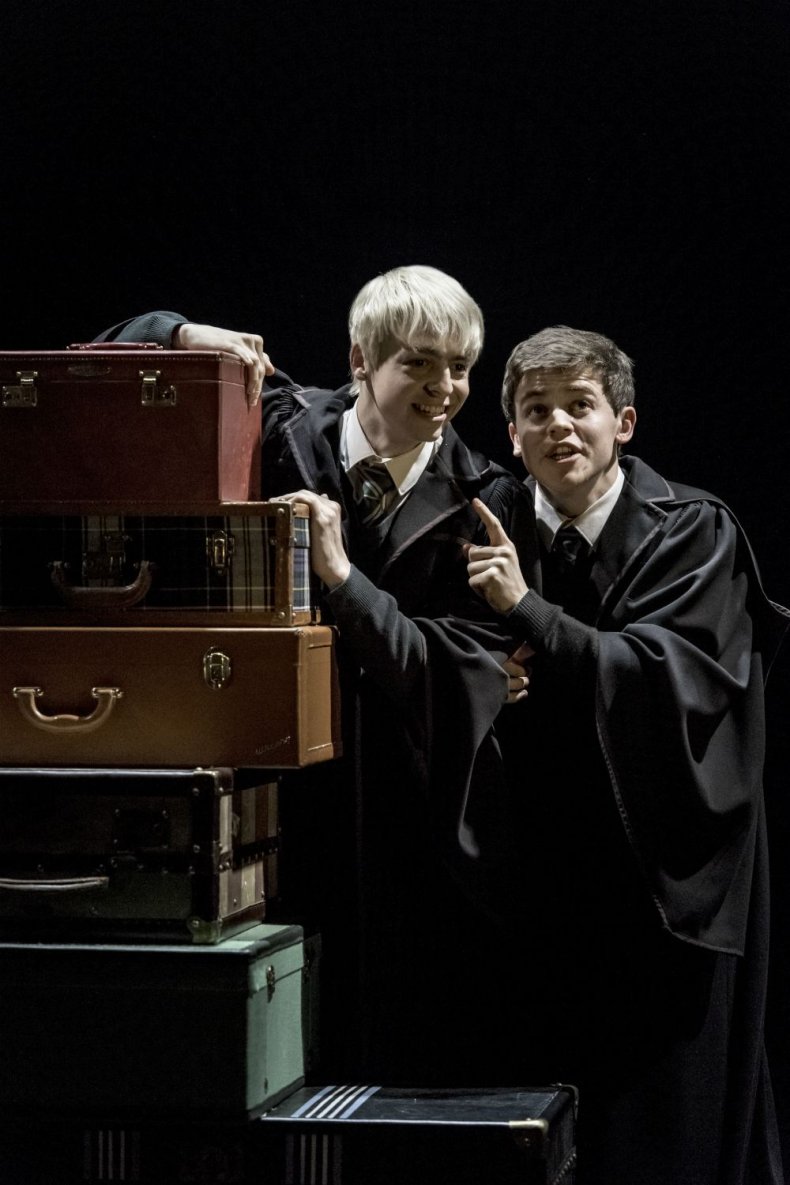 The play may have Harry Potter in the title but it is the blossoming friendship between young Albus and Scorpius that is the real centerpiece of the story. Clemmett brings a believable naivety to Harry's prodigal son and his struggle with the ubiquity of his father, but it's Boyle's performance as Scorpius that stands out most in this production. The young actor deftly creates an oddball bumbling character who never feels like a token companion—in fact, he carries one act entirely himself in the absence of anyone named Potter and handles it with aplomb.
And then there is Noma Dumezweni, the actor who received backlash upon her casting as Hermione Granger because of her race. The precision and nuance with which Dumezweni plays Hermione in Cursed Child speaks louder than any of her critics; the actor has perhaps the most complex role of the adult cast, playing no less than three incarnations of Hermione as the play flits between different realities, but the subtle differences in her demeanor and the intonation in her voice ensures the audience is never uncertain as to which version of Hermione they are seeing. In a lesser actor's hands, the part would not be as formidable as Dumezweni makes it.
Even the most ardent of Harry Potter fans may be cautious of the play's length, clocking over five hours over two parts. It isn't usual for a West End play to require what is essentially a whole day's commitment of your time. But then, visually, little about Cursed Child is usual. Director John Tiffany, special effects creative Jeremy Chernick and illusionist Jamie Harrison have created a production that could equally double as a magic show.
Much of the wonderment of Harry Potter is in the spells and magical beings Rowling so vividly describes in her books, and film studio Warner Bros, with the benefit of big budgets and post-production, were able to realize on screen. The production team deserve recognition for managing to replicate that feeling onstage. One may well end up believing in magic as wands light up at the drop of the word "lumos," or as a swift drink of Polyjuice Potion transfigures the young cast into the adult cast before your very eyes, and especially when ghoulish Dementors descend from the Palace Theatre rafters creating a tangible chill in the air. The technical achievement of Cursed Child is of a level that hasn't been seen on stage before—yet will undoubtedly be influential in the way theater is produced going forward, just as Rowling's books were a literary phenomenon, and the film series a bonafide billion-dollar juggernaut.
Cursed Child feels like a love letter to the most dedicated of Harry Potter fans—as it should be; these are the fans who will be paying up to £130 to see both parts and giving up either a whole day or two consecutive evenings for the pleasure—with the story taking audiences on an emotional journey through Harry's past, including the fateful night his parents died and he became The Boy Who Lived. Rowling and Thorne's tightly-packed script isn't just a nostalgia trip, however, as they incorporate just enough new elements (Albus and Scorpius key among them) so that the play never feels like it's retreading old ground, even if it does turn back in time.
Harry Potter and the Cursed Child is a logistical gamble: it isn't easily accessible to non-fans and it is limited in the number of performances it can put on due to the two-part structure. Can it sustain on the West End stage? Thankfully there are enough of us Potter-loving muggles to keep Rowling's bank account at Gringotts in the black, and new fans constantly being converted through the sheer cultural penetration of the franchise. Like its literary predecessors, Cursed Child may just be beginning life in Britain, but it wouldn't take an enchantment spell to believe it will soon be seen on stages across the world.