'Harry Potter Hogwarts Mystery' Beginner's Guide: Wands, Houses, Characters and More
Just started playing Harry Potter Hogwarts Mystery but aren't sure how it all works. Check out our complete guide and walkthrough with tips for picking a wand, house, learning spells, earning house points and more.
On Wednesday, Harry Potter Hogwarts Mystery mobile game released globally. The game's a mix of adventure and interactive story as players complete tasks across multiple chapters that earn points for whichever famous Hogwarts' house they're a part of.
There is a lot to do and if you're just getting started you may have some questions about how various features of the game affect the story, or what the best strategy is for making good progress through the game. We've spent a couple days with the game now and have put together our own set of comprehensive guides for everything you need to know about your first year in Harry Potter Hogwarts Mystery. In this guide, we include a walkthrough of the early chapters in the game which includes tips and tricks you need to know for customizing your character, changing your name, choosing the best wand and more. This guide is intended for those who are truly just getting started in the game, but feel free to peruse all of our Harry Potter Hogwarts Mystery guides including our cheat list with best ways to get more energy in the game without spending real money, here.
Harry Potter Hogwarts Mystery Guide & Walkthrough: Pre-Chapter Tasks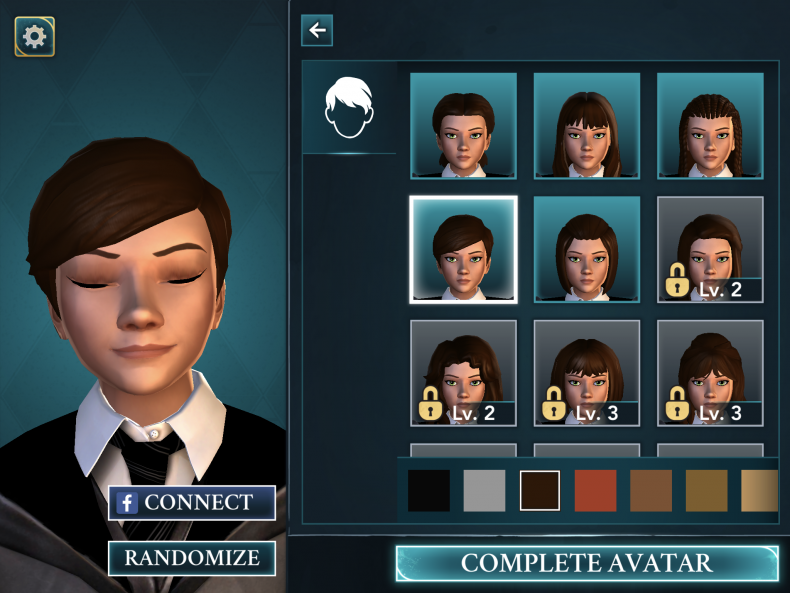 Character Customization: How To Change Your Look, Name And More
How To Change Your Gender - Before you dive into the story, you'll create your Character. You choose between a Witch (female) or Wizard (male) and your choice will determine the gender of your sidekick Rowan. Rowan's gender will match your character. You want to make sure you've chosen the gender you actually want to be throughout the game as this is the one customization feature that cannot be changed later unless you reset your game and start over.
How To Change Your Appearance & Clothing - The next step is to customize your character's appearance. You have the option to select from a variety of face, nose, eyes, eyebrows and lip shapes as well as various shades of color for skin hair and eyes as well. At the beginning of the game, there are no options for changing you clothing but those will come later in the game. Once you've started the game this is how you can change your appearance: t:
Avatar - if you tap on your character's avatar in the upper right-hand corner of the game screen, you'll see the option to change your appearance, indicated by a clothes hanger icon in the lower right-hand corner of the screen.
Clothing Menu - the easiest way to change your appearance is to go to main gameplay screen and tap on the clothes hanger icon in the bottom right-hand corner.
How to Change Your Name - You won't have the option to choose your name until you've had your first conversation with Rowan in Chapter 1. The game gives you the option to choose your own name or pick a randomized one. If at any point during your game you want to change your name, you can do so by tapping on your avatar in the upper left-hand corner of the screen and then tap on the pencil icon next to your character's name.
Harry Potter Hogwarts Mystery Chapter 1-2 Guide & Walkthrough: Choosing Your Wand and House
Besides choosing your name and meeting your sidekick Rowan, Chapter 1 is all about finding your place at Hogwarts. Naturally, some of your earliest tasks involve buying books, choosing a wand and getting sorted into a House. Here are a few things to know about those processes.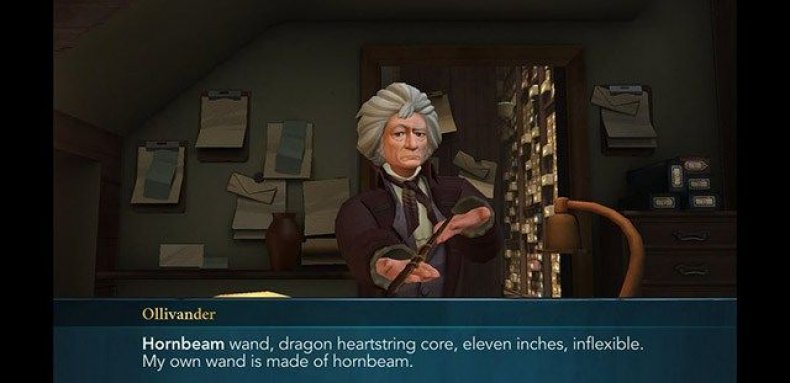 Wand Choices: Does The One You Choose Affect Your Story?
When you go to Ollivanders to obtain your wand, you'll be asked a series of questions -- one of which is a personal question about your brother's disappearance. The way you choose to answer (angry, determined or sad) dictates the wand you end up with. From what we can tell the wand you choose doesn't play a huge role in your ongoing story or skills but if there's a specific one you were hoping to get, here are the decision correlations:
Blackthorn Wand - this 11 and three-quarter-inch wand with a unicorn core is awarded to players who choose the "I was determined" answer for Ollivander.
Inflexible Hornbeam Wand - this wand with its dragonstring core is awarded to players who choose the "I was angry" reply.
Acacia Wand - this pliable 12-inch wand with a unicorn core is awarded to players who choose the "I felt sorry for him" reply.
Getting Sorted: Does The House You Choose Change Your Story?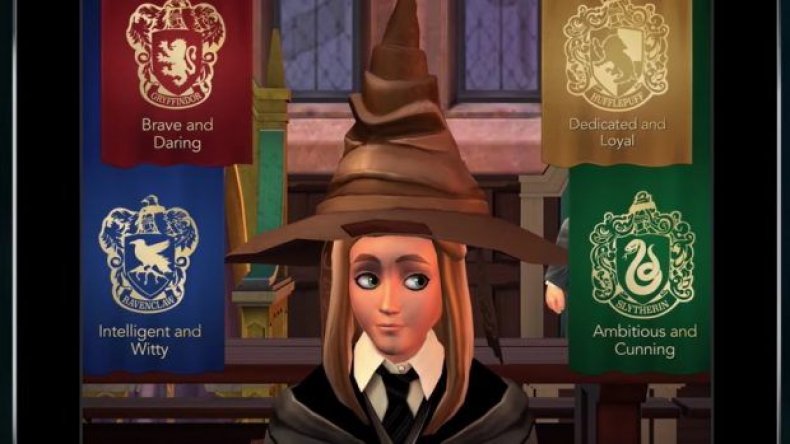 Once you've got your wand, you'll be off to Hogwarts. You'll enter the Great Hall where introductions are made and the sorting ceremony begins. Fans of the Harry Potter series know the Sorting Hat usually determines which house you end up in, but in Hogwarts Mystery you get to make the choice yourself. Regardless of which house you choose, your story isn't massively altered and there's no benefit or penalty for choosing one over the other. The main difference is that your common room will be different as will the head of house and prefect. There are some changes to the types of side quests you'll perform in year 1 and 2, but there are no negative consequences for choosing one over another. Here are the choices:
Gryffindor - Brave and Daring
Hufflepuff - Dedicated and Loyal
Ravenclaw - Intelligent and Witty
Slytherin - Cunning and Ambitious
Can your change houses later in the game?
If you don't like the house you chose, unfortunately, there's no option for changing it once you've been sorted. The only way to change houses would be to start the game as a fresh reset. This meaning you'd begin at the place where you choose witch or wizard. If you'd like to change your house, instructions for resetting your game can be found, here.
House Cup & Leaderboard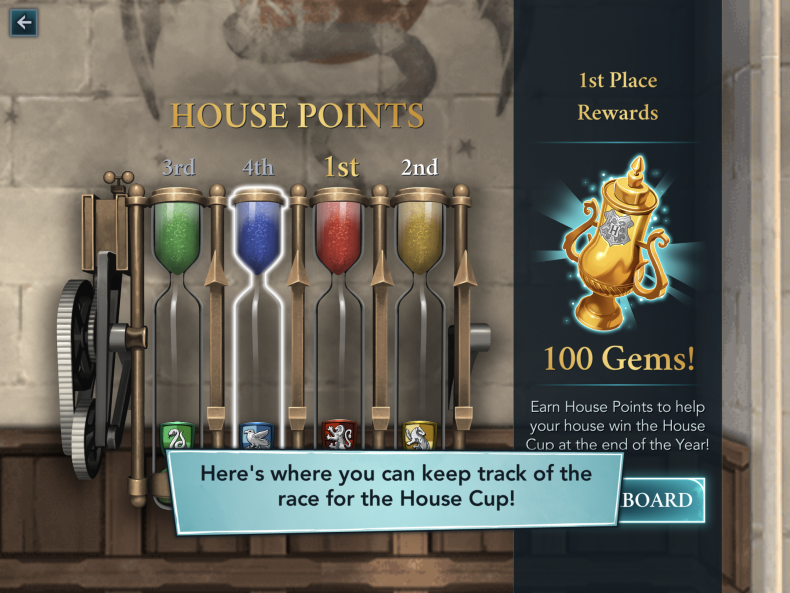 Once you've been sorted into your house, the presiding Witches and Wizards will tell you about the House Cup. The House Cup is a prize you'll be working towards throughout your first year at Hogwarts. During the year different actions you do can have an effect on your House Points, either causing your house to gain or lose them. You can keep track of your house's progress towards the house cup on the Leaderboard. This accessed by tapping on your avatar and tapping on the Rank button.
Is The House Cup Leaderboard Multiplayer?
Looking at the House Cup leaderboard, you might get the impression that you are competing against other players in a guild or multiplayer settings. Unfortunately, the houses you are competing against are only bots. Perhaps Jam City will integrate a guild and multiplayer model in later updates? Seems the groundwork is already there, so here's hoping.
House Points: How Do You Earn or Lose Them?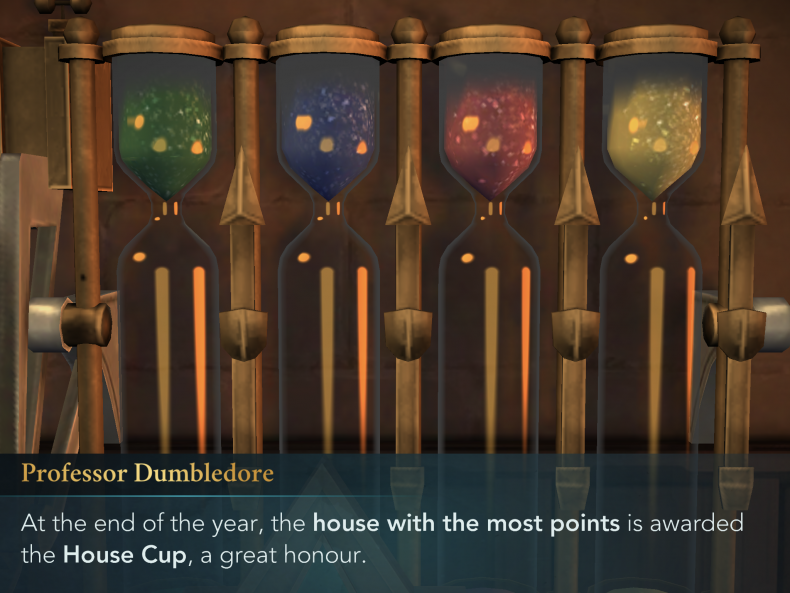 Since the large year-long goal is winning the House Cup, it's important to know what activities earn or lose points for your house. Here are ways you can earn house points in the game. We'll be discussing classes and lessons in greater depth in out Year 1 Chapter guide which we'll post here once it's live.
To Gain Points:
Do well in class and on your lessons
Complete Main Quests
Make certain dialogue choices
To Lose Points:
Fail a class/not finish with the minimum number of stars
Make wrong dialogue choices
For a more in-depth guide on House Points and how to earn them, Check out our Chapter, Lessons and Classes Guide, here.
Still have more questions about how Harry Potter Hogwarts Mystery works? Be sure to check out all of our additional follow-up guides, here.
'Harry Potter Hogwarts Mystery' Beginner's Guide: Wands, Houses, Characters and More | Gaming