Harry Styles' Accent in Clip From 'Don't Worry Darling' Mocked Online
Harry Styles has been ruthlessly mocked online after a clip from his upcoming film Don't Worry Darling was shared on Twitter.
The "Watermelon Sugar" singer is set to star alongside Florence Pugh in the highly-anticipated psychological thriller directed by his current girlfriend Olivia Wilde.
However, some of the excitement around the movie appears to be dissipating among some fans after a promotional clip was shared to social media of a scene featuring Styles and Pugh.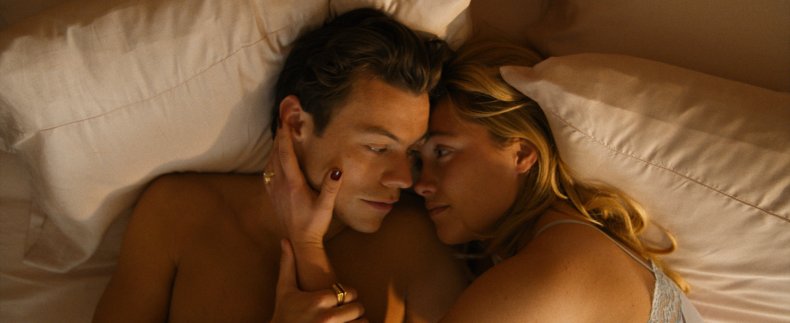 The video was originally posted to the official Don't Worry Darling Twitter account but was subsequently reposted by MovieRankings.net.
At the time of writing, the video has racked up over 2.2 million views but the accompanying comments have been less than complimentary about Styles' performance, or, more specifically, his accent.
You can watch the footage for yourself here.
The responses to the clip have been merciless, to say the least, with viewers flocking to slam Styles' accent while praising Pugh for being on-point in the scene.
Ballybunyip wrote: "what is that accent? Cockney? American? I'll pass" while Sez_Sketch commented: "Why did they release this clip? Surely they knew his 1000 accents in 5 seconds wouldn't go down well."
Cwebs101 said: "God, being good looking must be awesome. Get away with anything", with Jomm20953993 asking: "Is he supposed to have an accent or not? Because either way he failed."
AmAyeRong compared it to an "SNL skit" while Trevor Dow said: "Whoever thought this was the clip to post should be fired honestly."
"Wow Harry Styles is a pretty terrible actor," j*zzing_saddam commented with birdfacepower adding: "not sure what he's doing but Florence's American accent is flawless."
Adkika Godwin said: "Harry Styles makes it seem so effortful" while Itstupidluv replied: "The multitude of accents, the lack of commitment to a single emotion - you can't be serious."
Viiola_dc did offer some defense, writing: "this is his real accent, he's traveled nonstop since 16" though few were convinced with bourrilliant concluding: "Florence Pugh really going to be carrying this isn't she?"
Styles' apparent issues buck the trend when it comes to accents, with voice coach Paul Meier previously explaining to Den of Geek that it's more common for Americans to struggle with British accents than vice-versa.
"Americans tend to be more insular," he explained. "American English is the global language, very few Americans have passports, they don't travel. It's a big country, very self-sufficient. And so for these social, socio-linguistic reasons, Americans don't tend to be as good at accents."
The criticism comes off the back of a difficult few days for the One Direction favorite who recently addressed accusations of queerbaiting in an interview with Rolling Stone which also drew the ire of Michael Jackson's fans and family after Styles was anointed the new King of Pop.
Newsweek has contacted Styles' management for comment.
Don't Worry Darling is set to hit theaters on September 23.