Harry Styles Fan Reveals Truth Behind 'Iconic' One Direction Moment
Online commenters praised a Harry Styles fan for sharing in a now-viral video the true story behind an "iconic" One Direction moment.
The video, posted to TikTok last month by Samantha Colgan, has garnered over 287,000 views and hundreds of comments from One Direction fans, calling Colgan a "legend."
The iconic moment took place at a One Direction concert in 2014. During the show, a fan threw her phone on stage. So, Styles picked it up, took a seat and texted her dad. A video from the night showed Styles drafting the message while the other members of the band performed the song Little Things. At one point, Styles looks stunned as he scrolls through her phone.
Seventeen Magazine confirmed the contents of the text a few days later; however, many fans wanted to know—whose phone was it? Was the reporting accurate? And why did Styles look so shocked?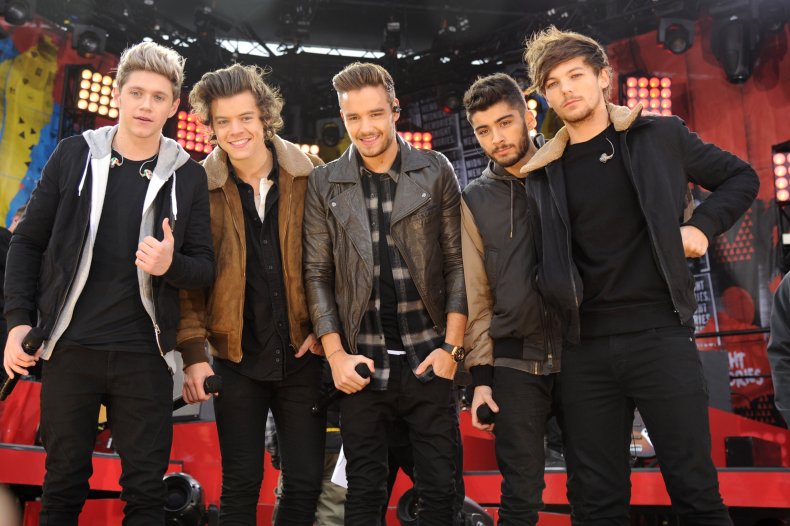 Colgan finally put these questions to bed last month after revealing herself to be the phone's owner.
"Me, minding my own business, listening to Harry's House, then I remember [that] seven years ago I threw my phone on stage at a 1D concert," read the video's text overlay.
A sped-up version of Abba's Angeleyes plays over a clip of a 20-year-old Styles scrolling through Colgan's phone mid-performance.
"He was supposed to add his number, not text my dad," read Colgan's caption.
The TikTok ends with a photo of a shocked Styles holding her phone and a screenshot of the text he sent her dad, which read: "Show's going well so far. This is harry [sic] texting from your daughters [sic] phone. That sounds weird. Hope she enjoyed the show. All the love. H. xxx."
Commenters praised Colgan, and several One Direction fans said they were happy to finally find her after all these years. Some even thanked her for revealing the details behind the interaction.
"ICONIC," one fan wrote.
"OH MY GOD I KNEW I WOULD FIND YOU EVENTUALLY YOU ARE 1D FANDOM ROYALTY," stef exclaimed.
"Wait WAIT WAIT. YOU'RE THE REASON FOR MY FAV PICS OF HIM?! GIRL," gab added.
"You're an actual legend though," Ashley Wright commented.
Hannahnicole said: "I always wondered what happened there, thank you for solving that."
Of course, some fans still wanted to know—why did he have a "scared" look on his face while scrolling through her phone?
"I have no idea!" Colgan responded. "Only thing I can think of is that he wasn't expecting it to be unlocked?? Or my text right before saying Niall [Horan] has really skinny legs."
Newsweek has reached out to Colgan for comment.
Styles is known for his sweet fan interactions, especially those he has on tour.
Last year, he made headlines after giving a fan relationship advice in the middle of his set. About a month later, he went viral again for helping a fan come out to her mother during one of his shows.
And in May, a video of Styles hugging superfan Brittany Broski before taking the stage in New York went viral on TikTok.