Kris Jenner Waving to Fans, Dancing at Harry Styles Concert Goes Viral
Kris Jenner was loving Harry Styles' concert in Palm Springs and the moment they waved to each during the show has gone viral.
Jenner was one of many celebrities in attendance at Styles' penultimate U.S. show for his global Love on Tour.
The Kardashian-Jenner matriarch could be seen dancing and chatting to people around her and at one point received a shoutout from Styles himself.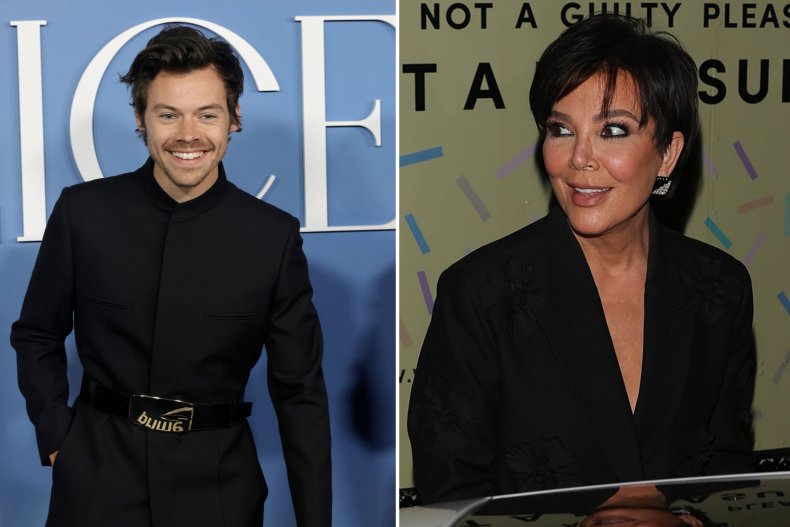 The singer waved to Jenner and blew her a kiss, with the mom-of-six returning the gesture from up in the stands, while wearing a black glitter pant-suit.
Styles and Jenner have been connected for years after he dated her second youngest daughter, Kendall Jenner, off and on for years. They even had a family vacation together when they sailed on a superyacht in St Barts in 2015 when Kendall and Styles dated.
One of the videos posted to Twitter of Jenner waving to Styles amassed over 15,000 views within one hour of being posted.
Other big names in attendance, according to social media posts, included Katy Perry and Amazon boss Jeff Bezos.
Styles is no stranger to celebrities attending his shows, but is probably less used to suffering embarrassing moments in front of them, as was the case last week when he ripped his pants in front of Jennifer Aniston.
Styles, 29, was performing his hit song "Music for a Sushi Restaurant," at the Kia Forum in Inglewood, California, when he went over to one side of the stage where Aniston was sitting and knelt down.
As he knelt he threw his hands up to the crowd, but quickly brought them down to cover his crotch and looked down in horror.
He could be seen rolling his eyes at the wardrobe malfunction and quickly ran to grab a towel from the stage to cover his modesty.
What would have made the moment even more awkward was the fact, Styles has previously admitted that Aniston was his first crush. He made the admission during an appearance on The Ellen Show in 2020.
Other celebrities at Thursday's gig included Spencer Reid, Ellen DeGeneres, Noah Beck and Dave Grohl, according to social media.
Along with a world tour and successful album, Styles saw out 2022 with the year's most-streamed song.
Spotify confirmed Styles' international hit "As It Was" had more than 1.6 billion streams globally last year.
He also starred in the much talked about film, Don't Worry Darling, as well as My Policeman opposite The Crown star Emma Corrin.