'Harsh': Employee Says She Found Desk Already Boxed Up After Being Laid Off
Commenters rallied around an employee who said she was laid off without notice and came to work to find her belongings packed in a box.
The anonymous employee, known only as u/Shrek1onDVD, posted about the recent layoffs in the popular "WellThatSucks" subreddit where it received more than 75,000 upvotes and 3,400 comments.
In the post titled "Got laid off today with zero notice, found all my stuff already in a box when I got to work" the woman posted a picture of a box filled with all of her belongings, including desk accessories and her snacks.
In the comments, she said that the CEO of the company, which she confirmed to Newsweek was Carvana, sent an email to employees at 6 a.m. that 2,500 employees were being laid off.
Despite financial success early in the pandemic, the online used car company is currently in the headlines for laying off 2,500 employees on Tuesday—many over Zoom.
Carvana also reported $260 million in net losses during a first-quarter earnings meeting in April, which they said played a role in the layoffs.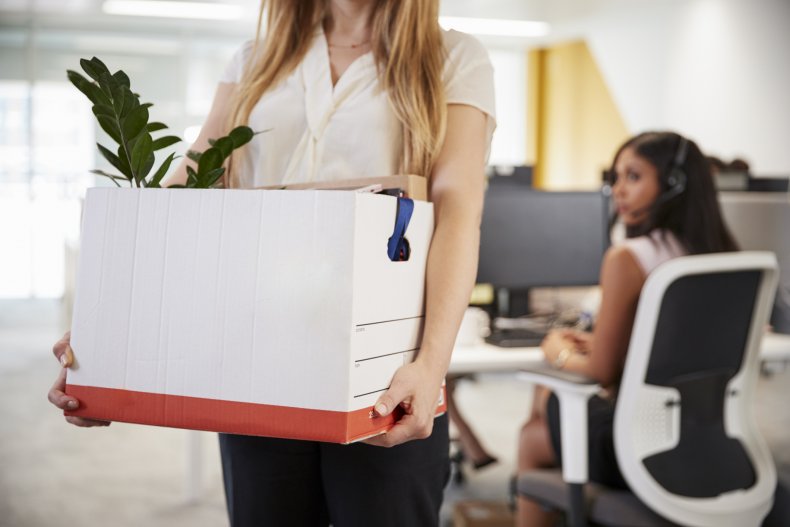 The employee told Newsweek she worked in one of the offices in Tempe, Arizona, and that the news surprised everyone, including upper management.
"I got called into a meeting after I clocked in with hundreds of other people in the same room and was notified we would be let go," the woman said. "Came back to my desk and they had a box for all my stuff already. No notice aside from the email."
She also said that the remote employees were informed about the layoffs via Zoom and said that some were not informed at all and lost access to company channels.
"They laid empty boxes all around the office for people to pick up," she said. "I learned later in the day, the person who boxed my belongings was a friend."
Individuals who didn't get their belongings had to either pick them up later in the day or be escorted by another employee since they lost access to their badges which get them into the building.
More than 3,400 users commented on the post, many offering their support to OP and wishing her good luck on the job search.
"Damn that's harsh, did they give a reason?" one user commented.
The woman replied that employees were told that the "company wasn't doing well and our department was overstaffed."
"Damn.. I feel for you. Had it happen to me about 3 years ago," one person wrote. "I had just bought a house too. Most stressful time in my life but it all worked out! It will for you too!"
Others said they felt the situation was handled incorrectly and that employees deserved more notice.
"Carvana employee here. This is f**king disgusting, the way this was handled was f**king useless. Infuriating," one user commented.
"The indignity added that other people box up your things," another user commented. "No one needs to be touching my Fig Newtons. You can watch if you want to make sure I don't tamper with anything but let me grab my own sweater."
A spokesperson for Carvana told Newsweek that the layoffs were the result of "macroeconomic factors" that pushed automotive retail "into recession."
"While Carvana is still growing, our growth is slower than what we originally prepared for in 2022, and we made the difficult decision to reduce the size of certain operations teams to better align with the current needs of the business," the spokesperson said.
"Saying goodbye to any team member is not a decision we take lightly and we aim to be transparent, thoughtful and supportive throughout this process, including providing meaningful assistance, resources and support to impacted team members. We believe these decisions, while extremely difficult, will result in Carvana restoring a better balance to our operations and facilitate the company returning to efficient growth on its mission to change the way people buy and sell cars."
In another viral Reddit post, a man said he was recently laid off and was offered a job by his previous employer—albeit with a pay cut. Commenters told him it wasn't a good idea.
In April, Newsweek reported on another company that laid off approximately 9 percent of its employees. Robinhood, a retail brokerage app, said the decision to lay off roughly 340 employees was due to "duplicate jobs and other "less than optimal" conditions.