Harvard Draws Backlash for Telling Students 'You May Wish You Weren't Asian' on Anti-Racism Page
Harvard University is drawing backlash after telling its students "you may wish you weren't Asian" on the school's "Anti-Asian Racism Resources" page.
"When you experience racism, you can feel shame," the website read. "You may wish that you weren't Asian, but remember that your ancestors likely went through similar or even worse incidents."
One Harvard student, Matteo Wong, took to Twitter to express his frustration with the school's response to the increase in racism against Asian Americans amid the coronavirus pandemic and the mass shooting that took place in Atlanta earlier this month, which left eight dead—among them six Asian women.
"WHAT? Please tell me who wrote "you may wish that you weren't Asian" on the mental health resources page, why they thought it would be helpful, and how telling me this is supposed to help me feel any sort of racial "pride." at that, pride in what, exactly?" Wong tweeted on Tuesday.
"Ouch. This is almost willfully terrible - from the stock photo tea/bamboo to the WTH does 'wish you weren't Asian' mean?! It's angering to read as it demonstrates lack of empathy & dedication to #AsianAmerican students," Stanford psychologist Helen Hsu replied to Wong.
"Did a hate crime write this," journalist Wilfred Chan added.
At the top of the page, Harvard pointed out the rise in attacks against the Asian-American community, citing more than 3,700 hate crimes that have been reported to Stop AAPI Hate, and provided a list of resources "to help manage," including organizations Harvard's Asian Caucus identified in their own statement.
Despite the statistics included on the page, the detailed flyer attached to the website read: "Although most individuals are not racist and these events are infrequent, these incidents can often be stressful and traumatic."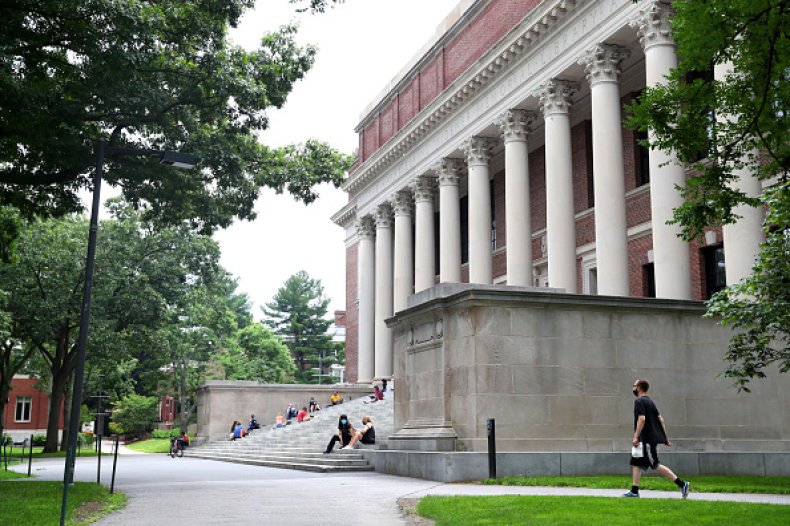 "If they get it totally wrong here think about every daily anti-Asian aggression that happens all over this country. Jaw dropping," Lindsey Boylan, who is running for Manhattan borough president and is one of 10 women to recently accuse New York Governor Andrew Cuomo of sexual harassment, tweeted on Wednesday.
Under its resources, Harvard provided three tools "most helpful in coping with racial discrimination," including "find pride in your community," "seek out support" and "process your feelings."
Wong also pointed to the language used under the school's guide to "process your feelings."
"Another lovely gem: 'Permit yourself to take care of you.' Thank you for the permission, Harvard," the junior wrote. "Too bad I can't take advantage of it because every time I see a statement like this I have an aneurysm."
Racist attacks against Asian Americans have garnered national attention in recent weeks in the wake of the Atlanta shootings. The House Judiciary Committee held a hearing on discrimination and violence against Asian Americans only days after the incident.
President Joe Biden has also responded to the rising racism. On Tuesday, he laid out plans to address anti-Asian violence, including increased accessibility to hate crime data and the establishment nearly $50 million in grants to support AAPI survivors of sexual assault and domestic violence who face language barriers. The Justice Department will also review how to better respond to the violence.
Biden's announcement came a day after surveillance video captured a man in New York stomping on a 65-year-old Filipino woman while making racist remarks. The suspect, Brandon Elliot, was arrested early Wednesday.
Newsweek reached out to Harvard University for comment, but did not hear back before publication.