Harvey Weinstein 'Finally Being Held to Account' in California Court—Accuser
Harvey Weinstein is "finally" being held to account by the "little people" as he faces sexual assault charges in California, according to one of his many accusers.
Disgraced movie mogul Weinstein, 69, has been extradited from New York to California, where on Wednesday he pleaded not guilty to 11 counts of sexual assault in a Los Angeles courtroom.
Weinstein was flown from New York, where he has been serving a 23-year prison sentence since his conviction in Manhattan last year on sexual offenses.
Louise Godbold, one of dozens of women to speak out against Weinstein when she alleged that he had sexually assaulted her when she was an intern back in 1991, is now hoping to see a conviction on the West Coast.
Godbold, a trauma specialist, told KTTV on Wednesday: "I'm pleased that Harvey has come to L.A., because he needs to be held accountable. It's the scene of the crime for many of us... and although, of course, while it was great that women in New York got their day in court, there are over 100 women who have credibly accused him of sexual assault and rape.
"And even though it is good to see him answerable for crimes against other women, it's also good to see him held to account for every single one of the lives that he definitely impeded, if not caused considerable damage to."
Answering to statements by Weinstein's lawyers that there is no proof to support the allegations he faces in California, Godbold said: "There may not be forensic evidence, but if you want to look at the weight of historical evidence against Harvey—that alone should be enough to convict him."
"Powerful and wealthy people like Harvey Weinstein got away, with impunity, with his bullying and abusive actions," added Godbold. "And we need to send a message that time is up, you don't get away with that anymore, and that finally, the little people who are squashed and silenced, we are holding him to account."
On Wednesday, Weinstein pleaded not guilty to four counts of rape, four counts of forcible oral copulation, two counts of sexual battery by restraint and one count of sexual penetration by use of force.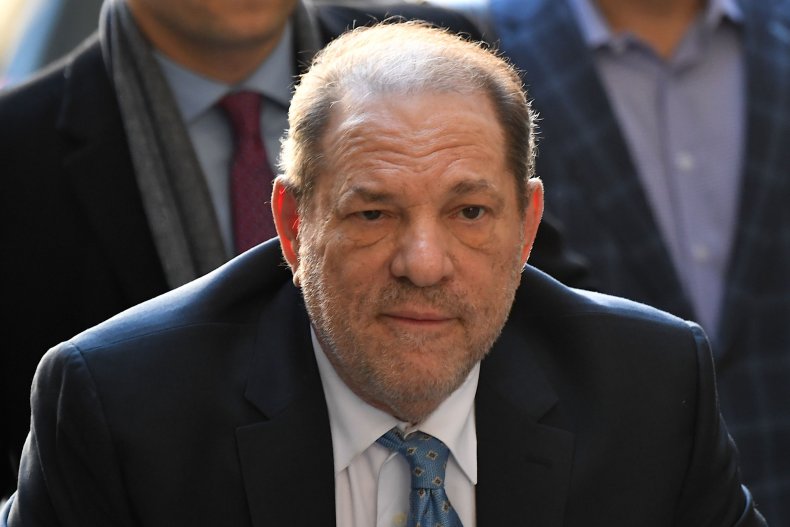 If convicted as charged in California, he faces up to 140 years in prison. The alleged crimes are claimed to have taken place between 2004 and 2013.
Lawyers representing Weinstein's accusers applauded his transfer to California, which was repeatedly delayed due to the ongoing coronavirus pandemic.
"The opportunity to hold Weinstein accountable for his actions in California gives voice to the survivors including my client, Jane Doe 4," attorney Elizabeth Fegan, who is representing one accuser in Los Angeles, said in a statement. "They deserve to be heard and to have Weinstein answer for his actions.
"Our hope is that a guilty verdict in California will ensure that Harvey Weinstein will spend the rest of his life behind bars—securing justice for women everywhere."
Attorney Gloria Allred, who represented some of his accusers in the New York trial and also represents two accusers in California, said: "Justice has been delayed in Los Angeles but it will not be denied to the brave accusers who are willing to testify in this criminal case."
Weinstein will return for another hearing on July 29. No trial date has been set yet.
He was convicted in Manhattan Supreme Court in February 2020 of a first-degree criminal sexual act in a 2006 incident and of third-degree rape in a 2013 incident.
Weinstein's lawyers filed an appeal of his conviction in April. The office of retiring Manhattan District Attorney Cyrus Vance Jr. has yet to file a response to the appeal.