Harvey Weinstein Hired Private Investigators to Spy on Actresses and Journalists, Report Says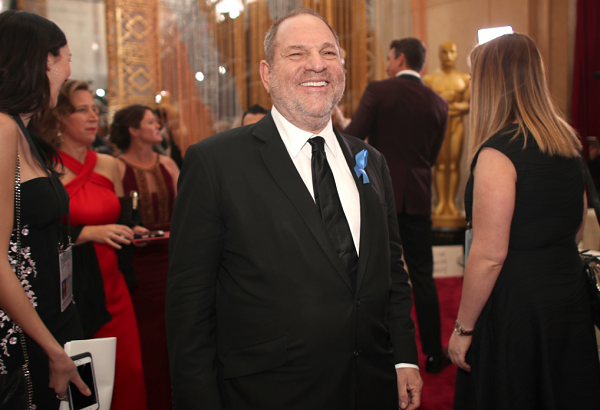 In the fall of 2016, disgraced Hollywood mogul Harvey Weinstein began to hire private investigators—including former Israel's Mossad agents—to track actresses and journalists in an attempt to quell allegations that he sexually assaulted or harassed women.
Details emerge from an explosive report by The New Yorker's Ronan Farrow on Monday, in which the author explains that Weinstein hired firms such as Kroll, considered "one of the world's largest corporate intelligence companies," and Black Cube, another company run by ex-Mossad officers and other Israeli intelligence agencies. He employed these enterprises to gather information on women and reporters who tried to publish the claims.
According to the report, two investigators from Black Cube used false identities to meet actress Rose McGowan—who has publicly accused Weinstein of rape—to retrieve information from her. One of the investigators posed as a women's rights advocate and secretly recorded four meetings with McGowan, while the same operative using a different fake identity met twice with a reporter to find out which women were talking to the media.
The investigation's overall goal was to avoid the publication of alleged sexual misconduct committed by Weinstein, which were eventually released by The New Yorker and The New York Times in recent weeks, the report added. Weinstein oversaw the investigations and brought in former employees of his film companies—including some of his laywers—to support his goal.
Weinsten's spokesperson, Sallie Hofmeister, told The New Yorker that "it is a fiction to suggest that any individuals were targeted or suppressed at any time."
The report comes as other actresses have reacted to Weinstein's scandal. Uma Thurman, who worked on seven Weinstein films, said on Monday that she will not comment on the producer's sexual assault allegations until she feels "less angry." Thurman's message went viral since actress Asia Argento—who is among the women who have accused Weinstein of sexual assault—shared a clip on Saturday.
So far, 93 women have come forward to share their harrowing accounts of sexual misconduct by Weinstein, according to a list Argento compiled and shared on Twitter. The list includes some of the women who have already spoken, like Rose McGowan, Mira Sorvino, Angelina Jolie, Kate Beckinsale, Lupita Nyong'o and Annabela Sciorra, to name a few.
The accusations against Weinstein date back to at least 1984, Newsweek reported. The producer faces criminal inquiries in New York, London and Los Angeles.