Has There Ever Been a Left-Handed Monarch?
King Charles III is sometimes the subject of questions online over whether he is left-handed—but in actual fact, the U.K.'s new monarch writes with his right hand.
There have, however, been past monarchs who were left-handed and there is also a future king who will carry the flag for lefties the world over in Prince William, Prince of Wales.
Queen Victoria is perhaps the most famous left-handed British monarch, though historians believe she was required to use her right hand as a child during the strict age in which she lived.
Historic Royal Palaces, the charity that manages palaces that the royals no longer occupy, such as Hampton Court and the Tower of London, shared some information about Victoria to mark Left Handers Day in 2019.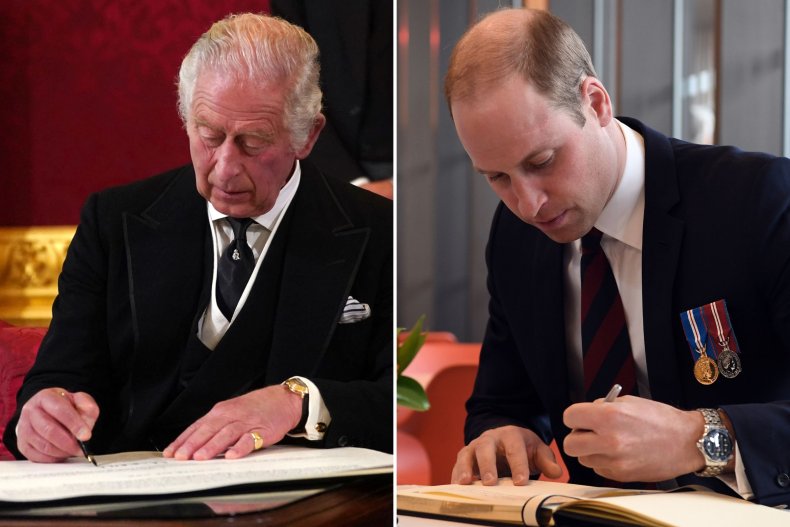 A Twitter post read: "Happy #LeftHandersDay! 💁‍♀️ Queen Victoria is one of the most famous historical lefties. Although she wrote with her right hand, she painted with her left, which indicates she was made to switch as a child, as was sadly common in the Victorian era."
King George VI, Queen Elizabeth II's father, was also left-handed and so is Sophie, Countess of Wessex, Elizabeth's daughter-in-law, though she will never be Queen.
King Charles III Writes With His Right Hand
The Daily Express noted high search traffic for queries about whether then-Prince Charles was left-handed in November 2020, at the time Season Four of The Crown was released.
However, there is nothing to suggest the king is actually left-handed and videos of him at his proclamations in London and Northern Ireland in the aftermath of Queen Elizabeth II's death both showed him writing with his right hand.
Footage also showed him getting very frustrated with pens, but that is perhaps understandable for a man who had to cope with the loss of his mother at the same time he became Britain's new head of state aged nearly 74.
Charles could be heard in one clip saying: "Oh God, I hate this pen" and "can't bear this bloody thing."
He added: "[It's] what they do every stinking time."
Prince William Writes With His Left Hand
The new Prince of Wales signed the proclamation of his father as king with his left hand, causing a ripple of excitement among left-handed people online.
Beth Rigby, Sky News political editor, Tweeted: "I never knew Prince William was left handed! (as a mother of a left-hander I'll be sure to let them know)."
Another Twitter user wrote: "Left-handed people across the world acknowledge the pain of watching Prince William use a fountain pen whilst trying to not smudge the ink everywhere."
It had, however, long been known William was left-handed.