Inviting Candace Owens to hate crimes hearing was a 'mess' and 'lost opportunity,' say experts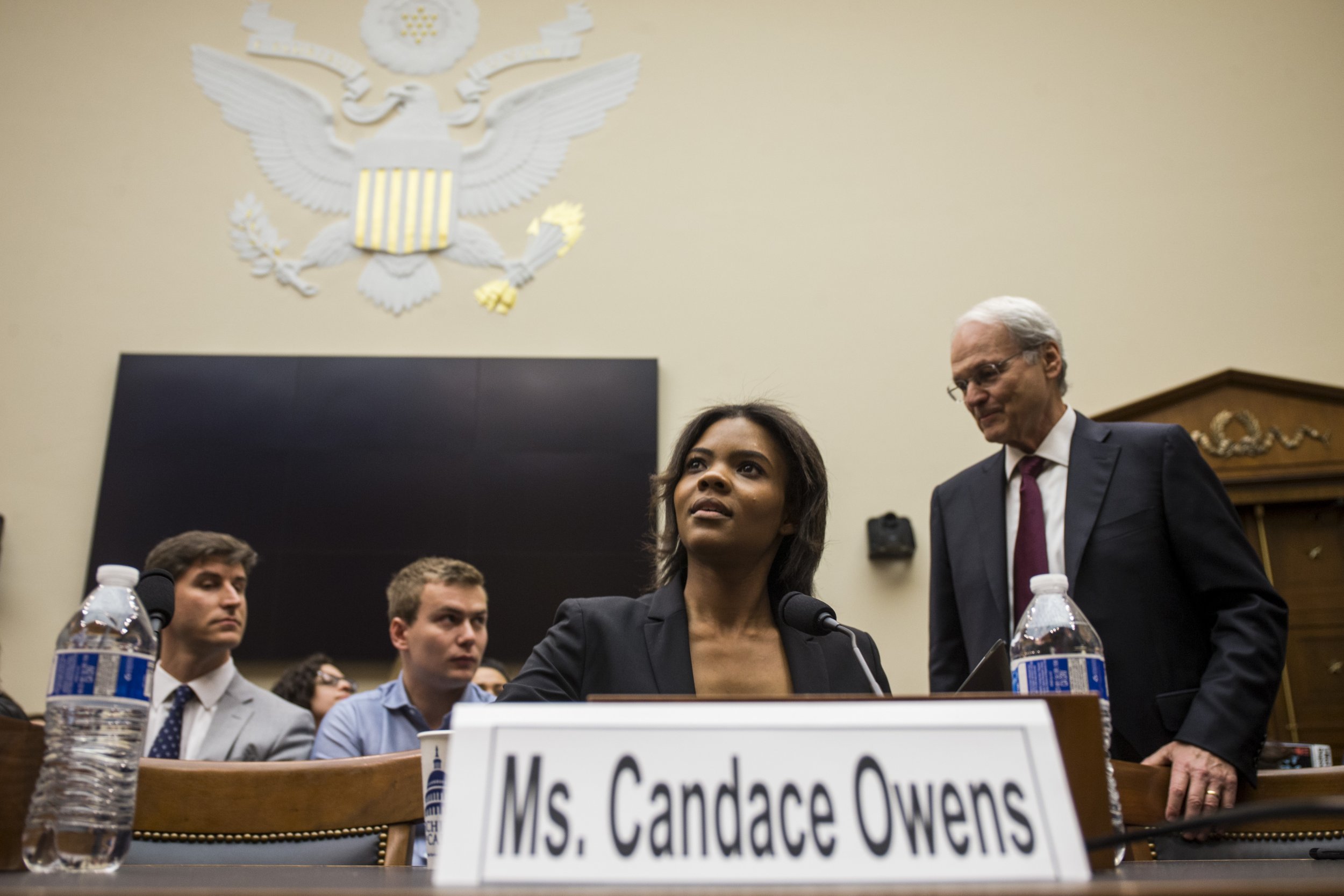 The politicization of Tuesday's Congressional hearings on hate crimes and white nationalism decreased the efficacy of the House committee's questioning, experts on hate crimes and extremism told Newsweek.
"Republicans were successful at turning the hearing into a kind of mess with [conservative commentator] Candace Owens and [President of the Zionist Organization of America] Morton Klein," Heidi Beirich, who leads the Southern Poverty Law Center's Intelligence Project, told Newsweek. "It's embarrassing for the Republicans to bring one of the people who inspired the New Zealand attacker as a witness," she said, noting that the alleged shooter who killed 50 people at mosques in Christchurch, New Zealand, last month had mentioned Owens in his manfiesto.
Democrats called the hearing less than a month after the shootings which catalyzed global discussion about hate crimes and their links to online radicalization. The alleged gunman in the attack displayed an intimate knowledge of these internet communities.
While incidents like the Christchurch shooting and the Tree of Life synagogue attack last year in Pittsburgh draw public attention to online white nationalism and resultant violence, experts have been raising concerns about the rising discourse for years.
"Pretty much everybody in the civil rights world have been pointing out how serious and toxic the online space has become and how it was radicalizing young white men," Beirich told Newsweek. She said that major technology companies completely ignored addressing the spread of white nationalist content on their platforms until the 2017 white supremacist and neo-Nazi rally in Charlottesville, which provoked widespread outrage.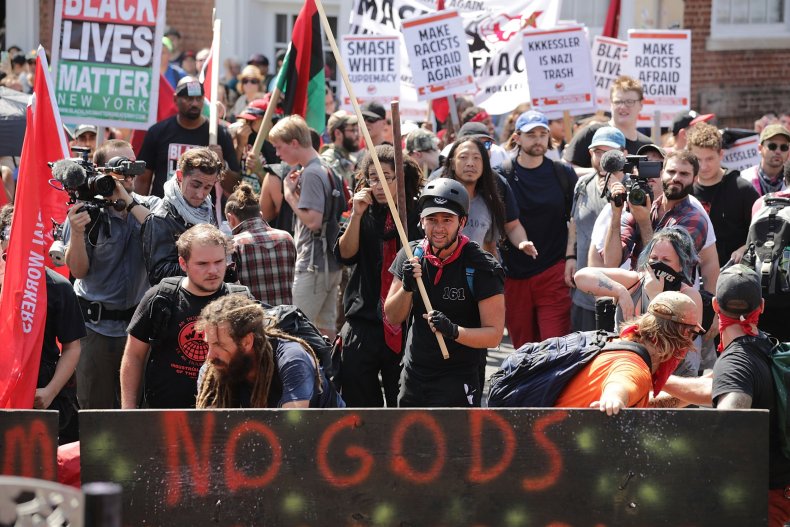 White supremacists have committed 54 percent of domestic "extremist-related" murders in the past decade, Anti-Defamation League Senior Vice President for Policy Eileen Hershenov testified on Tuesday. In 2018, white supremacists conducted 78 percent of such murders in the U.S.
But the House Judiciary Committee's hearing on the spread of white nationalism, which featured testimony from Google and Facebook representatives, devolved into a largely partisan affair.
Witnesses brought by Republicans shifted the conversation away from white nationalism while some Democrats questioned the testimony from the Republican witnesses and reasons for their selection.
"I'm hard-pressed to think that Candace Owens reflects the most deeply knowledgeable commentator on the conservative side of the fence," Brian Levin, the director of the Center for the Study of Hate and Extremism at CSU San Bernardino, told Newsweek. "I think we had a lost opportunity because the extremist threat in the U.S. is evolving and quite diverse, with white nationalism being the prominent, but not only, contemporary domestic threat."
During his testimony, Morton Klein, provoked controversy. He claimed the Christchurch shooter was "left-wing" and repeatedly cited statistics about anti-Semitism among Muslims. Owens used her time to claim that the threat of white nationalism was overblown and said the hearing was part of a broader Democratic strategy to win minority votes.
"We need to condemn all types of hate speech," Owens said, adding that the House should be holding a hearing on Antifa, a loosely organized anti-fascist group that is decried by Republicans and whose members have previously violently clashed with far-right groups. Owens and Turning Point USA founder Charlie Kirk and Owens last year claimed that they were attacked by Antifa members.
"I don't have an issue with people examining the threat of Antifa," Levin told Newsweek. "The problem is it's a distinctly different threat that is not as mainstreamed nor as widely dissipated [as white nationalism]. Although, as we become more polarized and enter a conflictual election season, with a rise in white nationalist extremism, we will likely see a concomitant, though significantly smaller, [reaction] with respect to the violent segment Antifa."
Levin said that experts across the ideological spectrum should have been called to testify to Congress and that the country had lost a chance for committee members, government experts and social media representatives to talk about civil liberties and "how to get on top of an increasingly evolving and fragmented extremism world."
Representatives for Republicans Doug Collins and Louie Gohmert did not immediately respond when contacted by Newsweek to ask about their selection of witnesses.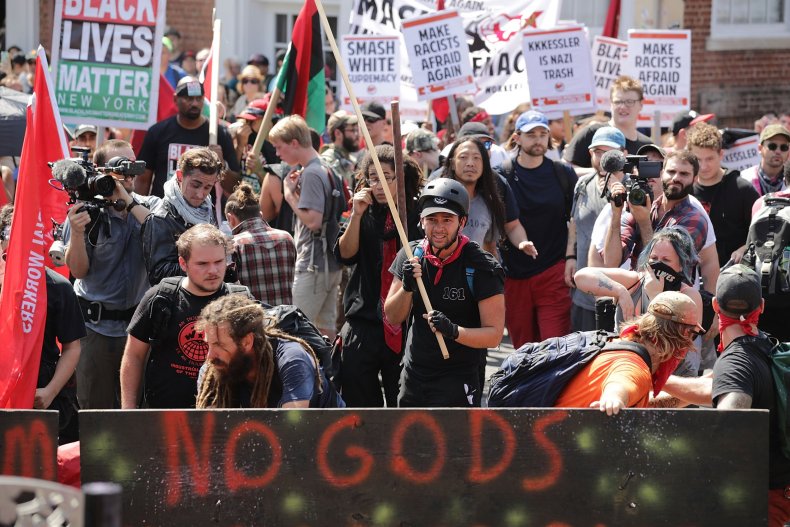 During the hearnig, Owens said she was a victim of a hate crime. Hate crimes rose 17 percent in 2017 according to FBI data, marking the third consecutive year that bias incidents have increased.
At the same time, discussions about the role of social media in regulating hate speech have become more prominent. Large tech companies like Facebook, Google and Twitter have faced increasing scrutiny and been urged to tamp down on white nationalist content and address harassment. A recent ADL report says that 37 percent of Americans have experienced severe online harassment and, of those, 38 percent alter their online behavior.
Hershenov told Newsweek that the hearing was a "good first step" and mentioned that there were difficulties in regulating hate speech in a measured manner.
"This is really, really difficult and there is no magic bullet," she said, noting that it's easy to overregulate after a tragedy.
But Hershenov also said that the companies were not offering transparent data about the content removed from their platforms. She said that social media giants should offer public—and independently verified—information on the nature of hate content removed, the media type and the prevalence of hate content. She also said the businesses needed to do a better job monitoring content.
When asked about transparency and independent verification policies, Facebook noted that legal scholars from universities including Yale and Princeton were reviewing the company's metrics on reporting violations. The Data Transparency Advisory Group issued a statement last year saying that it "notes the significant effort Facebook has put into enforcing its Community Standards and measuring its enforcement efforts."
When asked for comment, Google, regarding YouTube, directed Newsweek to its community guidelines. "Hate speech has no place on YouTube. We've invested heavily in the teams and technology dedicated to removing this content and we regularly update the public on our progress in our Community Guidelines Enforcement Report," a spokesperson said. The company also issued a statement that described the difficulties of regulating hate speech, a point which social media companies have regularly noted.
Beirich scoffed at such claims.
"You figured out the memes and the tropes from groups like Al-Qaeda and ISIS," Beirich said. "What I don't buy from the tech companies is that this is too complicated or too hard to track."