Is Wilson Fisk Echo's Uncle in 'Hawkeye'?
Episode 3 of Hawkeye was released on Wednesday and it introduced Maya Lopez, aka Echo, to the Marvel Cinematic Universe (MCU).
Maya (played by Alaqua Cox) is the head of the Tracksuit Mafia and is the main antagonist to lead characters Clint Barton (Jeremy Renner) and Kate Bishop (Hailee Steinfeld).
And while she's the big bad it seems there's someone more menacing awaiting in the shadows: her uncle.
Maya's uncle is referenced a number of times in the episode, first by her father William (Zahn McClarnon), and later by Maya herself, and then Kate, though she simply says she thinks there's a person "above" Maya who she feels they "don't want to mess with".
While Maya's uncle is never named, and is only briefly seen, it seems possible he is Wilson Fisk, aka Kingpin. Newsweek breaks down the reasons why.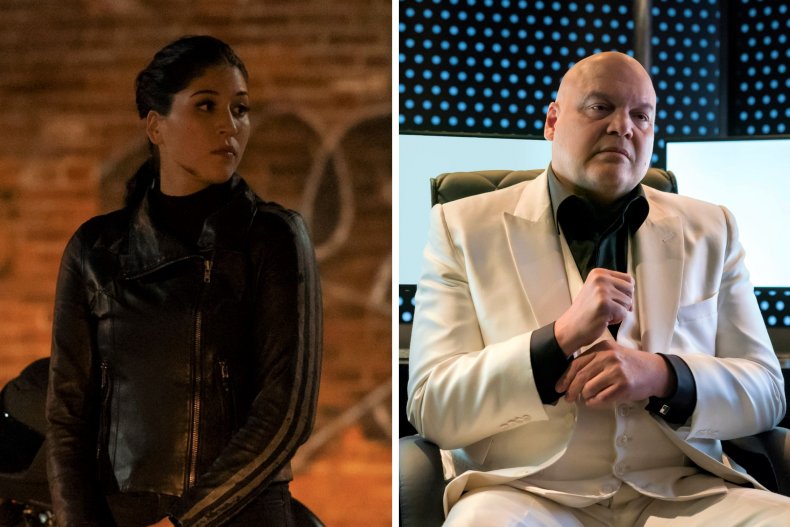 Is Wilson Fisk Echo's uncle?
Maya/Echo, much like Fisk, originated as an adversary to Daredevil in the Marvel Comics, and was first introduced in 1999.
In the original comics Maya was adopted by Fisk to honor her father's dying wish, despite being responsible for his death.
Fisk sends Maya to meet Matt Murdock to convince him of his qualities, and the pair fall in love but later, as Echo, she goes up against Matt's Daredevil and almost kills him.
It's only when she learns that Matt is Daredevil that she stops from doing so, and instead turns on her adoptive father when she learns the truth of her past.
Maya/Echo's origins play out differently in the Disney+ show, as her father was killed by Clint's Ronin, rather than Fisk.
However, her uncle still appears to be an important part of her life and has known her since she was a young girl, with her father even relying on him to take her home after a fighting class.
Following her father's death, which takes place only a few years before the Disney+ series is set, it is likely that Maya's uncle would have stepped in to support her.
Will Vincent D'Onofrio reprise his role as Wilson Fisk?
Vincent D'Onofrio portrayed Fisk in Netflix's Daredevil series for three seasons, and he remained a key villain throughout the show.
While the identity of Maya's uncle remains a secret, the brief glimpse of his torso and hand in the third episode strongly hints at the possibility it will be D'Onofrio.
The actor has also regularly shared his interest in returning to the role of Fisk, and even promoted Hawkeye on Twitter when he said the show was "going to be fun".
There have also been rumors of Charlie Cox returning to the role of Daredevil in Spider-Man: No Way Home, so this may be the start of Marvel re-introducing characters from its former Netflix shows into the MCU.
However, this may just be wishful thinking as Cox denied he was involved in the forthcoming Spider-Man film in an interview with Newsweek.
Hawkeye airs every Wednesday on Disney+.