Health Department Shakeup by White House is Being Considered: Reports
The Trump administration is looking to replace Health and Human Services (HHS) Secretary Alex Azar as the coronavirus pandemic continues, according to multiple news reports.
The Wall Street Journal and Politico reported on Saturday that a shortlist of possible replacements for the HHS secretary had been drawn up by officials, quoting four sources apparently "familiar with the discussions."
CNN later reported an administration official had confirmed plans to remove Azar from the HHS department over his response to the coronavirus outbreak. A HHS spokeswoman rejected the reports, telling the broadcaster that the secretary did not have time for "palace intrigue" and was busy responding to the ongoing COVID-19 pandemic.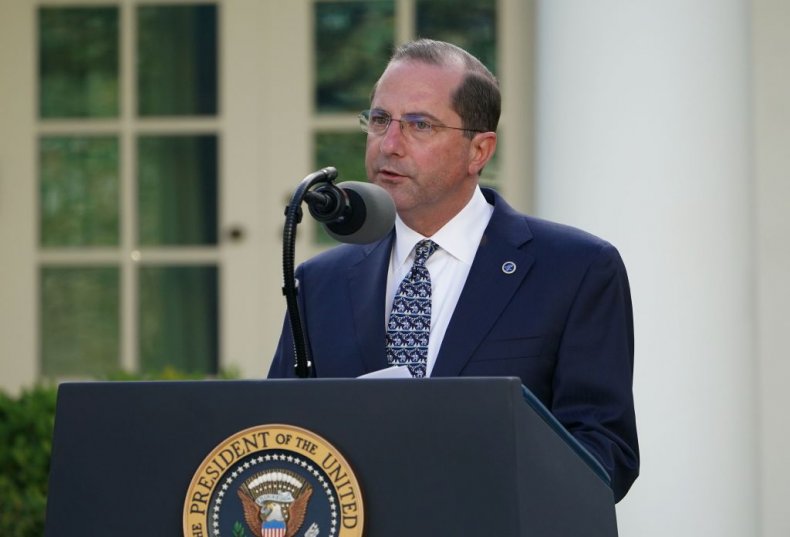 According to Politico, Coronavirus Response Coordinator Deborah Birx and Seema Verma, the Centers for Medicare and Medicaid Services administrator, are on the shortlist of Azar replacements.
But in a statement to Politico, White House Deputy Press Secretary Judd Deere said reports of plans to replace Azar were "irresponsible" speculation.
"The Department of Health and Human Services, under the leadership of Secretary Azar, continues to lead on a number of the President's priorities," he said. "Any speculation about personnel is irresponsible and a distraction from our whole-of-government response to COVID-19."
Newsweek has contacted the White House and HHS for comment. This article will be updated with any responses.
Reports of plans to oust Azar from the HHS department came days after Dr. Rick Bright was transferred from his role as director of the Biomedical Advanced Research and Development Authority (BARDA), where he was reportedly working on American efforts to develop a coronavirus vaccine.
In a statement first reported by The New York Times, Bright said that he believed his transfer was motivated by his questioning of the use of hydroxychloroquine as a coronavirus treatment.
"I am speaking out because to combat this deadly virus, science—not politics or cronyism—has to lead the way," he said.
Bright's lawyers announced that a whistleblower complaint would be filed with the inspector general.
Vice President Mike Pence was also appointed as the head of the White House coronavirus task force in late February instead of Azar, who was given the role of chairman.
According to the Johns Hopkins University COVID-19 tracker, the United States has recorded more than 939,000 cases of the novel coronavirus so far. It has also reported 53,934 related deaths as of 5:10 a.m. ET, as well as 105,818 cases of total recovery.