Watch: Healthcare Worker's Haunting 3am Piano Concert Reduces Listeners to Tears
A healthcare worker's piano concerts at 3 a.m. have gone viral online, after a colleague captured the haunting melodies on camera.
A staff member at a children's hospital, thought to be based in the HealthPark Medical Center, in Fort Myers, Florida, has been treating patients to phenomenal performances while on his break.
A colleague, Danielle Herby, posting under @dnherby, was taking a rest when she heard music coming from the foyer.
She whipped out her phone and filmed a man, who was later identified as Shawn Foley, sitting at the piano in the middle of the empty foyer, dressed in scrubs, gloves and a face mask.
He displays incredible musical talent, as the pianist plays songs from memory—with no music sheet in front of him.
"Walked out to take my break... I hear music coming from the atrium. I look down, and I see my fellow healthcare worker playing this on her 30 at 3:33 a.m.
"I am blessed to have been able to witness this and to have taken my break the same time she did. Thank you for this. I needed this to make my shift much better," Herby says in the video, shared on Tuesday.
The clip, which was captioned "I'm posting more of these, remember to thank your local healthcare workers," has been watched more than 3 million times, and can be seen here.
After blowing up it was shared across Reddit on Wednesday, by @BusyBusyBizzy, where it amassed more than 35,000 upvotes in just a few hours.
Numerous people were blown away by the raw talent on show, while there was an outpouring of support for medical staff.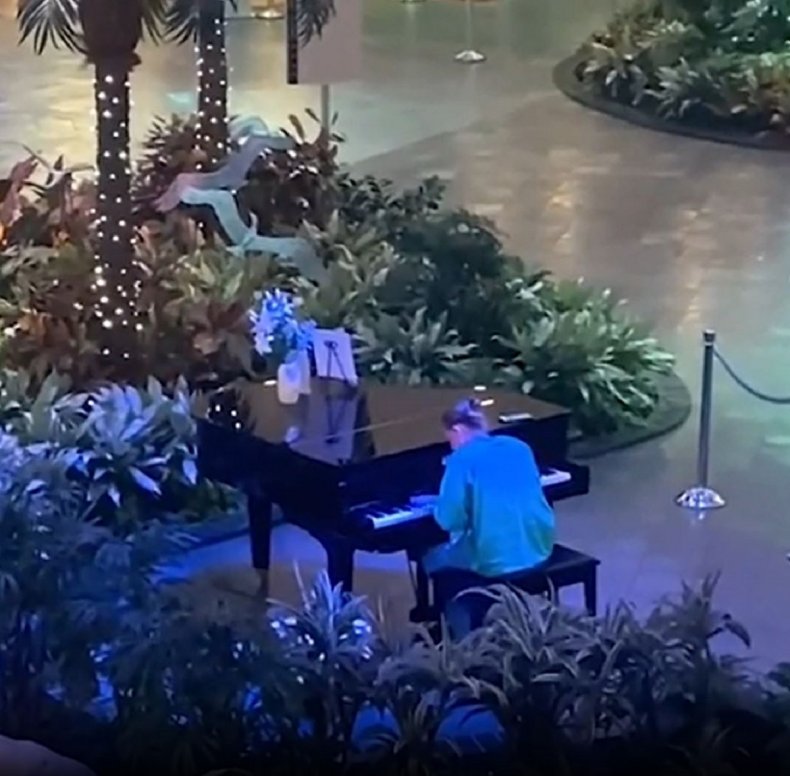 Herby followed up the initial clip with four more, showing Foley playing more songs, as she captioned another video: "Piano man at 3am from your local healthcare worker on her break. Beautiful music, beautiful human."
In various clips, Herby wrote: "He's an absolute legend... Made my might so much better. It was rough but after this, it was so calming."
Tunes include a rendition of John Legend's "All Of Me," while the 23-year-old also does a version of the aptly named "Piano Man," by Billy Joel. And showing his musical prowess knows no limits as he even starts whistling along to the 1973 track.
"He's whistling while he's playing," Dnherby added.
Foley, posting under @shawn.elevation on TikTok, responded to praise from fans on his own account, explaining: "Yes I am self taught! Play everything by ear."
After the clips went viral, Herby and Foley performed a duet live on TikTok on Wednesday, after she revealed she'd approached the pianist.
"I posted this on my Instagram and he saw and just so happen to be following each other for him to notice it was him!" Herby said.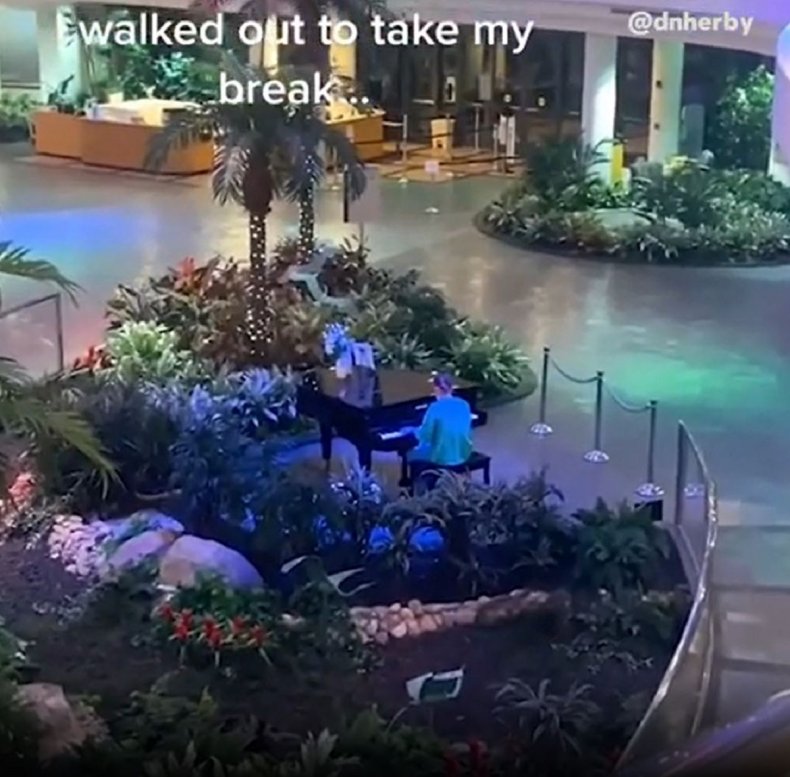 Commenting on the clips, Emily Smoski wrote: "If I was in a hospital room and I heard that at 3am that would instantly cheer me up. Thank you to all our nurses."
William commented: "Oh no not me crying I need her."
"If I was a patient I would want the closest possible room to hear this every night she had her shift," Luckyluci04 said.
MaxisRed admitted: "I'm not crying, you're crying."
Kendall Jackson thought: "I love this!! With what the docs and nurses have been going through, so needed."
Bipolarhoneybear added: "Man, she plays with so much soul."
Newsweek reached out to Dnherby and Shawn for comment.
Update 10/14/21, 8:45 a.m. ET: This article was updated with video and photos from @Dnherby.