Hearts Break Over Woman's Response After Friend Asks Her to Be Bridesmaid
The internet has rallied around a heartbroken woman who shared that her close friend had told her that she doesn't want to be her bridesmaid, because she doesn't feel she's pretty enough to appear in the wedding photos.
The bride-to-be and Redditor had revealed in a post that she had enthusiastically asked her friend if she would like to be a bridesmaid at her upcoming wedding. The woman had expected a firm "yes" from her friend, but instead she was met with tears and withdrawal.
In a post which has been titled 'My Bridesmaid Accepted Her Role In A Way That Hurt My Heart,' the woman wrote: "I asked three women to be my bridesmaids with a small gift. I asked each woman privately at their homes while visiting so it could be a heartfelt personal moment between us alone. One bridesmaid, I'll call A, is a kind-hearted woman I've known for more than half my life. When I asked her to be my bridesmaid, she burst into tears."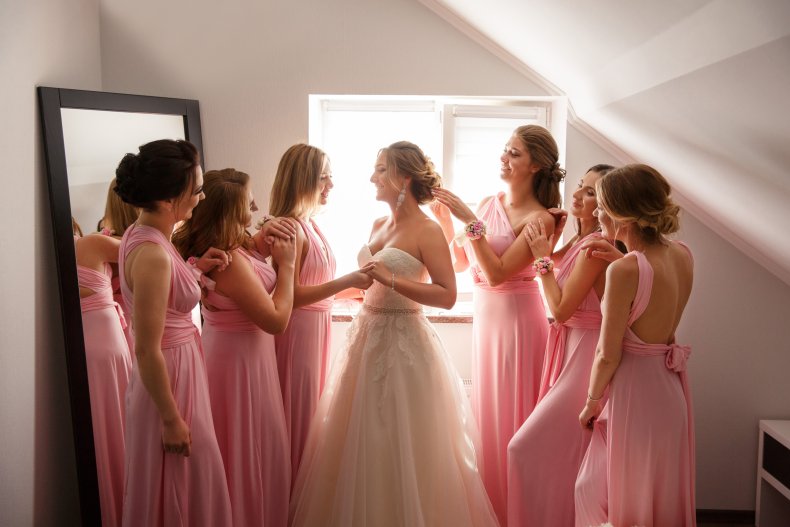 "She said 'you're so sweet, you don't have to make me your bridesmaid though.' Confused, I asked, 'why' and she said, 'I've never been pretty enough to be a bridesmaid,'" she added.
The bride-to-be shared that she was "flabbergasted" at her friend's admission, and immediately comforted and reassured her on her worth and value.
"Apparently all her other friends asked for her help (both labor and money!) but never allowed her to be in photos because she's overweight," she continued.
"I reassured her repeatedly that she is pretty and that I don't care about her weight, I care about her heart, and she's done more than enough to deserve a place beside me at my wedding," the Redditor concluded.
Since it was first shared to the social media platform on February 26 by @QuinthFae, the post has been upvoted by 98 percent of the users who engaged with it, and hundreds of comments have been left from Redditors extending a joint empathy to both women.
What Does Being A Bridesmaid Involve?
Patricia Aro is the founder and lead designer at Your Plan A Events, an event planning firm with a strong foothold in the wedding industry. Aro told Newsweek: "Across the board, bridesmaids can expect to be a listening ear for the bride along the way.
"Someone to hear her out when her second cousin wants to bring her baby into the ready-room during hair and makeup service time. Newsflash, if you are not specifically told that your partner or other loved ones are invited to any portion of a wedding celebration, they are more than likely not invited."
"As a bridesmaid, you might be asked to help plan the engagement or bachelorette party, and bridesmaids may be asked to plan and host a bridal shower in the last couple months leading up to the big day," she added.
When it comes to the wedding week itself, wedding party members are typically asked to attend all events including the rehearsal, the rehearsal dinner, the welcome reception, the wedding ceremony, the reception party, and the farewell brunch.
What Do The Comments Say?
Hundreds of comments have been left underneath the post, both empathizing with the bridesmaid and praising the way she reassured and comforted her friend.
"I'm so jealous when I see brides being so considerate when asking bridesmaids," one user added.
Another Redditor wrote: "She does deserve better friends, but thankfully she has you!"
"That is so sad. You're never too old to make a friend for life. You are the friend she finally deserved," a different user commented.
Has a wedding come between your relationship with a loved one? Let us know via life@newsweek.com. We can ask experts for advice, and your story could be featured on Newsweek.