Bride Backed for Why She's Inviting Only Half of Couple to Wedding: 'Rude'
Online commenters have sided with a couple that cut their wedding list and invited only some guests to the evening.
In a post on the London-based discussion site Mumsnet, user Anon133 described the situation that was causing drama within her family "We have had a 'save the date' card come through the post this morning for the wedding of a friend of my partner," the poster said. "They are also friends with my partner's father."
Both her partner and her partner's father were invited to the ceremony and reception afterward, but the poster and her stepmom were invited only to the evening event.
"I personally don't have an issue with this," the poster said. "I don't know the couple particularly well and I know that budgets and numbers can be tight."
But her partner's parents have not taken it as well. "[They] have taken it extremely personally and said that couples should be invited to the same parts of the wedding," the poster wrote.
"They are also saying that they are traveling 2 hours for the wedding and so are left in a situation where step-mom will be left on her own in an unfamiliar town whilst the ceremony is ongoing," the poster said. "My partner has also commented that it was rude that I was not invited to both parts of the wedding if he was."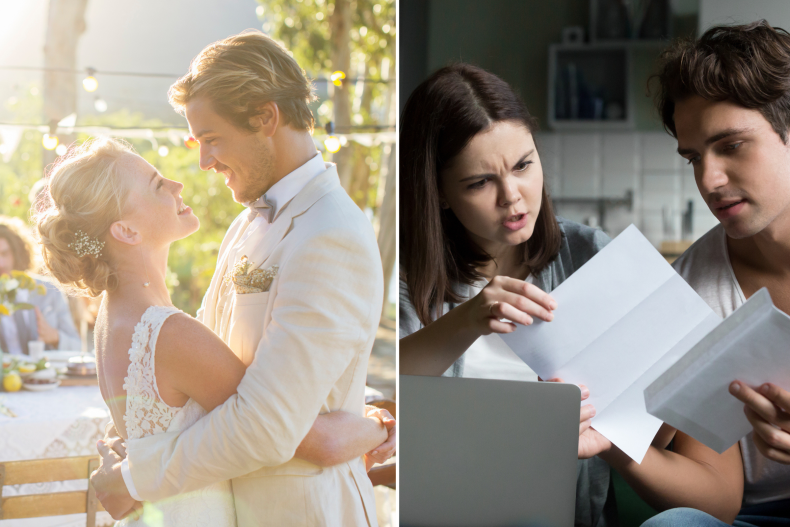 Wedding planner Beckie Melvin told Newsweek: "Generally, couples are invited as a 'team' to the same parts of the wedding. It is unusual, and I imagine, yes, doing this would cause some raised eyebrows and tongue-clicking from the guests.
"But like the woman said, there will be reasons why the couple did this. Ultimately, a couple need to be with the people they're comfortable sharing their big day with, and if that means only certain people for the ceremony & the rest later on, then guests should respect their wishes," Melvin said
U.S. couples spent an average of $30,000 on their ceremony and reception in 2022, and spending varies greatly depending on the guest count, location, time of year and the vendors hired, according to data from weddings website the Knot.
With the expected economic pressures this year, surveys suggest that 30 percent of couples are making changes to their budget as a result. Forty-one percent of couples say that they're making modifications to their original plan, and 39 percent are trimming their guest list by cutting 25 guests on average.
After the invitations were received, the father approached the bride and groom to tell them he was upset about the situation.
"[They] have said they are unable to accommodate and have been upset by the question," the original poster said.
"Who's in the right here?" she asked. "Getting sick of the arguments already."
Over 170 comments were posted, and users reacted to the dilemma by siding with the bride and groom.
"People can invite who they want, the invited can decide whether they want to go on those conditions. Asking was a bit of a faux pas if the situation was clear," said one.
Another wrote: "Not sure I'd make such a fuss, but I would find it weird to separate couples on invites. In our case I doubt either of us would go in the end."
One user wrote: "They've done nothing at all wrong. You're couples, not conjoined twins. She's a big girl and I'm sure she can find a place to have lunch or mooch or browse or can catch a later train by herself—how would she cope attending a wedding if she were single?"
Newsweek was not able to verify the details of the case.
Has a wedding come between your relationship with a loved one? Let us know via life@newsweek.com. We can ask experts for advice, and your story could be featured in Newsweek.