Man Not Prepared for Unusual Note on Wedding Invite: 'Bad Luck'
A custom note on one man's wedding invite has left the internet in stitches after it was shared online.
Dylan Giovanetto, 35, from Atlanta, Georgia, shared a picture of the RSVP card he received on Reddit's r/funny forum.
The beautiful wedding stationery asked the guest to "kindly respond" to the invite and specified the number of guests at the end.
In this spot, the bride-to-be had noted "1" and added a custom note that read: "Unless you fall in love by then."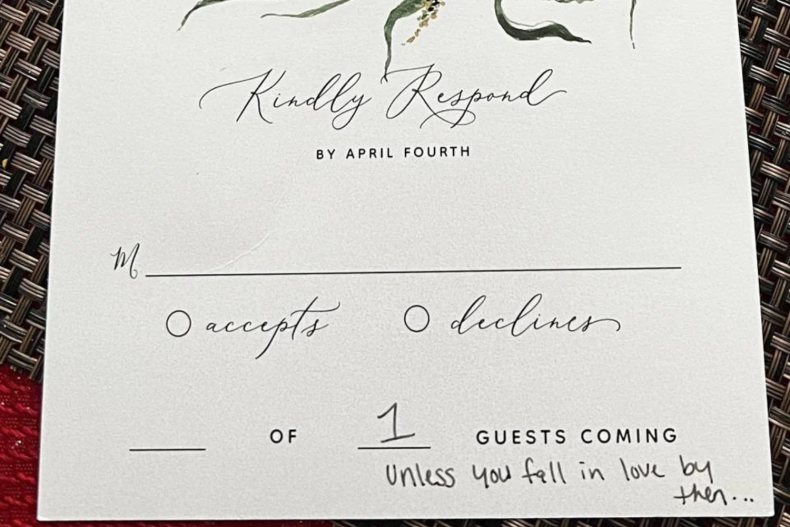 The humorous note delighted Redditors who shared their thoughts in the comments.
"Sounds like a dare haha," said one reply. While another wrote: "I would laugh, and then maybe bring a whole family."
Giovanetto told Newsweek: "She and I dated 10+ years ago for a short time but remained friends. My hilarious bad luck and lack of dating life are often a running joke between us. She is always very encouraging that I meet someone and put myself out there, but she knew I wasn't going to bring a plus-one to the wedding, so she added the comment as a joke but also an encouragement that maybe I might meet someone and if I did then I would be welcomed to invite her."
He explained that he immediately laughed when he opened the invite. "But [I] also thought it was a really sweet note," he said. "As far as I am aware, no one else got a little note on their invite."
Organizing the guest list for a wedding isn't an easy task, but new data released in the 2022 Weddings Study by The Knot revealed that guest lists are growing again after several years of smaller weddings following the COVID-19 pandemic.
After weddings were called off, postponed and downsized thanks to the pandemic, 2022 was the first year that saw a relative return to normal when it came to the guest list.
Last year, the average number of wedding guests was 117, compared to just 66 in 2020.
Deciding who gets a plus-one to your wedding requires some thought too. Unless you have an unlimited budget and large wedding venue, it is likely you'll have to think about who to include.
For many couples, plus-one invites are reserved for important guests, people who won't know anyone else and guests who are married. While co-workers and guests who might be casually dating are generally ok to leave off the plus-one list.
"The wedding is the first weekend in May and in terms of making any progress toward falling in love. With the combination of my hilariously bad luck, being shy and living in a new area the indication is that it will be another wedding I attend solo—which is honestly fine," said Giovanetto.
While many people saw the humor in the joke, others did not quite see the funny side.
"Not funny. Really rude," said one reply. While another said: "I'd throw it in the trash."
"Some people didn't understand the context but surprisingly there were a lot of discussions," said Giovanetto. "It's something I 100 percent understand as weddings are very expensive, and at an average of $200 a guest, it's a lot of money to spend on random one-time dates of people you don't know and will never see again on your big day."