Man Asking Woman on Date via LinkedIn Receives Unlikely Praise: 'Flattered'
While this singleton might be looking for love, his devoted efforts have begged the question of, how far is too far?
Hannah Harmelin has used a couple of dating apps, so she's no stranger to receiving messages from interested guys trying to spark a conversation. The 27-year-old from Philadelphia is often happy to respond to the messages, but there's one inbox she isn't so used to seeing flirtatious messages appear in.
One person who was determined to catch Harmelin's attention went as far as tracking her down on LinkedIn to send her a message on there instead. It's safe to say that his outside-the-box thinking did manage to catch her eye, and she even shared the hilarious message in a now viral TikTok video, showing the great lengths this man went to.
Posting a screenshot of the message on TikTok, Harmelin put an emoji over his picture and crossed out his name to keep his identity private. His message reads: "Hey Hannah – Skipping the line on a dating app and coming straight to you. Aggressive move, ikik [I know I know]. Life's too short not to go for what I am highly interested in."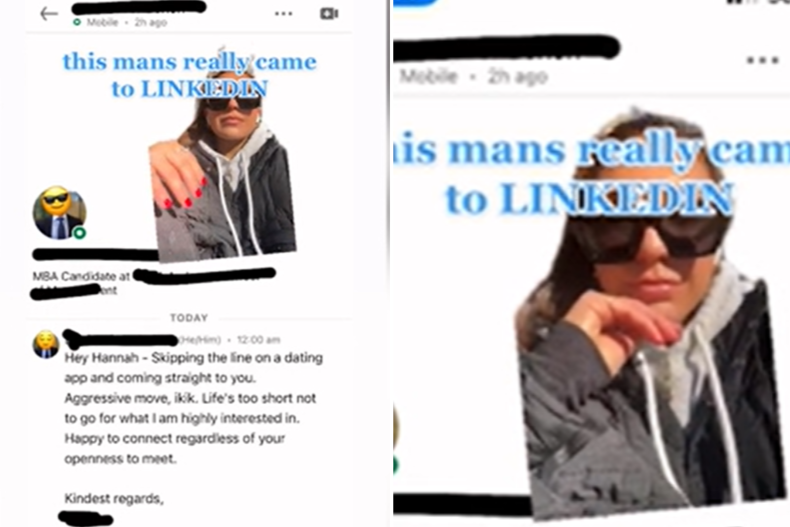 His efforts might be admirable or questionable, but with so many people on dating sites nowadays, you've got to do your best to get noticed. A survey conducted by Pew Research found that 30 percent of Americans admit to having used a dating website or app at some point, but only 12 percent have found a serious relationship or marriage through it.
Harmelin spoke to Newsweek about this person's unexpected efforts to track her down and send her a direct message, noting that it wouldn't have been an easy task for him.
She said: "I receive messages like this almost every day on Instagram but have never gotten one like this on LinkedIn. It definitely caught my attention. I get hundreds of messages each week, between dating apps and social media, but this was different for sure.
"On the exclusive dating app, you are required to link your Instagram profile for verification to avoid any catfishing. On Hinge, you can also link your Instagram, so in both cases it would be easy for him to find me on Instagram. But as far as LinkedIn goes, he definitely had to Google me and do some more in-depth research.
"I was in between being flattered and feeling creeped out that he found me, especially given that my last name isn't even on any of my dating profiles, and my entire last name isn't on my Instagram page, so he really had to do some digging to find me."
Despite her conflicted emotions, Harmelin didn't want to leave him on read after he tried so hard to get in touch with her, so she responded to his inquisitive message, and they've been chatting since.
Managing to see the humor in the situation, she pointed out that she's seen how much due diligence people will do to find someone online and carry out their own idea of a background check before meeting someone.
"I know the lengths that girls go to these days to do their research on guys from dating apps or guys they're dating. There really is no limit in today's digital world.
"The reaction has been a mix of people thinking it's weird and creepy and seeing it as a red flag, but others felt that it was cute and showed good effort on his part."
Since Harmelin shared the video on TikTok it has already received more than 717,000 views and over 41,000 likes. One bemused TikTok user commented on the video saying it was "a power move" for him to track down her LinkedIn profile.
Another person commented: "Honestly, 9/10 I would hate this, but something about his message is attractive. The energy".
Have you noticed any red flags in a relationship? Let us know via life@newsweek.com. We can ask experts for advice, and your story could be featured on Newsweek.